From DIY Drones to the New Frontiers of Drone Design With 3D Printing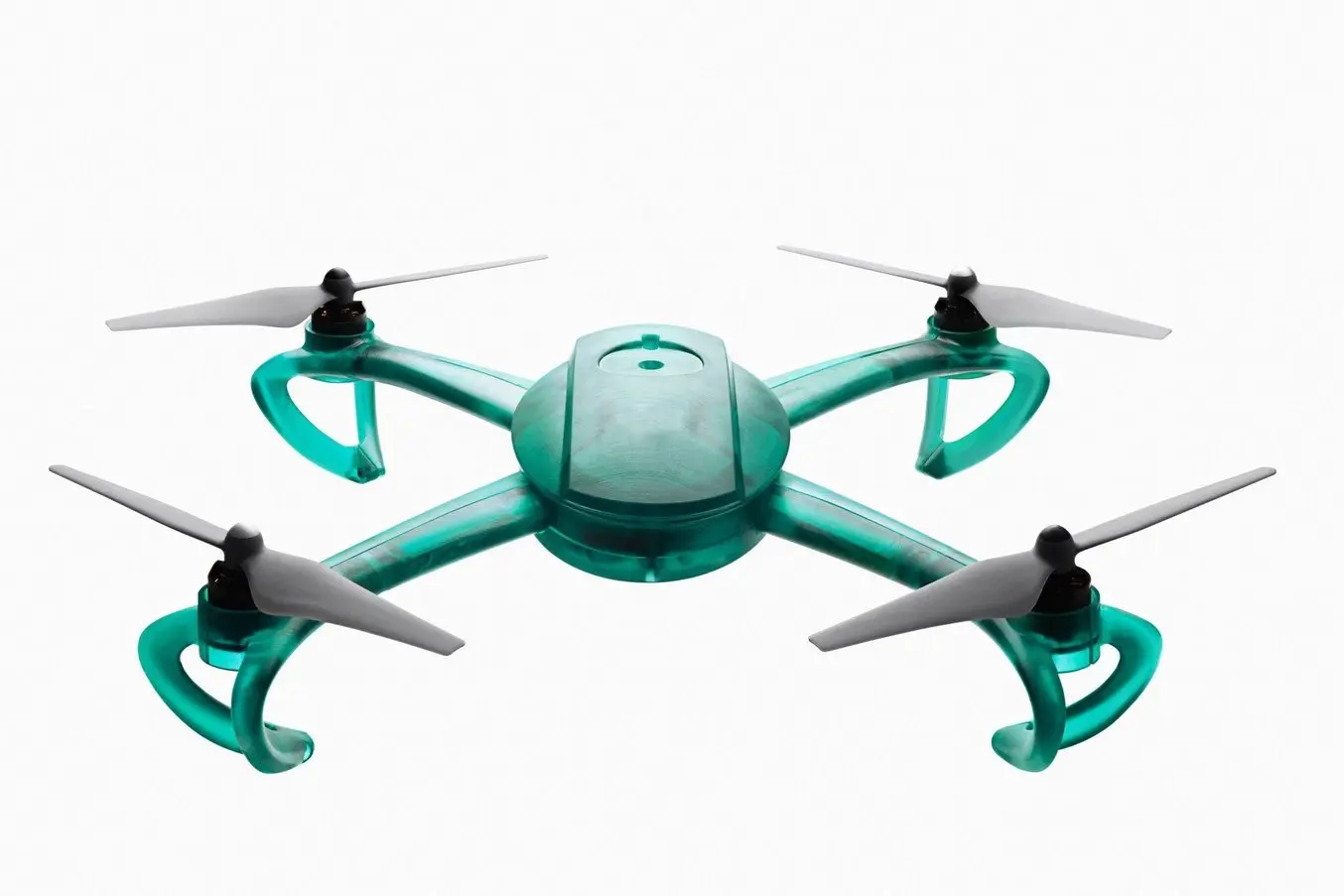 Drones are on the rise: forecasts predict that the drone market will grow from its $14 billion value in 2018 to over $43 billion in 2024. In keeping with this high-paced industry growth, rapid innovation is the key to competitive success. And 3D printing is ideal for facilitating this.
As both professional and hobbyist drone use cases continue to expand, from FPV racing to disaster relief, goods delivery, and reconnaissance, 3D printing will play an increasingly decisive role in producing drones capable of new levels of performance. 
3D printing shortens lead times during product development, lowers production costs, and empowers designers and manufacturers to take more risks with new cutting-edge 3D printed drone designs that provide new potential applications for the technology.
Read on to learn how 3D printing is used to build drones, from design to manufacturing, and learn how to build your own DIY 3D printed drone.
---
Sample Part
Request a Free Sample 3D Printed Part
See and feel the quality of SLA 3D printing firsthand. We'll ship a free 3D printed sample part to your office.
Request a Free Sample Part
---
Rapid Prototyping Drones with 3D Printing
With 3D printing, designers no longer need to spend hours analyzing potential risks and drawbacks for a new design feature. A high-resolution 3D printer can produce new prototype parts quickly for testing, incurring minimal waste. Drone manufacturers can produce exchangeable modules with pinpoint geometrical accuracy without the need for expensive, time-intensive molded parts.
Introducing a 3D printer to the process shortens lead times, as producing a new part takes only a few hours. For example, the MRB-1 drone went from initial concept designs to a working prototype in four weeks.
3D printing not only provides an advantage through greater freedom of design and time savings, but it can also save a great deal of money. The use of shareable, easily modified CAD files during the design phase also made design reproductions easy.
This makes risk-taking and innovation while designing drones much more affordable. While developing their own drone, the U.S. Marine Corps found that the process of fabricating a drone cost around $600, not including the cost of purchasing a printer. Compare that to a ready-made Raven drone to suit their needs, which could cost the Marine Corps up to $30,000.
On-Demand 3D Printed Drone Replacements Parts
Those who design and build drones as a profession or in their spare time know all too well that parts can be difficult (and expensive) to repair or replace. Inexperienced pilots, unfavorable weather conditions, or pesky tree branches can frequently lead to a crash that can cause expensive damages to a drone.
3D printing makes producing replacement drone parts easier. In the Marine Corps' case, replacing a damaged wing section on a high-performance drone that previously cost $8,000 dollars now costs as little as 0.1% of that total.
New Frontiers in Drone Design
While many drones use varieties of the popular quadcopter designs, 3D printing's versatile nature offers the freedom to developers to come up with considerably more ambitious designs, giving free rein to their imagination.
The UAV Zelator, the winning entrant in the 2016 Airbus Cargo Drone Challenge, is optimized for moving small cargo, particularly medical supplies, in remote regions. The Zelator has a fixed-wing design; the creator used 3D printed materials to produce a body strong enough to handle adverse weather and light enough (under 25kg) to perform in the tough environmental conditions they're likely to encounter.
Yuki Ogasawara and Ryo Kumeda's X VEIN is a generative designed and 3D printed quadcopter drone. Designed as "the life-saving drone," the X VEIN is optimized for performance during disaster-relief efforts. It boasts extended flight times, a reinforced frame, and propeller guards to prevent damage from crashes. All these features are incorporated into a lattice-structure quadcopter body created with 3D printing.
The high degree of customization in the drone's design, the intricacy of the lattice structure, and the freedom to adjust its density inside its generative CAD software are all uniquely possible due to the capabilities of additive manufacturing technologies.
While many manufacturers have experimented with larger drones, there's also design creativity at the other end of the scale. For example, UPenn's Piccolissimo is one of the smallest drones ever manufactured.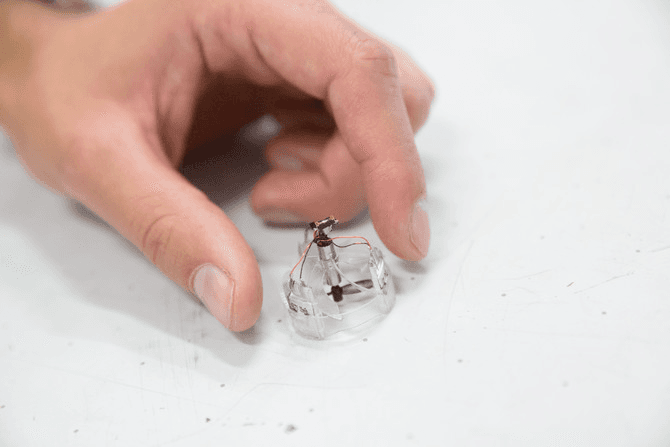 With a single propeller and chassis, the Piccolissimo suits extreme conditions. Its miniature size (24.26mm in diameter) and extremely low weight (as little as 2.5g) are achievable only by using 3D printed parts. The weight and size make this tiny drone perfect for operations in volatile nuclear reactors or for reconnaissance in confined or remote spaces. Such tasks would be impossible for humans or larger drones to accomplish.
The Piccolissimo also foreshadows future successful use cases in the fields of 3D printing and swarm robotics. Manufacturers could use 3D printing methods to create tools like the Piccolissimo for swarm robotics efforts, such as in rescue missions. Let's just hope the technology will only have benign uses, not like in a notable episode of Black Mirror.
How to Build Your Own 3D Printed Drone
With 3D printing, it's possible to produce most of the components needed to build a drone or quadcopter, besides the electronics. 3D printed drone parts can include the chassis, any additional protective casing for the frame, propellers, landing gear, motors mounts, accessory mounts (i.e. for scanners, cameras, sensors, or other useful equipment), and housing for remotes and the drone's power source.
To build your own DIY drone, you can pick from a variety of off the shelf open-source designs,  such as the OpenRC 3D printable quadcopter design that's showcased on the cover of this article. 3D model databases and communities like Pinshape offer a wide selection of fully 3D printable drone designs and accessories as well. Lastly, 3D modeling new parts or accessories on your own offers limitless possibilities to adapt a drone design to specific applications. Online communities such as RC Groups, DIY Drones, and of course, Reddit, can also offer plenty of support and inspiration.
To 3D print your drone, you can use any of the common plastic 3D printing technologies, fused deposition modeling (FDM), stereolithography (SLA), or selective laser sintering (SLS), depending on your requirements.
Of the three technologies, SLA 3D printing offers a sweet spot for high precision and a wide variety of materials. Due to the nature of drones, we recommend choosing a material that can handle compression, stretching, bending, and impacts without breaking, such as the Tough and Durable family of SLA resins.