Holimaker Produces 100s of Prototype and Pre-Production Parts With 3D Printed Injection Molds
French startup Holimaker wants to make plastic manufacturing accessible by fabricating micro-industry tools for plastic processing. Their core product, the Holipress, is a manual injection molding machine that enables engineers and product designers to process plastic on their desktop in low quantities for prototypes, pilot production, or even limited series of end-use parts. 
The company offers feasibility studies to their customers, using 3D printed molds for their fast turnaround and low costs. This allows their clients to quickly and affordably prototype designs and validate final manufacturing conditions during the pilot production phase of new product introduction. By using the same manufacturing method, including mold design and materials, these parts can be tested in the field and ensure the designs are ready to be produced at scale. The 3D printed mold designs can then be easily adapted for tool-grade steel during mass production.
Holimaker uses 3D printed injection molds in 80% to 90% of their current project. We met with Managing Director Aurélien Stoky and Marketing Director Vivien Salamone to understand how they combine both technologies. 
White Paper
Low-Volume Rapid Injection Molding With 3D Printed Molds
Download our white paper for guidelines for using 3D printed molds in the injection molding process to lower costs and lead time and see real-life case studies with Braskem, Holimaker, and Novus Applications.
Read the White Paper
Why 3D Print Injection Molds?
Traditionally, injection molds are fabricated via expensive industrial methods such as CNC machining or electrical discharge machining (EDM). For smaller part quantities though, the cost, time, specialized equipment, and skilled labor required to fabricate the mold out of common tooling metals and with these traditional manufacturing methods introduces barriers to the process, often making injection molding at this scale unobtainable for many companies. Leveraging 3D printing to fabricate injection molds for prototyping and low-volume production significantly reduces these barriers compared to metal molds, while still producing high-quality and repeatable parts.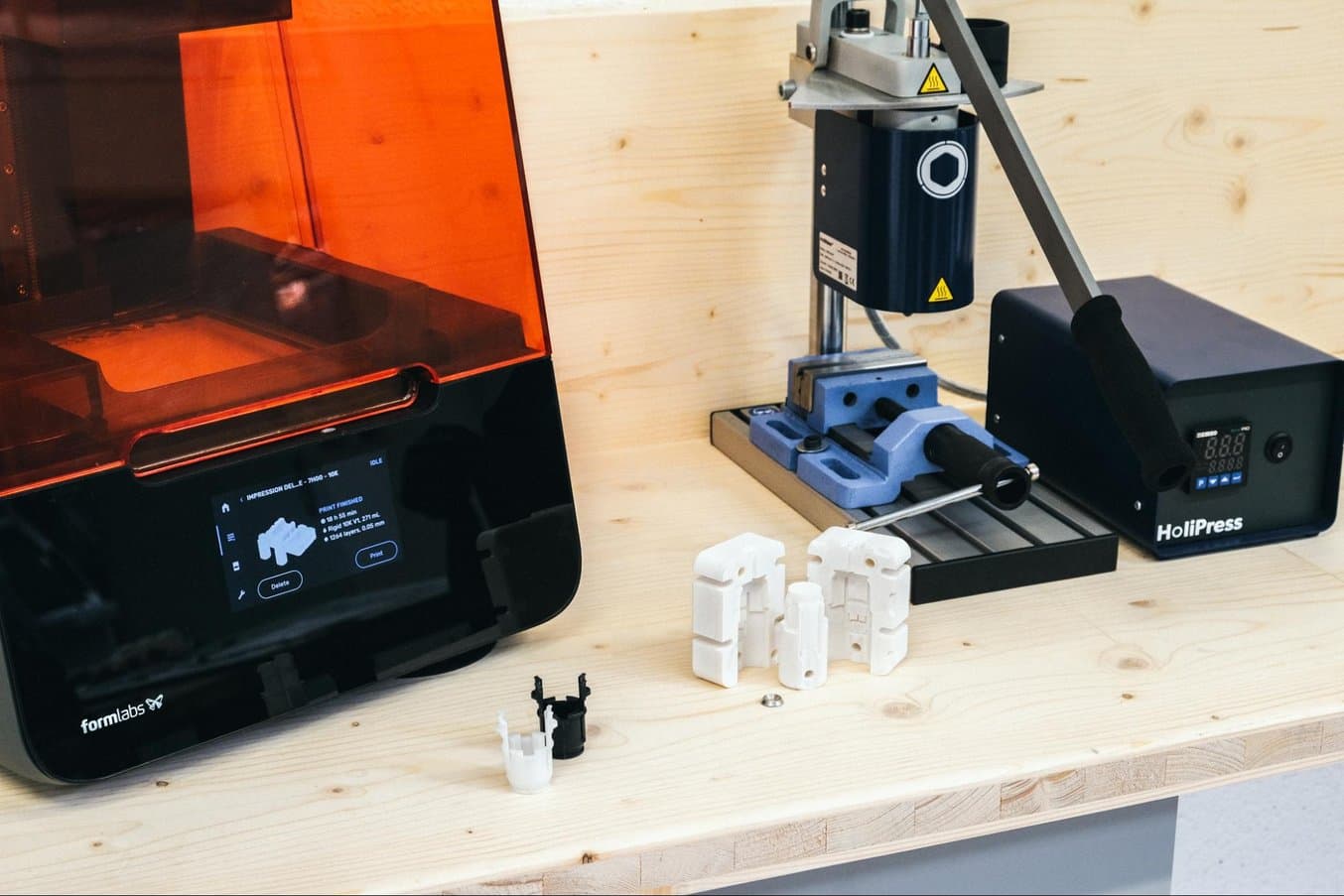 "The blocker in injection molding is to manufacture the mold. In order to democratize injection molding and make it accessible to everyone, we had to find a complementary technology to produce our mold. Desktop printing was a perfect fit for this. We combine the flexibility of 3D printing with the productivity and quality of injection-molded plastics," said Stoky and Salamone.
The main advantage of this alternative process is to shorten the time from concept to production while delivering a series of parts in traditional thermoplastics. Thanks to the Holipress, they can produce small series of prototypes and pre-production parts to test the final material and production line that will be used in mass production, and even produce limited volumes of end-use parts. And thanks to desktop stereolithography (SLA) 3D printing, they can make it happen in a few days with very limited equipment and without the need for skilled operators.
With 3D printed molds, Holimaker's team can dramatically shorten the lead time for mold production and iterate new designs to optimize the geometry within a single day.
"We often design the mold in the morning, print it during the day and we can test the injection in the afternoon to modify the design and start a second print overnight. With a traditional method, we would need to machine the mold again which would take weeks," said Stoky.
Holimaker has looked into alternative ways for mold making. For orders over a thousand parts, they would employ a machined aluminum mold, but for smaller quantities, they run the press on 3D printed molds. In some cases, they combine both: for large volumes with demanding geometries, they machine the outside of the mold and 3D print the insert, which is replaced over time. 
See how manufacturing solutions provider Multiplus combines machined aluminum frames with 3D printed molds.
In-house 3D printing has also allowed them to venture beyond the limitations of machining techniques. In many projects, they achieved complex mold designs that would be difficult to manufacture traditionally, enabling their customers to innovate even more. 
"In terms of geometry, some of our projects could not have been done without 3D printing," said Stoky.
The Process Step by Step
Design
Usually, the team iterates on three to four models per project in order to optimize the design. They follow the general molding and design for manufacturing recommendations, such as including draft angles. They mostly work on small parts, and add 0.1 mm vents and 0.5 mm runners. 
In addition, they respect a few printing rules such as including chamfers to help to remove the piece from the build platform, some centering pins to align both prints, and notches to assist opening with a screwdriver. They usually use 10 mm thick molds and avoid thin cross-sections. Parts that are only 1-2 mm thick cannot endure the high temperatures.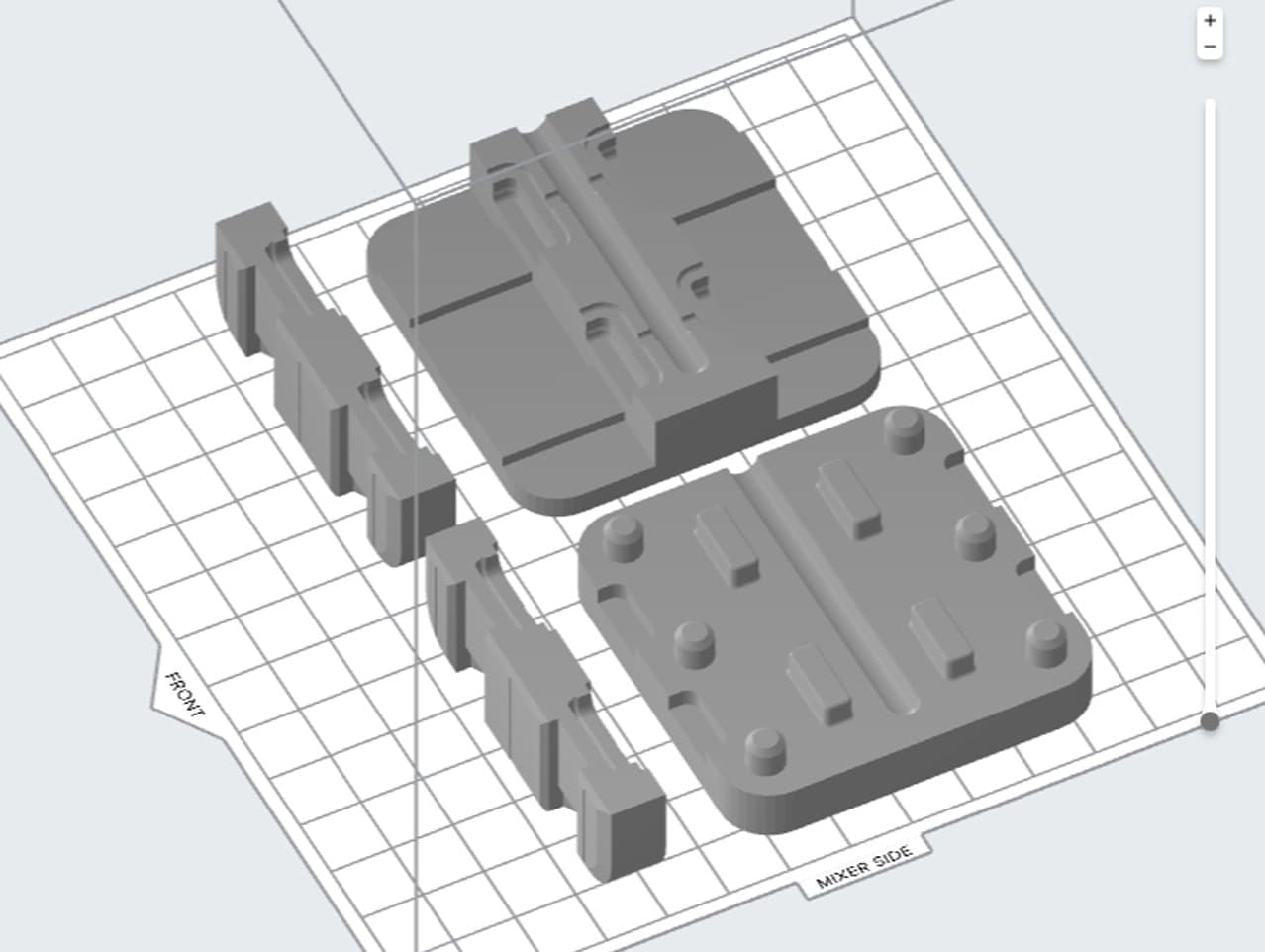 Transitioning from a 3D printed mold for low-volume production to a machined metal mold for mass-production is seamless. Simple modifications to draft angles, gates, and air vent dimensions may be needed.
3D Printing
Holimaker's team prints the molds directly on the build platform at a 50-micron layer height. For small parts, this orientation saves printing time and resin by not using support structures; the team also observed better dimensional accuracy on the mold surfaces after curing. If dimensional errors occur, it is usually on the outside of the block that they post-process with hand sanding to fit the frames. 
Holimaker prints with both Rigid 10K Resin and Grey Pro Resin. Grey Pro Resin is a more affordable resin suitable for molding a few units of small parts at low pressure. However, molds printed with Grey Pro Resin may deform as the number of cycles increases, therefore they favor Rigid 10K Resin for more technical projects. 
Injection Molding
The team uses the Holipress injection molding machine in all their studies. It is a small manual press, easy to use, and available at a tenth of the cost of an industrial press. 
The molds are placed into a prefabricated aluminum frame which holds the pressure better and ensures that the injection nozzle is not in direct contact with the printed mold.
With Formlabs printed molds, Holimaker injects a broad range of thermoplastics with different levels of hardness from Shore 40A to 90A, at a three to five minutes cycle time. The number of cycles per mold varies from about 10 parts for a PA injected at 270°C to 100s of parts for a PP, TPE, or POM injected at lower temperatures. Holimaker is developing an integrated cooling system to help reduce the cooling time before demolding. 
Results
The team chose SLA 3D printing from Formlabs for its part quality and ease of use. "The quality of our injected parts is very good because of the high-quality molds. And when I start a print in the evening, I am almost sure to have a good mold ready the following day," they said. 
Stoky and Salamone had used another desktop printing technology before, but observed too much deformation on the prints even prior to injection.
"Formlabs parts offer great dimensional accuracy and surface finish. If there is a dimensional error, it is very minor, and it is uniform on the three axes, therefore we can predict it and post-process it. With other desktop printers, we could not control the deformation," said Stoky.
The team also appreciates the simple workflow that is easy to learn and operate, for example, automating the washing and curing process with Form Wash and Form Cure. They can go from design to molded parts within a working day and then also iterate the design to optimize the model. "We often design the mold in the morning, print it during the day and we can test the injection in the afternoon to modify the CAD model and start a second print overnight," said Stoky.
Holimaker shared a few cases from their customers to give a better understanding of the part, molding conditions, and results of their feasibility studies.
| Company | Valves and Fittings Manufacturer | FERME 3D | Eyewear Manufacturer | |
| --- | --- | --- | --- | --- |
| Product | Valve connector | Face shield clip | Eyewear frame | |
| Need | To be able to quickly prototype a valve connector part in order to carry out resistance tests to water pressure. | Test a solution to produce a series of 10,000s of parts in a short time. | Test compatibility of eyewear materials with printed molds to produce a series of 200 frames | |
| Mold material | Rigid 10K Resin | Grey Pro Resin | Grey Pro Resin | |
| Materials injected | POM (190°C) / PA6 15% GF (280°C) / PP (210°C) | PP (food-grade, 220°C) | ASA (240°C), PA (240°C) | |
| Number of parts for one mold | 12+ | 100 | 70 | |
| Cycle time | Five minutes | Two minutes | Two minutes | |
| Project lead time | Two weeks | One week | Two weeks | |
Saving Time and Costs With 3D Printed Injection Molds
Using in-house 3D printed molds has resulted in considerable time and cost savings compared to outsourced machined metal molds.
| | Outsource Machined Metal Mold | In-House 3D Printed Mold | | |
| --- | --- | --- | --- | --- |
| Equipment | Holipress, thermoplastics | Holipress, thermoplastics, Form 3+ printer, Rigid 10K Resin or Grey Pro Resin | | |
| Mold production time | Three to five weeks | One week | | |
| Mold production costs | 4-5 X | 1 X | | |
Rapid tooling with desktop injection molding and 3D printed molds enables Holimaker to rapidly produce small batches of thermoplastic parts on demand.
"We can shorten the time between the conception of the object and the injected part. We gain flexibility, and save time and money," said Stoky.
Download our free white paper or watch the webinar for a detailed process workflow, design guidelines, and other best practices for using 3D printed molds in the injection molding process and see additional real-life case studies with Braskem and Novus Applications.