3D Printed Orthotic Insoles: Guide to Software Providers and Digital Scanner Manufacturers
3D printed orthotic insoles are becoming increasingly popular as a way to provide relief from foot pain and other conditions. These insoles are custom-made to fit the individual's foot, and they can be designed to address specific needs. 
Compared to traditional impression and model forming processes, 3D scanning provides high accuracy, capturing speed, reduced manual labor, and flexibility when choosing capturing locations. The raw 3D models produced via scanning then require design software to digitally produce the patient-specific device before being sent to a 3D printer.
As there are a number of digital scanner manufacturers and software vendors that offer solutions for creating 3D printed orthotic insoles, we created this overview to help you find the right one for your business.
Is there a solution missing in this rapidly evolving market? Please let us know: [email protected].
Application Guide
3D Printing Rigid Insole Shells
Learn how to produce strong, ductile insole shells exceeding 4 million bend cycles with Formlabs' compact, affordable SLS ecosystem. This comprehensive guide will help you hit the ground running with insole shell production on the Fuse 1+ 30W.
Download the Application Guide
3D Scanners for Orthotic Insoles
Some of the most popular digital scanner manufacturers include:
Structure: Structure offers a range of scanners specifically designed for creating precise 3D models of the foot, including the Structure Sensor Pro. With an estimated price of $1,000, these scanners provide an affordable option for capturing accurate foot data, enabling the design and customization of 3D printed insoles. The Structure Sensor is known as one of the most widely adopted scanners in the O&P space.

Volumental: Volumental specializes in retail scanning solutions that enable customers to obtain accurate 3D models of their feet. By utilizing their scanning technology, retailers can offer personalized recommendations for footwear and insole customization, enhancing the overall customer experience.
Apple: Newer iPhones equipped with LIDAR cameras have introduced a new approach to foot scanning. Leveraging the advanced depth-sensing capabilities of LIDAR technology, these devices can capture detailed 3D foot models, opening up possibilities for at-home scanning and personalized product recommendations. COMB O&P is one firm that offers an app that leverages iPhone and iPad devices in addition to selling a fixture that helps scan patients in a neutral position as needed (photographed below).

PedCat: PedCat offers load-bearing CT scanning technology that is specifically suited for capturing precise 3D models of the foot. Exclusively used in well-funded medical settings, PedCat scanners provide detailed insights into foot anatomy and biomechanics, facilitating accurate diagnosis and treatment planning for complex foot conditions.
Design Software for Orthotic Insoles
Some of the most popular software providers include (alphabetical order):
Fit360: Fit360 is an innovative software solution that revolutionizes the design process for 3D printed insoles. It combines cutting-edge technology with advanced algorithms to create personalized insoles that provide optimal comfort, support, and fit. Fit360 publicly claims its users generate over one million scans per year using its software.

GESPODO: Gespodo, based in Belgium, is revolutionizing the O&P, podiatry, and pedorthics markets with its 3D solutions. Its user-friendly tools like Footscan3D and FootCAD3D are fueling the digital shift, boosting productivity, and unlocking continuous 3D innovation in lower extremity orthotics and prosthetics. GESPODO offers Footscan3D, a mobile 3D scanning app compatible with all smartphones and tablets across iOS and Android, along with easy-to-learn FootCAD3D design software that enables designs to be developed in minutes.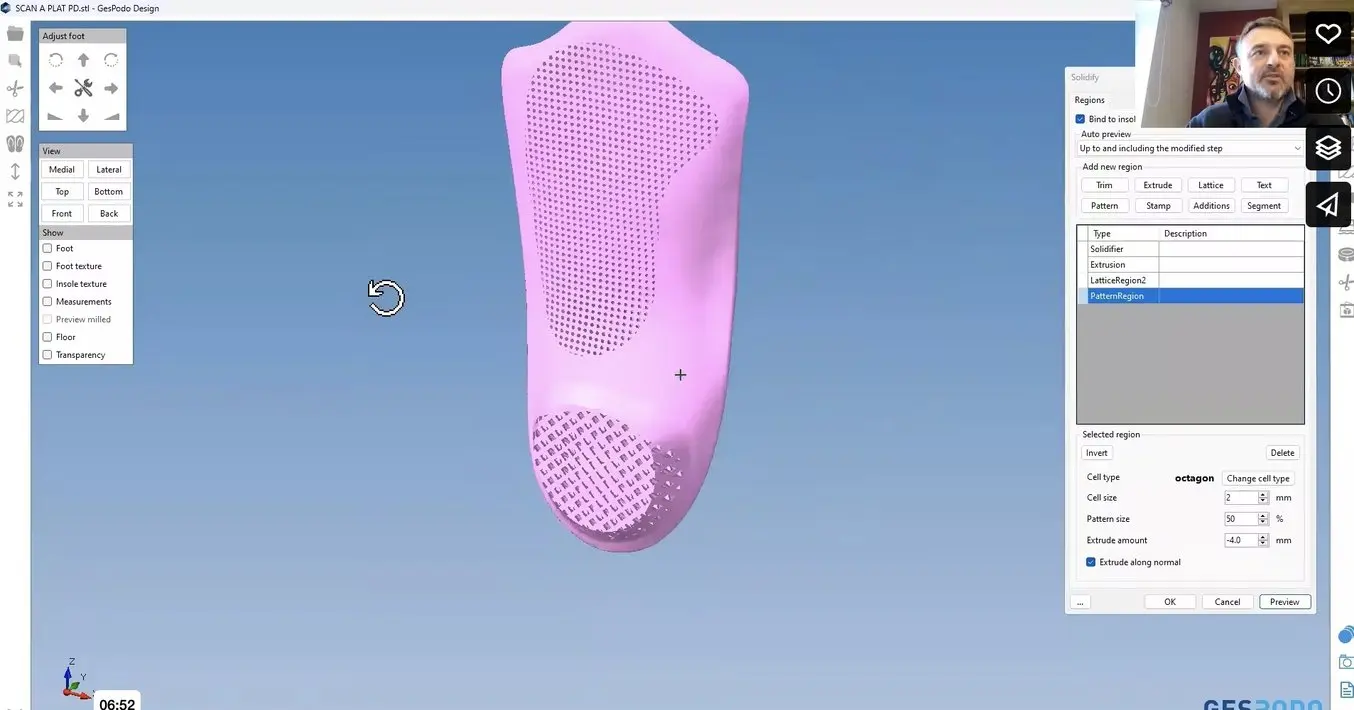 LaserCAM Orthotics: LaserCAM Orthotics specializes in providing pay-per-use software and scanning solutions, primarily catering to the Asian and Australian markets. Their software and scanners offer advanced capabilities for designing and manufacturing orthotic insoles, allowing for precise customization and enhanced patient outcomes.

Leopoly: Leopoly makes an easy-to-use, CAD-supported software solution that enables businesses to digitize, simplify and automate the insole production process. LeoInsole is prepared to process 3D scans and identify landmarks with AI-supported geometry search. LeoInsole is focusing on easy interaction enabling more accuracy, faster results, and more flexible design outcomes.

LutraCAD: LutraCAD offers user-friendly and intuitive software, delivering tailor-made insoles, shoe lasts, and midsoles with ease and precision. Its diverse production options enable the craft of personalized orthotic solutions using various materials and methods. The open system connects to PreForm print preparation software seamlessly and is already serving customers across 93 countries. See an example design process and PreForm integration below.
Build Optimization Software (Optional)
When dealing with very large volumes of insoles, build preparation software will be helpful to minimize or virtually eliminate the time needed to import each individual insole file into a printer build containing as many parts as possible. Examples of build preparation software that are compatible with Formlabs' PreForm and Fuse 1+ 30W include:
Materialise Magics: Materialise Magics is a versatile build preparation software that streamlines the 3D printing workflow for large volumes of insoles. With Magics, you can efficiently import and optimize multiple insole files, arranging them in a printer build that maximizes productivity and minimizes print time. By leveraging its powerful features and automation tools, Magics simplifies the process of preparing and managing complex print jobs. Contact [email protected] or your Materialise representative to request the Fuse 1+ 30W printer profile for seamless integration.

Autodesk Netfabb Premium or Ultimate editions: Autodesk offers Premium and Ultimate editions of their Netfabb build preparation software, designed to enhance efficiency and productivity in 3D printing workflows. With Netfabb, you can import and organize a large number of insole files, optimizing their placement within the printer build volume. The software provides advanced tools for automatic support generation, part orientation, and optimization, ensuring high-quality prints and reducing the time needed for manual file handling and setup.
Get Started With 3D Printing Insoles
For more information about the insole printing process, download our application guide or reach out directly to our medical expert team. Additional resources on mechanical property testing and the digital workflow can be found on our page about 3D printing insoles.