Castable Wax 40 Resin Frequently Asked Questions
Castable Wax 40 Resin is a jeweler's dream. Easy to use and versatile, Formlabs designed Castable Wax 40 Resin to integrate seamlessly into the digital jewelry workflow. In this blog post, we'll address some of the most commonly asked questions about Castable Wax 40 Resin.
Why Should I Choose Resin Casting?
Resin casting offers greater design freedom. Common concerns about resin casting include casting reliability, but Castable Wax 40 Resin addresses those concerns. We've engineered Castable Wax 40 Resin for jewelers who prioritize casting reliability. Castable Wax 40 Resin has been stress tested in the lab and on the casting floor to provide clean castings under a wide range of conditions. Rio Grande Jewelry, a leading jewelry equipment supplier, has validated Castable Wax 40 Resin for the most intensive professional use. Castable Wax 40 Resin delivers proven reliability for your peace of mind and your bottom line.
What Does the Digital Jewelry Workflow offer?
Compared to the traditional wax carving workflow, the digital 3D printing workflow can significantly save time. Digital design means endless possibilities for jewelry, enabling designers to efficiently create even the most complex models with high accuracy. Furthermore, it is easy to preserve custom designs, which can be modified or recreated as needed. Producing results similar to injection wax, Castable Wax 40 Resin and 3D printing make a powerful combination.
What's the Difference Between Castable Wax 40 Resin and Castable Wax Resin?
Castable Wax 40 Resin is the easiest material for 3D printing to accommodate a wide range of jewelry, from highly detailed jewelry designs to heavy pieces. It was formulated from the ground up, highly loaded with a blend of solid and liquid waxes that work together to achieve low expansion and exceptional casting performance. Designed to plug right into your existing jewelry process, Castable wax 40 Resin is 40% wax-filled. On the other hand, Castable Wax Resin is 20% wax-filled and a stiff and accurate casting resin ideal for filigree and delicate designs.
What Can I Use Castable Wax 40 Resin For?
Cast engraved text, stone holes, and channels with confidence using Castable Wax 40 Resin. On the other end of the jewelry spectrum, Castable Wax 40 Resin can support the smallest and most intricate features, making it ideal for bridal jewelry.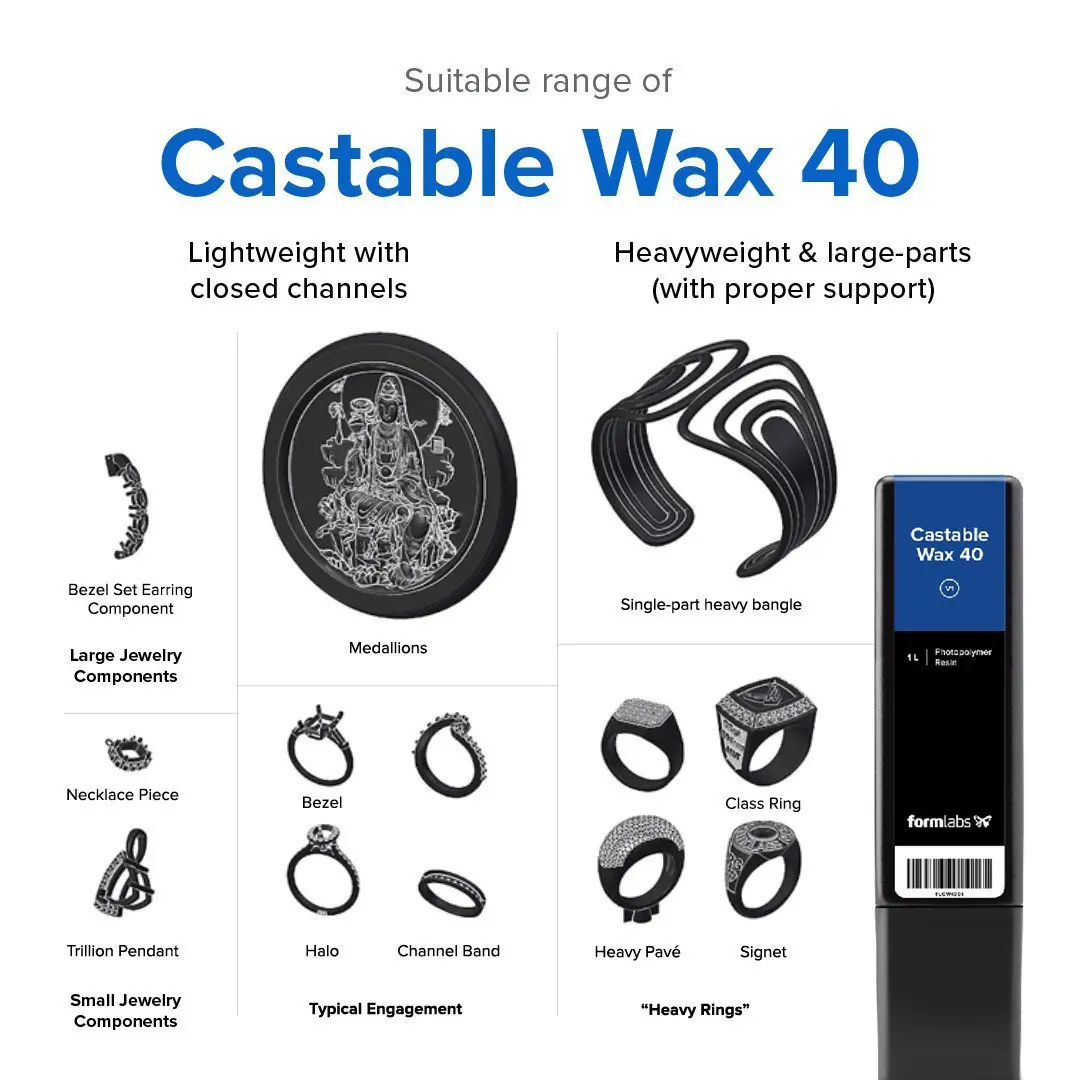 What Printers Are Castable Wax 40 Resin Compatible With?
Castable Wax 40 Resin works on the Form 3, Form 3B, and Form 2. Tank compatibility includes Form 3/3B Tank V2.1 and Form 2 Resin Tank LT. There are no post-curing requirements. Castable Wax 40 Resin prints at 25 and 50 microns.
Should I Be Concerned About Investment Powder Compatibility With Castable Wax 40 Resin?
No. Castable Wax 40 Resin can be used with your standard burnout schedule for the majority of jewelry designs and works well anywhere in the world—we've proven compatibility with investment powders common to the US, Europe, and Asia.
What Are Some Common Failures in Resin Casting and How Does Castable Wax 40 Resin Prevent Those Failures?
Investment breakage: Investment breakage occurs when features like stone holes, engraved text, and long channels are filled in with metal on the cast part. Resins expand when heated, which can crush fragile features in the mold. Castable Wax 40 has a blend of liquid and solid waxes which work together to lower expansion forces by causing the pattern to shrink as the waxes progressively diffuse out.
Mold spalling: Mold spalling essentially means mold wall erosion. This happens as a result of mold surface exposure to boiling resin or a chemical interaction with the investment binder. Mold spalling affects heavier castings the most, and requires a fast-burning resin to overcome. Castable Wax 40 Resin burns fast and shrinks away from the mold wall. This way, exposure time and surface area between combusting pattern and investment are kept to a minimum.
How Should I Handle Parts Printed in Castable Wax 40 Resin?
Parts made from Castable Wax 40 Resin are relatively soft with handling characteristics similar to carving wax. Printed parts have easily removable supports. Castable Wax 40 Resin should be stored at or around room temperature in the cartridge. If the cartridge drops below 20°C (in storage or shipping), it will start to solidify and need to be heated before resin can dispense. Castable Wax 40 Resin does not require a build plate primer. Wash Castable Wax 40 parts in IPA for 10 minutes total. For best results use a separate clean and dirty wash, five minutes each.
Want to get hands on with Castable Wax 40 Resin? Try a free sample part.