Cosm Pioneers Patient-Specific Pessaries With 3D Printing
Derek Sham, founder and CEO of medical device company Cosm, watched his grandmother go through prolapse from a pelvic floor disorder. Her prolapse was severe, prompting Sham to act. Pelvic floor disorders are ubiquitous yet relatively unspoken due to the stigma surrounding them. According to a study funded by the National Institutes of Health, almost one-quarter of all women suffer from pelvic floor disorders (PFDs), and the frequency of PFDs increases with age to the point where over 50% of women over 80 are affected. Occurring when the "sling" or "hammock" that supports the pelvic organs becomes weak or damaged, symptoms of PFDs include urinary incontinence, fecal incontinence, and pelvic organ prolapse. 
According to American Family Physician, a common and effective tool in the nonsurgical management and treatment of PFDs is the pessary, or a supportive prosthetic inserted into the vagina. The pessary is also known as "one of the oldest medical devices available" and comes in a wide variety of styles that often leads to confusion for physicians and require "fit by trial and error"
Sham brought his experience in the medical device industry and founded Cosm in 2017 to provide patient-specific pessaries for those with pelvic floor disorders. As opposed to the standard sizing and trial and error needed for traditional pessaries, Cosm makes a personalized pessary based on the unique anatomy and lifestyle needs of the patient. They call its unique workflow including ultrasound, cloud software, machine learning, and 3D printing, Gynethotics™. "There's data science, machine learning, AI involved. And with that, we hope to provide women with a better experience when they're getting treated for prolapse," said Cosm Chief Technology Officer Aye Nyein San.
3D printing played an integral role in Cosm's development. In this piece, we cover:
Cosm's founding, background, and mission.
Cosm's introduction to 3D printing.
How Cosm uses 3D printing.
How Cosm leveraged accessible tools like Autodesk Fusion 360.
The future of personalized medical devices and the role 3D printing will play.
Why Cosm Was Founded
Cosm was founded on a mission to address gaps in women's healthcare. San said that women must have autonomy in their healthcare decisions and talk about pelvic floor disorders without feeling stigmatized. Pessaries, prosthetic devices inserted into the vagina, are often limited by the lack of customization. According to the American Family Physician Journal, "proper fitting of the pessary often requires the patient to try several sizes and/or styles" and undergo multiple evaluations following a range of physical activities.
"[PFD is] quite common in women, but it's not widely talked about. It was certainly not something I was aware of when I was pregnant with my kids. We wanted to promote awareness and promote treatment because it could be that options for treatment could be physiotherapy," San explained. "If you have early-stage prolapse, ultimately you could also do surgery but surgery is associated with complications and a relatively high repeat rate of needing another surgery later on. We hope that the pessary usage could help women deal with prolapse for a longer period of time and could improve their pessary refitting success."
Cosm's novel technology makes their pessaries patient-specific. San informed Formlabs that the current standard of care for pessaries includes over 20 different shapes and each shape has eight to 13 different sizes, meaning the patient has to go through a trial and error process with their doctor. This process can be taxing on both the patient and the care provider. "They go visit the clinic two or three times before they find the right fit. Some patients never find the right fit. And even if they start wearing a pessary, the dropout rate after six months is pretty high, and then those women may opt to go for surgery. So, we want to improve the experience around and outcomes of pessary treatment. And that's where Cosm hopes to provide value to this industry," she said.
Cosm's Introduction to 3D Printing
To execute their vision of patient-specific pessaries, Cosm turned to 3D printing. Initially, they wanted to directly 3D print with a silicone material, but after evaluation they learned that it was not possible with currently available materials. The company discovered Formlabs through a whitepaper focused on custom silicone ear molds, in which silicone is injected into a one-part cocoon mold. The Cosm team saw similarities in how the ear molds are customized and what they envisioned for their pessaries.
Cosm started with the Form 2 3D printer, testing two different resins: Dental LT Clear Resin and Clear Resin. They later upgraded to the Form 3B 3D printer and BioMed Amber Resin. 
"After scouring the world's leading 3D printing companies, we knew that direct printing was currently not possible to the quality we needed for our production. From reading various Formlabs white papers, we tested the cocoon molding process, which is a full mold instead of a clamshell mold, which will have a parting line that we didn't want to have that kind of artifact in the device. So we are using the Formlabs printer to print the mold only, and we are injecting the biocompatible silicone as part of that process," said San.
Embarking on silicone molding was a challenge initially, but the Form 3B made it easier to achieve. "Our process is challenging because each device will be patient-specific. So, it gives us the challenge of not being able to simply use the standard injection molding process that a mass-manufactured device would have," said Cosm Mechanical Design Engineering Lead Robert Lancefield. "Using a Formlabs printer to print the molds is an effective way for us to be able to adjust parameters to each patient's anatomy. And that relates to another arm of our project, which focuses on the measurement. With our manufacturing process using Formlabs printers, we're able to print a new mold for each patient's specific case."
Cosm's Workflow
In February 2021, Cosm received Health Canada Investigational Testing Authorization (ITA) approval to run a clinical study for their Gynethotics. With just one Form 3B, they are already able to print several molds within 20 hours. They print multiple molds a single print and let the printer run overnight. After testing is complete and Cosm commercializes its technology, the company anticipates adding Form 3Bs and Form 3BLs to increase throughput and meet demand.
Compared to the current 'gold-standard' to fit a pessary with subjective, manual finger measurements, Cosm starts with using novel ultrasound imaging technology. The scan is then converted to a 3D model using proprietary machine learning tools.
With the 3D CAD model, using Fusion 360 by Autodesk, they make a mold: a 3D model of a negative mold shape printed with the Form 3B. "In contrast to the more common 3D printer workflow where a tool or part is printed directly in resin, we're printing a negative mold that will be used to make the final part. So once we have the printed mold, we inject a medical-grade silicone into it. And then we cure it through a specific process," said Lancefield. Because the mold is a one-part mold the designers avoid flash and other surface defects that are common to traditional multi-part molds.
Fusion 360 played an integral role in Cosm's workflow. According to Lancefield, Fusion 360 enables the Cosm team to model their medical devices and molds, and size them specifically for each patient. Fusion 360 saved the team several steps. "It's able to take in our sizing measurements from patients, and build a patient-specific model and mold for our device by using parametric modelling developed with the help of experts at Autodesk as part of the Autodesk Residency program. Fusion 360 can then export our molds to load into Preform, so it's a fast and streamlined process to get our molds printed on the Form 3B. This entire process ensures the economic viability of our product in the long term by automating multiple steps in the patient-specific device design process," Lancefield said.
He added that the CAD models built in Fusion 360 translate well to the Form 3B. "The Form 3B gives us high printing resolution and surface quality, so our CAD models from Fusion 360 translate closely to the printed geometry. That's helpful for us, since we want close tolerances and consistent product properties. With the Form 3B's resolution, we can vary our dimensions by a fraction of a millimeter in Fusion 360 to get the properties we need from our molds and final silicone parts."
Cosm is developing a modernized pelvic floor measurement system using novel ultrasound imaging technology to allow for the design of patient-specific vaginal pessaries.
The Form 3B provided Cosm benefits like high surface quality and remote assistance, Lancefield noted. Having in-house production is a notable benefit for Cosm: it enables flexibility with designing and prototyping. "There's a major benefit because we can prototype changes to a part or to the way we're making the mold and then create it immediately. Within the span of a couple of days, we can make further changes and improvements. If we didn't have that capability in-house, then each prototyping cycle would be more expensive and could extend to around a week or more, depending on where we would have access to do our manufacturing," said Lancefield. San also pointed to quality control as a major reason for keeping production in-house. "We want to provide the highest quality products for our customers. And for now, we feel that in-house, we have the most control doing things in-house when it comes to quality," she said.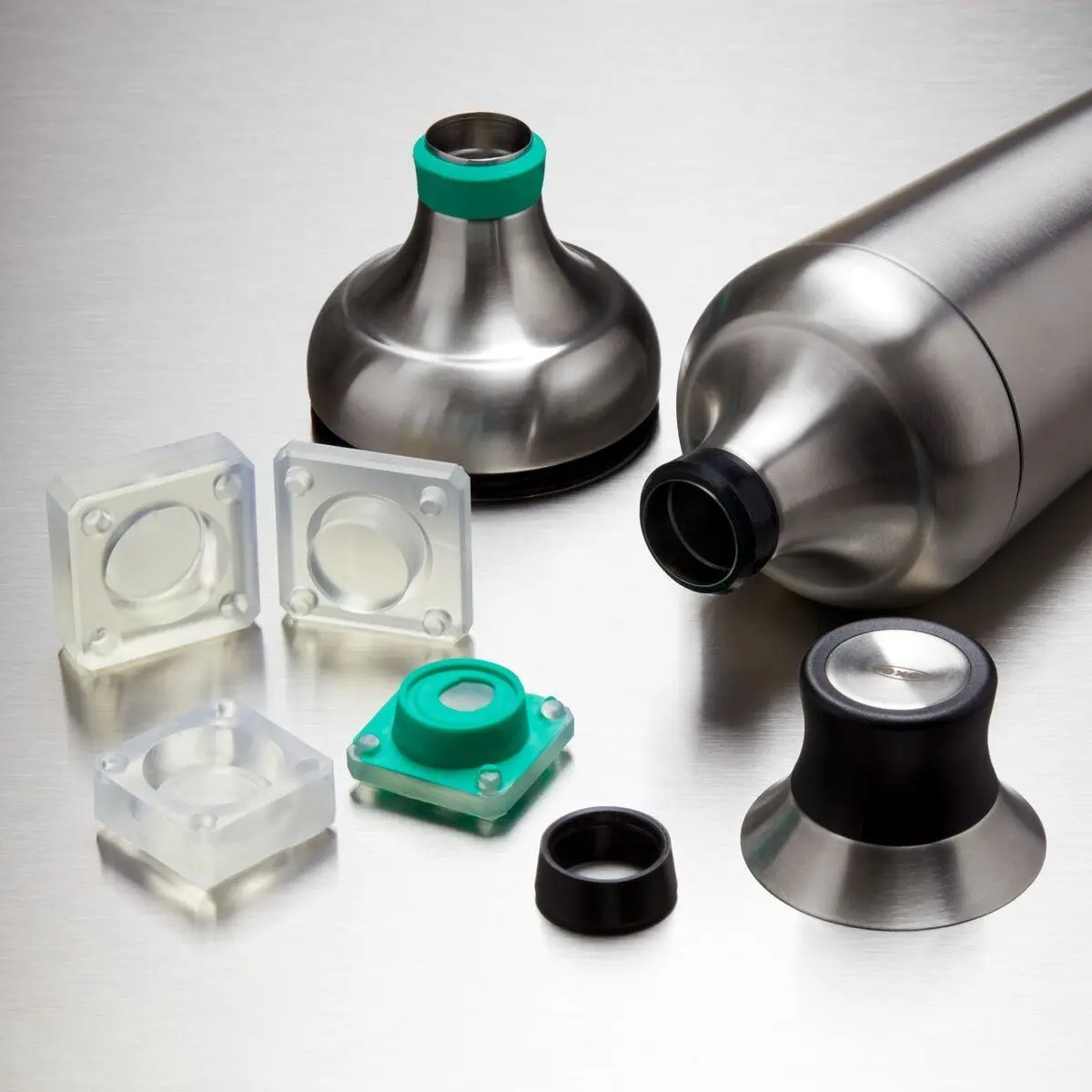 White Paper
Silicone Part Production With 3D Printed Tools
Download this report for a step by step guide on 3D printed tooling for silicone part production, with mold design best practices and customer case studies.
Download the White Paper
The Future of Personalized Medical Devices
The future for Cosm is looking bright: the company is targeting a commercial launch in 2023. Planning for the future, Cosm is beginning to leverage Artificial Intelligence (AI) and cloud software. "The patient will come in and they would do an ultrasound scan and that would be sent to the cloud, and the images will be analyzed on the cloud on a secure HIPAA compliant platform. Then the results will be sent back to the doctor. We have some data sets in terms of prediction. And with AI, we can continually improve that," San said. "Instead of relying solely on an individual clinician's expertise or experience, we will scale towards a massive database from various clinicians collectively, which will grow over time, which could only make the process better and our prediction models better as time goes on."
Cosm's ultimate aim is to provide life-changing, hassle-free, patient-specific devices, while dismantling the stigma surrounding pelvic floor disorders. 
Learn how you too can bring 3D printing in-house and work with our biocompatible materials. Talk to a specialist on our medical sales team.