3D Printing Your Favorite Heroes: Hasbro Does Mass Customization
Hasbro has announced Hasbro Selfie Series figures—a groundbreaking endeavor to use 3D printing to manufacture personalized action figures at scale. For the first time, fans will be able to scan their face with a smart device and have a custom-made look-a-like action figure delivered to their door.
This launch represents the culmination of years of investment in Formlabs stereolithography (SLA) 3D printing technology, along with a relentless drive to bring fans closer to the worlds they love. We're going to take you behind the scenes and showcase how Hasbro implemented mass customization with 3D printing.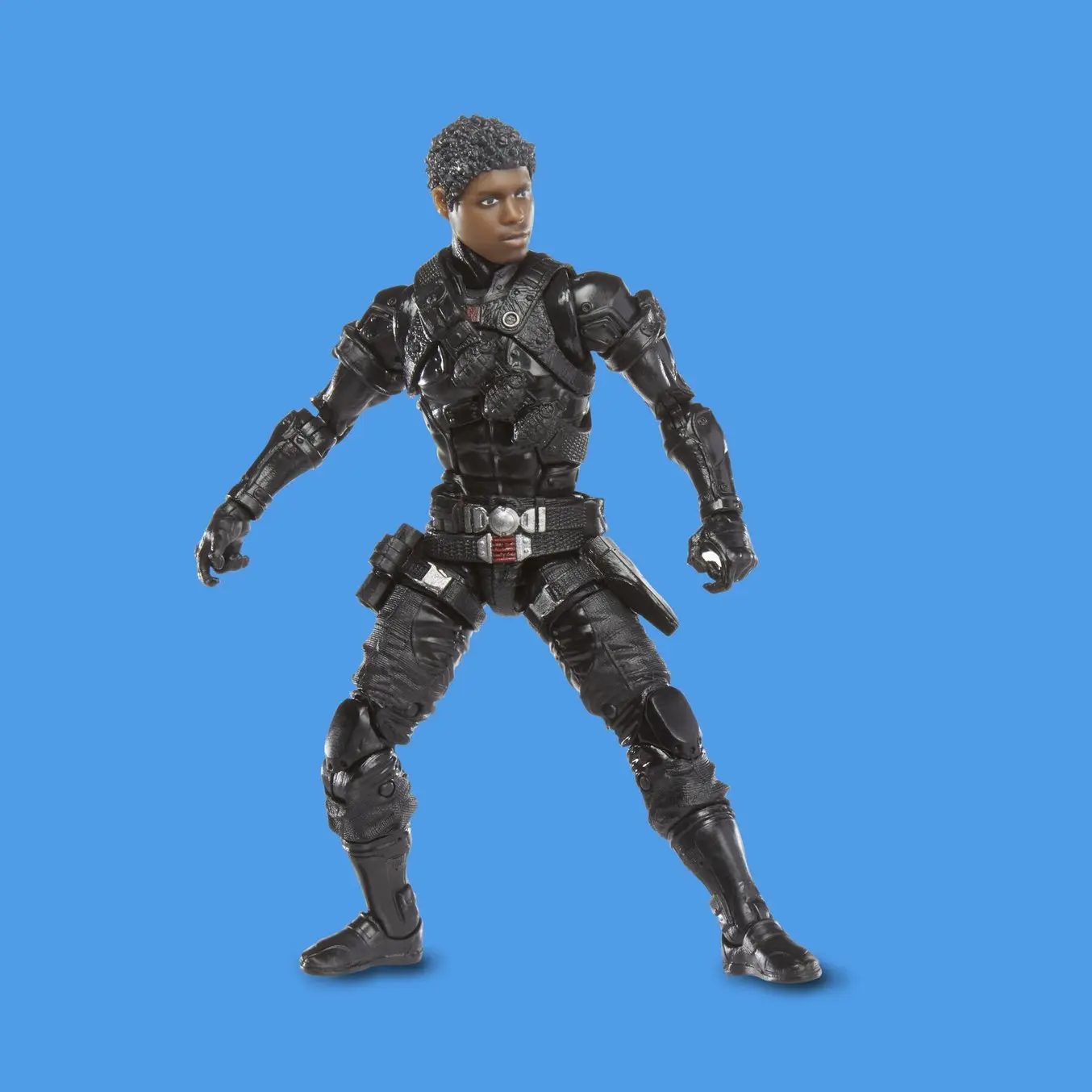 White Paper
Guide to Mass Customization
This guide will provide manufacturers with insights into the different approaches to customization, how to choose the most applicable approach, and more.
Download the White Paper
Addressing Fan's Biggest Wish: Becoming the Stories You Love
Working with some of the most cherished IPs in the world, Hasbro continuously looks for new and playful ways to deliver memorable experiences to fans.
Over the past few years, Hasbro has heard an uptick in demand for customization of its toys. Mass customization has always been a major challenge to deliver at scale, balancing quality, speed to market, and price. While there has always been demand from fans to become their favorite hero, there has never been a scalable solution.
The team at Hasbro (who are huge fans themselves) always wanted to solve the problem of mass customization, and with it, custom-order action figures and toys. This is why the launch of Hasbro Selfie Series figures is so important; it represents the realization of a long-term goal for the company, and ushers in a new era of mass customization in consumer entertainment.
New Technology Brings Fans To Life
Hasbro has always been a technology first company, adopting 3D printing technology way back in 1995 for rapid prototyping. Internally, the Hasbro development team views technology as a way to deliver fans what they want, keeping Hasbro at the cutting edge of consumer toy offerings.
"We spend a lot of time with our customers, understanding what their needs are, what they're looking for. And then we go from there and develop a plan to create our new products," said Patrick Marr, Sr. Director of Model Development at Hasbro.
Eventually, the company's old legacy industrial printers weren't able to meet the evolving needs of fans. The team decided to make their first SLA purchase, purchasing a Formlabs desktop printer, in order to explore the possibility of end-use part production.
"Early on, we were using 3D printers for developing [prototyping] products, and we had some big industrial machines, but it didn't always service our needs. So we started looking at other ways that we sort of can service our customers faster, and with newer materials that were available out there. As we started working with Formlabs, we always saw the need for, wow, wouldn't it be cool to add micro-manufacturing into our product line in our regular development? So that was always in the back of our minds."

Patrick Marr, Sr. Director of Model Development at Hasbro
It wasn't until recently that two technologies collided to make everything possible: easy to use and mobile facial scanning technology, and affordable, high-quality in-house SLA 3D printing. Once Hasbro saw the opportunity to expand the use of additive manufacturing outside of prototyping, they decided to invest in an agile digital factory of Formlabs 3D printers.
"When we bought our first desktop SLA printer, Formlabs always solicited our feedback. We would give feedback on the interface, the build, the support structure, and that feedback was always incorporated into their resin printers. And so we knew that if a company was willing to listen to us and to improve their product, that we would have a better opportunity to go to market with something that was our vision," said Marr.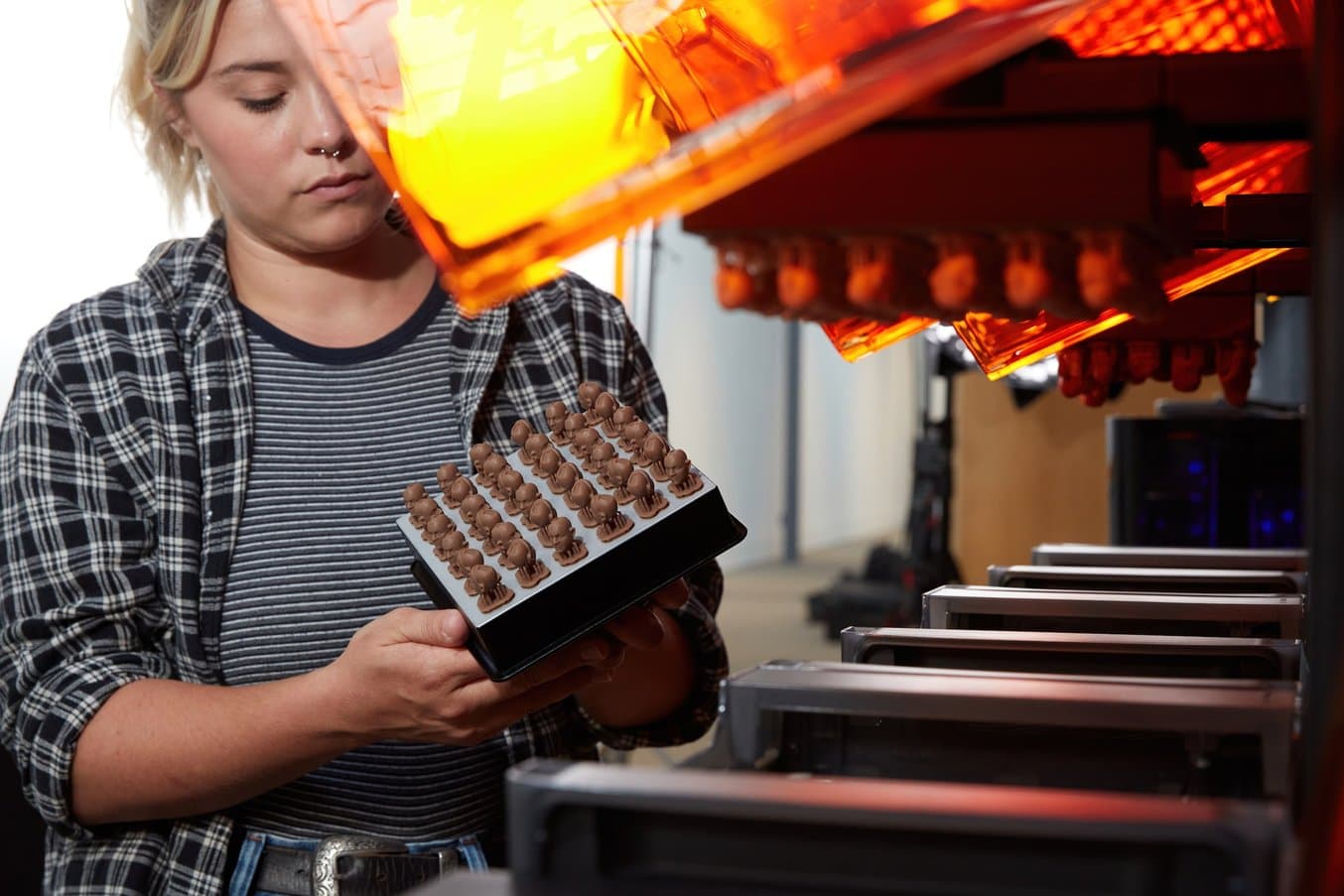 As Hasbro Selfie Series figures grew in scope, Hasbro and Formlabs stayed in close communication. According to Brian Chapman, President and Head of Global Design and Development, Toy/Game/Consumer Products at Hasbro, "it would be not uncommon for me to pick up the phone on a Tuesday and say, guess what? It's a little bit bigger than we talked about yesterday."
As the vision for matching mobile scanning with 3D printing began to grow inside Hasbro, so did the scale of what could be delivered to customers. Instead of a small batch run of 500 figures, what if they could leverage 3D printing to continuously deliver action figures, matching demand as prints were submitted by users? The team started experimenting by deploying a "mini factory" near their Rhode Island headquarters. This allowed them to experience what was possible with in-house 3D printing before making the full investment in a large, agile factory. As it became clear they were onto something, the team became excited about the possibilities of a wider launch.
There were multiple challenges the team had to overcome to bring Hasbro Selfie Series figures to life; when deploying mass customization on this scale, there was no traditional book to follow. And customization alone wasn't enough. Making customized action figures that were unreasonably priced was out of the question: the team needed high-quality, affordable, and customizable.
Formlabs is so committed to the project and making it better, rather than just going through the motions of, here's the printer, here's the resin, have fun. And that became very important to us, because there were a lot of technical hurdles to solve along the way.

Patrick Marr, Sr. Director of Model Development at Hasbro
White Paper
Introduction to 3D Printing With Desktop Stereolithography (SLA)
Download our white paper to learn how SLA printing works and why it's the most popular 3D printing process for mass customization and creating models with incredible details.
Download the White Paper
From Scan to Shipment
For customers, ordering a custom action figure is easy thanks to the Hasbro Pulse app. Users scan their face with a smartphone, pick a character, and have the new figure arrive at their doorstep. Here's how the ordering process works:
Step 1
The customer downloads the Hasbro Pulse app, scans their face, selects the hair color, and picks their preferred action figure. The entire process is complete within the Hasbro Pulse app.
Step 2
The user's configuration is sent to the Hasbro print factory, and is automatically queued up for creation.
Step 3
The customized heads are assembled with a standard/off-the-shelf action figure body.
Step 4
The customized action figure is shipped to the customer.
Hasbro settled on a hybrid manufacturing approach. They continue to use the classic, mass produced injection molded action figure body combined with a 3D printed head and hair to make one, complete figure. While the majority of the toy is injection molded—which allows the company to keep the costs in check—the head of the action figure, which is the most important part, can now be customized before being securely attached. By using software to pair the customers' facial scan with their hair color choice, Hasbro was able to set up a scalable production system which matches the mass produced bodies with the custom heads and hair pieces coming off the 3D printers.
Custom Made, High Quality SLA Materials With Formlabs
According to Patrick Marr, there were two key reasons Hasbro decided to tackle this problem with the Formlabs Factory Solution team. 
First, was the ability to create and print with a custom resin. With over 20+ materials, from strong tough parts that don't break under pressure to flexible and elastic parts that bend, Formlabs SLA machines offer solutions for a wide range of applications. In this case, the need for a range of hues for hair and skin colors, all of which shared the same mechanical properties, meant the need for a custom resin. Based on our Tough 1500 material, Formlabs put our team of world-class materials scientists at Hasbro's disposal, working closely to deliver the required material. Best of all, this new material worked on the standard Form 3, meaning that Hasbro didn't need any special hardware upgrades. With a resin production center in the United States, a robust local supply chain for long-term production was guaranteed, meaning Hasbro could scale this material with demand.
The other reason Hasbro invested in Formlabs was the quality of the parts that come off the build platform. Before Hasbro shipped a single 3D printed part directly to customers, they had to be confident that the parts coming off the build platform matched or surpassed the action figures they currently had on the market.
"When we first started seeing the scans come off the Formlabs printer, we knew we had the quality down. We knew we had the skin tones down. We knew we had something there. And then it was paired with the hair choices, that really made it a complete piece. All of a sudden there, you could start seeing that there's a bridge between that prototyping stage into the production stage."

Patrick Marr, Sr. Director of Model Development at Hasbro
True Mass Customization
The Hasbro collaboration marks another milestone in 3D printing applications expanding from prototyping into production at scale. Hasbro Selfie Series figures represent a new frontier of mass customization in toy manufacturing, with Hasbro hoping it lays the groundwork for bridging the gap between fandom and reality. 
"There will be more Hasbro Selfie Series figures. We are looking at adding additional figures, which is pretty exciting. So we're going to continue to push that envelope and push that boundary, really re-engage with our customers across the entire portfolio. And we're looking at some other opportunities to really leverage that customized experience through the portfolio," said Chapman.
For now, the first iteration of Hasbro Selfie Series figures is taking orders via the Hasbro Pulse App. Hasbro is offering a truly custom made fan-first experience, and at Formlabs we are happy to be a part of their story.  
Orders for Hasbro Selfie Series figures will start this fall, with exciting new toys in the works for the future. Contact our consulting team to learn more about collaborating with Formlabs on exploring and implementing new applications for 3D printing.