How Formlabs, ZBrush, and Wacom Bring Sculpting Into the Digital Age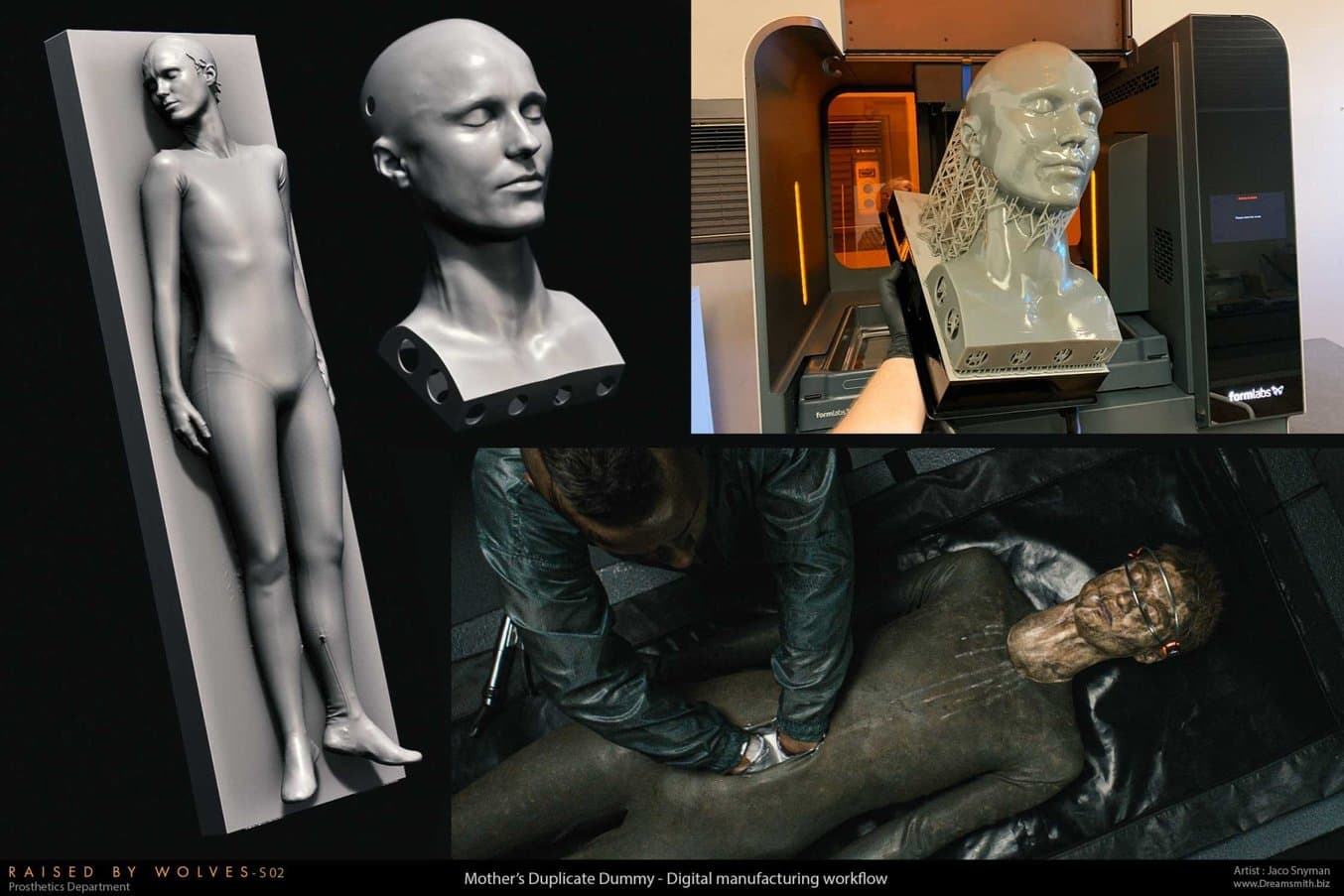 In the current entertainment landscape of streaming wars, binge-watching, doom scrolling and empty theater seats, shows and movies need visuals that pack a punch if they hope to make an impact. To create monsters that terrify the viewer, aliens that unsettle them, and worlds that fascinate, artists turn to a streamlined workflow utilizing ZBrush software, tablets by Wacom, and 3D printing from Formlabs. The Wacom and ZBrush integration mimics the tactile feel of clay sculpting, allowing artists to deliver digital models that feel tangible, while the Formlabs 3D printers are able to translate their incredible detail into high fidelity prints.
The Devil in the Details
For Aaron Sims Creative (ASC), the masterminds behind the Demogorgon and other monsters in Netflix's smash hit "Stranger Things," the devil is in the details. ASC pitched to the show's executive producers a monster straight out of a nightmare, with a faceless head and a grotesquely sinewy frame. To achieve that level of impact in the pitch room required an organic drawing method as well as a high fidelity model. The Wacom tablets were able to help them carve rather than draw the Demogorgon's body, leading to the incredible texture and alien nature of its limbs. 
Wacom creates two kinds of drawing surfaces—screens and tablets—as well as several models of stylus, or digital pens. Screens allow users to draw directly on the surface, creating a digital image where the stylus touches the surface. Their tablets are blank, matte surfaces that transmit the path of the stylus to the connected computer screen, digitally mimicking the pen strokes to create the figure in the software. Wacom's many years of collaboration with ZBrush have even led to new developments in their technology that facilitate easier operation of ZBrush functions. With the Wacom Pro Pen 3D, users can program the ExpressKeys for a single click option on the many variations of Shift+Alt+Ctrl used in ZBrush—which makes such actions as masking, undoing and navigating easier, significantly reducing the amount of time interacting with the keyboard. 
Since digital sculpture has been possible, Wacom has been at the forefront of an organic creation style, giving traditional artists who are familiar with clay mediums a way to maintain their individual style. Wacom's technology makes it possible to then export and 3D print designs that are hyper realistic because they've been drawn in an organic way. "Getting your hands on physical models and observing details up close, getting a true sense of size and proportions, or spotting surface imperfections is absolutely invaluable," says Wacom's Kyle Runciman.
Two Decades of Collaboration
Though Wacom's drawing surfaces make the digital creation process feel more like drawing styles most of these artists and designers grew up with, there is another critical part of the equation: a powerful software that can take their brush strokes and turn them into a three dimensional piece of art. ZBrush is the industry standard for digital sculpting, recreating the feel of using clay or plaster with the intuitive workflow and extensive range of tools. Wacom and ZBrush have been partnered for over twenty years—since digital sculpting became possible. These two companies have been iterating and improving their tools for a smooth integration ever since. One user said, "it's almost impossible to use ZBrush without Wacom, they're made for each other."
ZBrush, Wacom, and Formlabs printers are used by digital sculptors at Dreamsmith, the practical effects and props company behind science fiction phenomenon "Raised By Wolves." Dreamsmith founder Jaco Snyman told us that a workflow of digitally scanning, sculpting in ZBrush, and printing on the large format Form 3L SLA 3D printer allowed them to shave weeks off a timeline and deliver a high quality model to the show's production team. Being able to design small details and pivot easily when changes were requested, instead of laboriously recreating a physical mockup, meant that they were able to focus on more complex design and ideation tasks.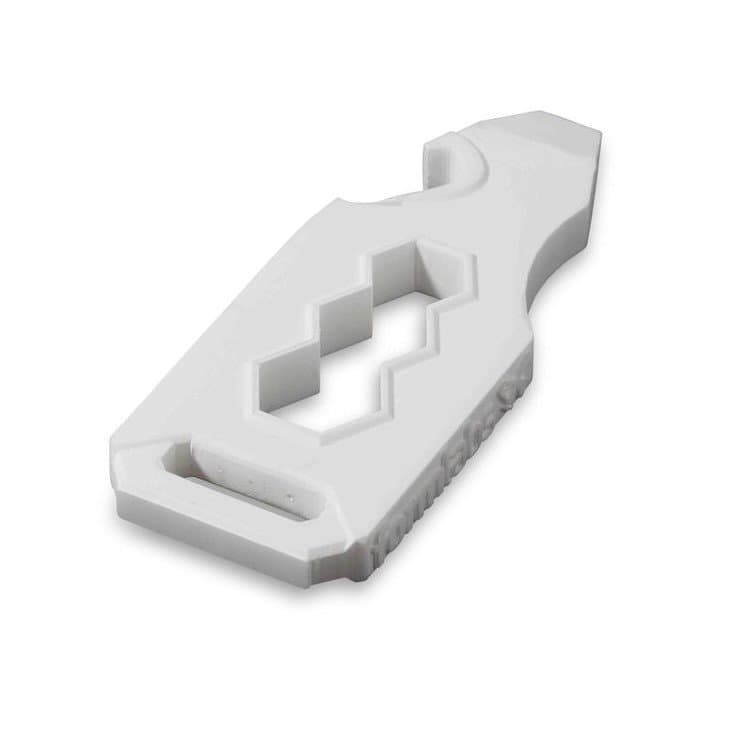 Sample part
Request a Rigid 10K Resin Sample 3D Print
See and feel Formlabs quality firsthand. We'll ship a free sample part to your office.
Request a Free Sample Part
The ZBrush Formlabs Integration
Formlabs recognized early on that ZBrush software was the preeminent choice for digital designers, animators, and storytellers. In 2016, Formlabs released a PreForm update that let users seamlessly transfer their finished designs into the print preparation software, and print it with the one-click print feature. Even then, when users only had access to the Form 2, it allowed customers like Modern Life to create hyper-realistic models. Modern Life artist Toria Casarro said, "ZBrush is the perfect 3D digital modeling tool. It's the most realistic freehand digital clay sculpting software on the market. You can work details without limit, and that makes it possible to reach what we call hyper-realism." 
Modern Life then prints out their designs on their Formlabs printers, faithfully recreating the tiny details like textured hair on small figures. The easy export of the designed file to PreForm software creates a simple workflow that maximizes the amount of time a designer can spend getting the details just right. 
ZBrush 3D Product Development Manager Paul Gaboury said of the integration, "Users want to have something real world in their hands, and they're using the Formlabs printers to get them. Formlabs printers were the first desktop units that were both affordable and able to recreate the quality of the designs, without losing anything in translation." The partnership between Formlabs and ZBrush goes back almost as long as Formlabs has existed—ZBrush employees were some of the first members of Formlabs Kickstarter campaign, and the Formlabs plugin for a direct file export out of ZBrush was announced in 2016.
Quick-Twitch Monsters, Delivered Fast
For Aaron Sims Creative, speed has been paramount in their success as a creative agency. On projects like Stranger Things, being able to get a general brief from the producers and turn it around into a physical prototype in just a couple days helped them secure support for their ideas. Briefs from a show's creators can be general and open to interpretation, so artists always need to be ready to quickly incorporate feedback on drafts and mock-ups.
Sims and his team took the suggestions from the Duffer Brothers and sketched what would become the Demogorgon on the Wacom tablet using the Cintiq Pro pen, then exported the design into PreForm and got the physical product from their Form 3 printer in just a day or two. They took that idea to the production team, got feedback, and we're able to get a physical iteration made that day. "Technology makes our design process easier without cutting corners. We're doing some of our best work, and moving faster than before," says Sims.
Out of the Box Ideas
The natural, tactile feel of ZBrush and Wacom's workflow has found immense success in the artistic fields of model design, figurines, and toy creation, but users are branching out. As seen through the work done by Aaron Sims Creative, Dreamsmith, and Hasbro, there is no limit to what this integration can create. 
If the situation calls for a hyper-realistic design, ZBrush, Wacom, and Formlabs are up to the task of translating that into reality, whether that's for product design, props and costumes, jewelry, prosthetics, and more. "ZBrush and Wacom aren't just for small figures, the integration is being used in every industry and application—wherever people need incredible detail and a natural sculpting feel, this integration is the best way to design," says Gaboury.