New Medical-Grade Materials: BioMed Black Resin and BioMed White Resin for a Wide Range of Functional, End-Use Applications
Today, we're launching BioMed Black Resin and BioMed White Resin, two highly opaque medical-grade materials targeted for use in biocompatible applications.
At Formlabs Medical, we believe that one of the most powerful advantages of stereolithography (SLA) 3D printing is the wide range of printing materials. After years of research and feedback from customers, our materials team developed two new resins to underscore Formlabs' commitment to medical innovation and advancing additive manufacturing in healthcare. BioMed Black Resin and BioMed White Resin double our biocompatible printing offerings, and create new possibilities for medical device firms and the wider healthcare community.
In this post, we'll explore how these new materials are enabling versatility and innovation in medical 3D printing.
Webinar
Biocompatibility, Materials & Strategies for Medical Additive Manufacturing
Join Formlabs and Nelson Labs for a deep dive into biocompatibility, including an introduction to our new materials and best practices for medical manufacturers from industry experts.
Register Now
3D Print an Expanded Range of Biocompatible Applications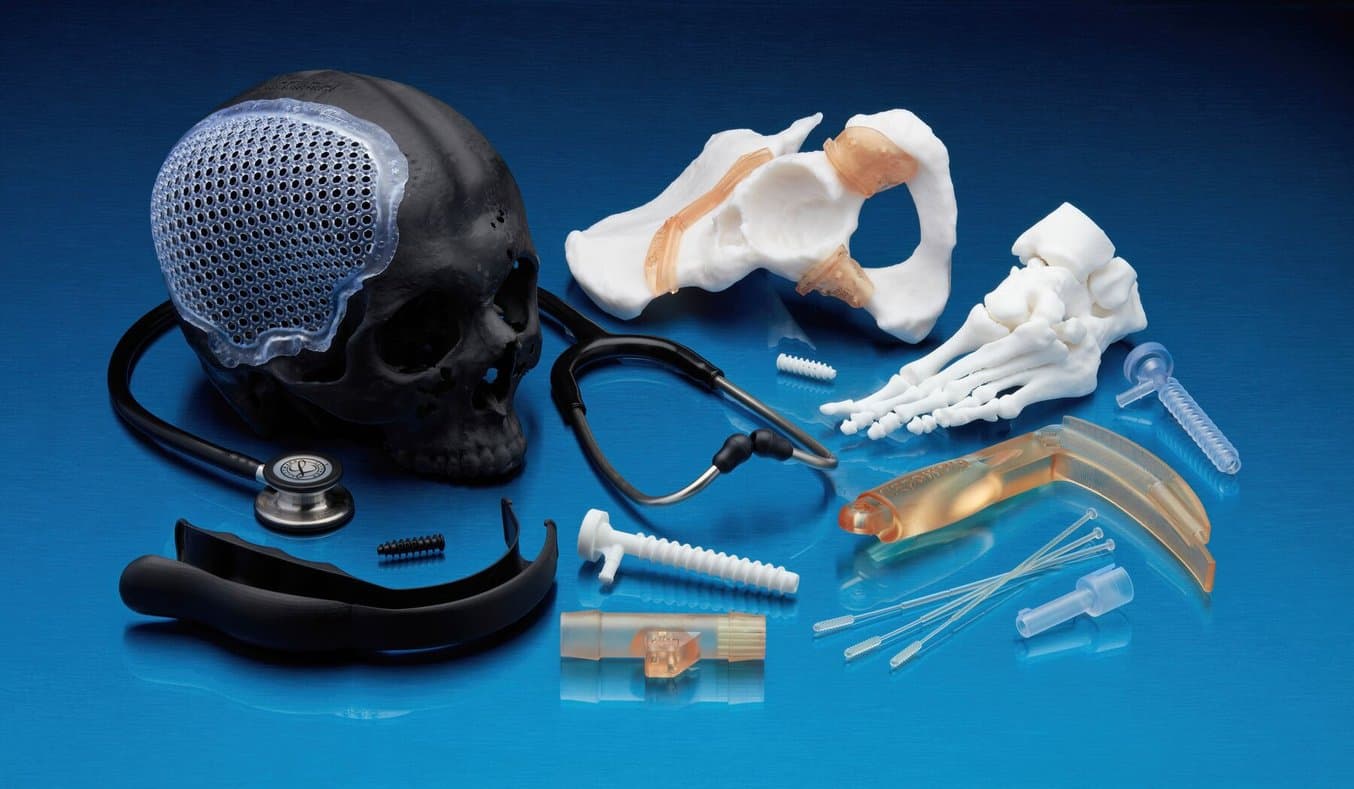 In 2020, Formlabs Medical introduced BioMed Amber Resin and BioMed Clear Resin to provide customers with medical-grade, functional materials to manufacture innovative, biocompatible devices. Since then, the number of new medical devices created using additive manufacturing for final-use parts has seen robust growth. Based on current trends, patient-matched devices remain the application for which the greatest development is expected. With the growth of point-of-care manufacturing, increased demand for personalized surgical tools and assistive devices is expected to expand as well.
Our two new materials listed below were designed to accelerate these trends taking place in the medical industry:
BioMed Black Resin is a matte black material for biocompatible applications requiring long-term skin contact or short-term mucosal membrane contact. This medical-grade material is suitable for applications that require high contrast for visualization, excellent definition, and smooth surface quality.
BioMed White Resin is an opaque white material for biocompatible applications requiring long-term skin contact or short-term mucosal contact. Unique in our portfolio, this medical-grade material is validated for short-term tissue, bone, dentin contact.
BioMed Black Resin and BioMed White Resin deliver multiple advantages based on their physical and aesthetic properties:
Enhance visualization: During diagnostic and surgical planning, medical professionals leverage colored materials for surgical tools that require increased contrast against other components, soft tissue, or environments. In pharmaceutical manufacturing, black and white prints can provide contrast between powders or solids and colored parts to support efficient workflows. Furthermore, these new materials produce high-quality, finished-looking solutions to facilitate clinician and/or patient acceptance and compliance.
Minimize complications: Produce parts and assemblies with complex designs and geometries that fit the organic shapes of the human body. Smooth surface finishes reduce the available surface area for microbial adhesions, helping reduce the risk of microbial growth and unnecessary friction for end-use parts.
Along with their aesthetic properties, opaque resins such as BioMed Black Resin will block and absorb additional light, a crucial property to consider when printing parts for heat and light-sensitive applications. Our expanded biocompatible material library means the medical community will now have access to materials to match their current printing applications, with each material delivering different functional benefits.
Material
Example Applications
BioMed White

End-use medical devices and device components
Patient-specific implant sizing models and molds
Cutting and drilling guides
Surgical tools and templates
Biocompatible molds, jigs, and fixtures
Anatomical models that can be used in the OR

BioMed Black

Medical devices and device components
Biocompatible molds, jigs, and fixtures
End-use parts requiring patient contact
Consumer goods

BioMed Amber

End-use medical devices
Implant sizing models
Cutting and drilling guides

BioMed Clear

End-use devices, including gas pathway devices
Biocompatible prototypes, molds, jigs and fixtures
Models for visualization and implant sizing
Cell culture and bioprocess devices
"At TECHFIT Digital Surgery, we've been involved in over 2,600 3D planned patient-specific surgical cases worldwide and have been hoping for material like BioMed White for years. The material's USP class VI, ISO 10993, and USP <151> make it ideal for surgical guide and template applications in oral and maxillofacial, orthopedic, and neurosurgery. This, combined with the already impressive capabilities of the Form 3B printer, will allow for an effortless and effective workflow to produce these guides in the Point Of Care. This will enable us to fulfill our vision of distributed manufacturing of 3D printed patient-specific medical devices developed using our DISRP platform. Moving away from capital-intensive printers and materials for these solutions is the key to a robust distributed healthcare supply chain," said Mauricio Toro, CEO/Co-Founder at TECHFIT Digital Surgery Inc.
Biocompatible, Sterilizable, and Rigid Medical-Grade Materials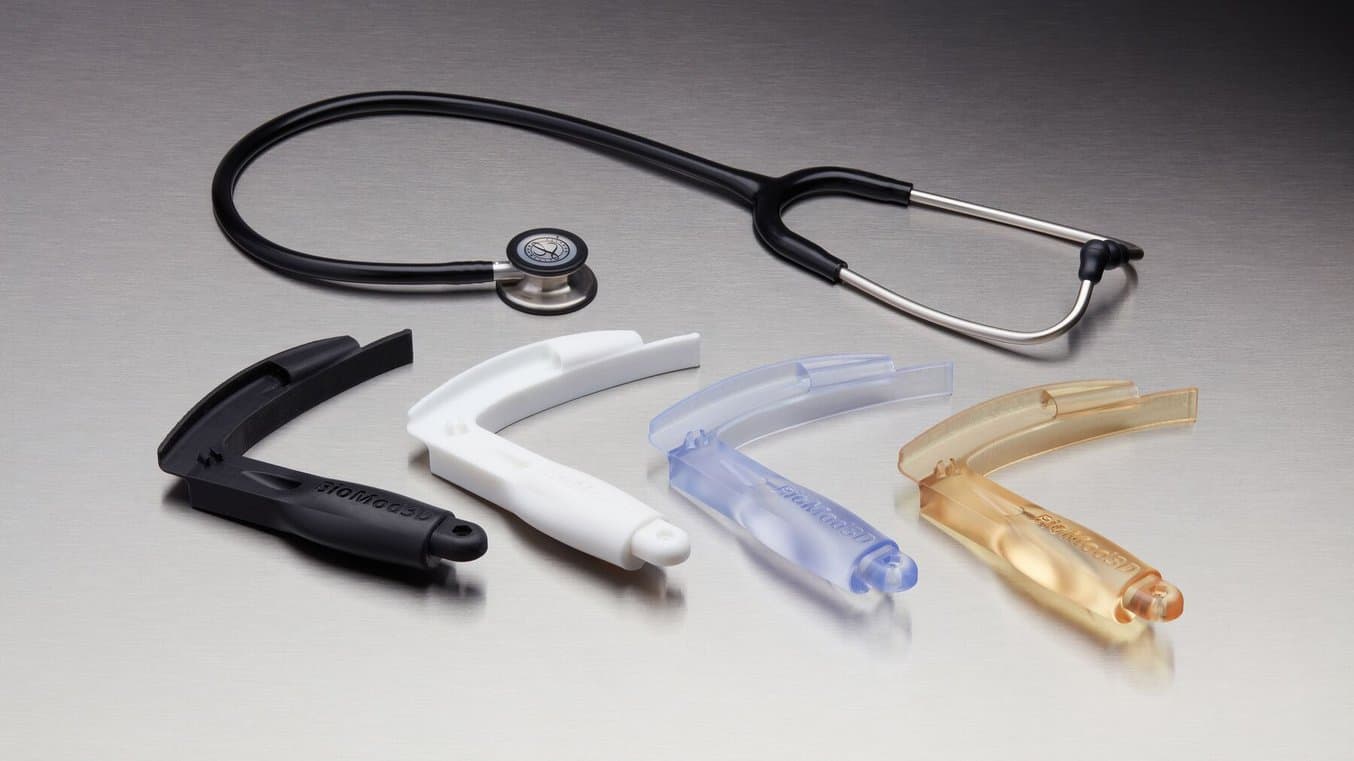 Our BioMed Resins are designed for healthcare professionals who are seeking medical-grade materials for a wide range of applications where performance and biocompatibility are needed. All of our BioMed Resins are developed and manufactured in an ISO 13485 certified facility and are compatible with common disinfection and sterilization methods.
For medical device firms, this means leveraging biocompatible parts to directly evaluate prototypes with beta or clinical testers. High-quality, smooth, biocompatible 3D printed parts will simulate your end-use device, allowing firms to collect accurate feedback.
UK-based medical device company Coalesce Product Development used BioMed Clear Resin, with ISO 18562 and USP Class VI certifications, to develop novel, innovative drug delivery devices including inhalers and injectors. They created different mouthpieces in BioMed Clear Resin for patient trials, allowing the team to skip the creation of expensive injection molded plastic parts.
For hospitals and medical practitioners, biocompatible parts are driving innovation across patient care. From implant guides and drilling templates, patient-matched surgical tools, visual aids for diagnosis and education, and much more, Formlabs' materials support biocompatible applications requiring short-term skin or mucosal membrane contact. For example, healthcare providers used BioMed Amber to print over 70 million end-use swabs during the pandemic.
Additionally, BioMed Clear Resin is unique in that it has been tested to ISO 18562 standards for use in gas pathway applications in healthcare. Our new BioMed Black Resin and BioMed White Resin join BioMed Clear Resin as USP Class VI certified, suitable for pharmaceutical and drug delivery applications.
Start Printing Biocompatible Applications Today
With the launch of new QMS compliant materials such as BioMed Black Resin and BioMed White Resin, Formlabs Medical is committed to being a leader in the healthcare 3D printing market. Both materials are available globally from Formlabs starting today, and you can request a free sample part to compare the materials for yourself.
If you have any questions about these new materials, or need help choosing the right material for your medical application, please contact a Formlabs Medical expert.