KUHMUTE Redesigns Mobility With SLS 3D Printing
KUHMUTE uses SLS 3D printing to manufacture adapters for micromobility solutions.
Transportation is a part of our daily lives. We all have places to go, taking public transit, driving, biking, or walking to get where we need to be. As cities modernize, transportation becomes so much more than getting from one place to another. Plenty of considerations come into mind. How much does it cost? How fast can I get to my destination? How convenient is it to travel this way? Am I being environmentally conscious by choosing this method of transportation? The cities of the future require modern transportation options. 
This is where KUHMUTE comes in. Based in Flint, Michigan, KUHMUTE Co-Founder and CEO Peter Deppe and Co-Founder and CTO Scott Spitler created the company to help cities and Mobility Service Providers bolster their transportation infrastructure. KUHMUTE offers a product that is best described as a combination of an EV car charger and a gated parking system. The company prints adapters that power charging stations. This flexible charging infrastructure enables those riding e-bikes, e-scooters, e-skateboards, and autonomous delivery robots to recharge between trips. 
How does KUHMUTE make aesthetically pleasing, functional adapters? The Fuse 1 selective laser sintering (SLS) printer is KUHMUTE's key to quickly printing the adapters. In this blog post, we'll cover:
KUHMUTE's plan to transform mobility.
How KUHMUTE 3D prints end-use parts for their chargers on the Fuse1.
What's next for KUHMUTE.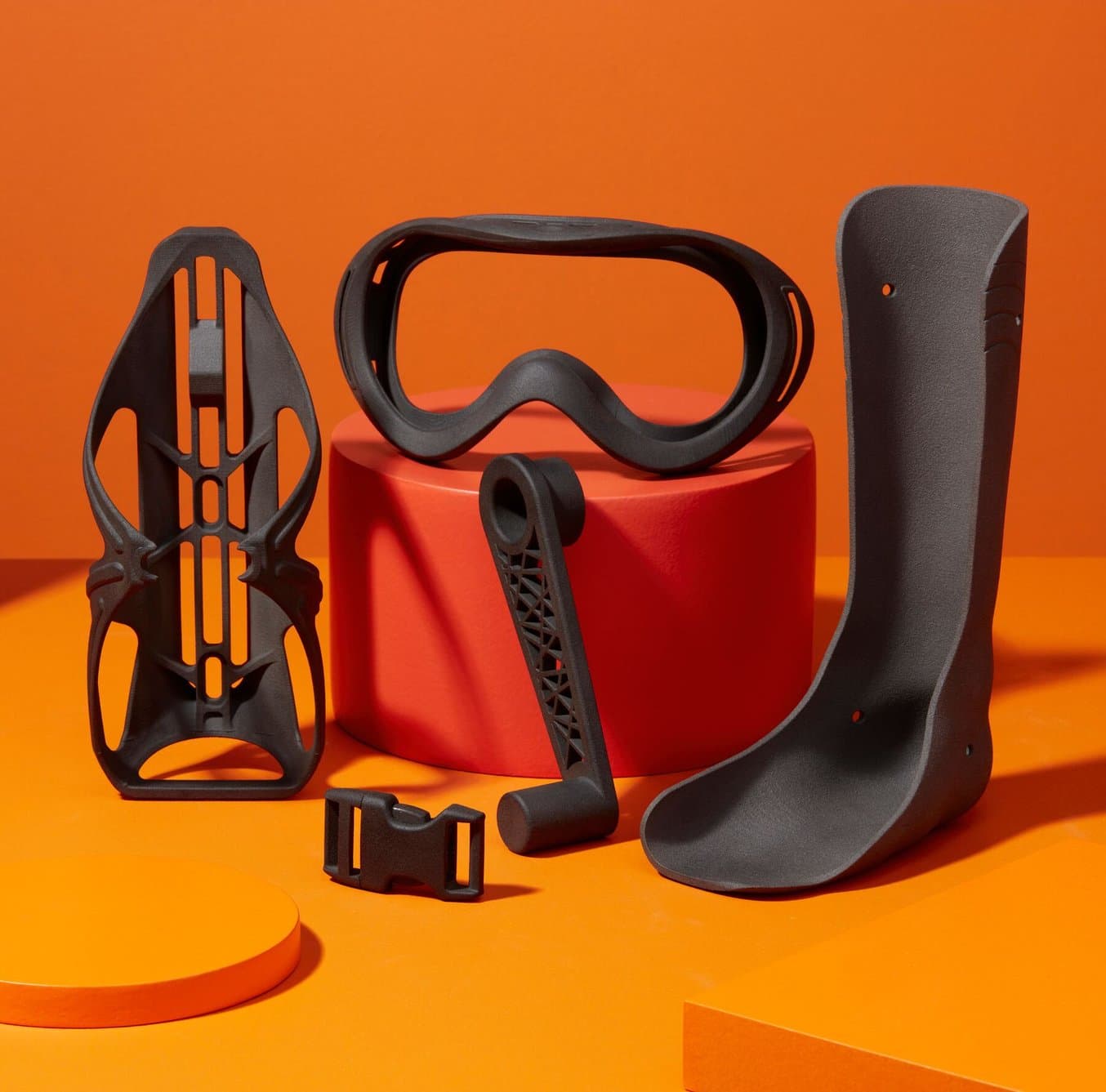 Webinar
How to Identify the Right Applications for SLS Printing
In this webinar, Peter Deppe, CEO and Co-founder of KUHMUTE, shares his insights on using SLS to produce charging stations for e-scooters, ebikes, skateboards, and autonomous delivery robots.
Watch the Webinar Now
KUHMUTE's Plan to Transform Mobility
Born out of a thesis project, Deppe said that KUHMUTE was designed for micro mobility, defined as transportation with lightweight vehicles like bikes, e-scooters, and mopeds. Micro mobility is more than a mere buzzword; it is changing city infrastructure. Cities rely on transportation to function and micro mobility paves the path for quicker, more efficient transit. Hailed as the future of transit, micro mobility is still in its infancy and experiencing growing pains. 
Deppe wanted to make Flint, Michigan KUHMUTE's home, citing creating manufacturing jobs as a reason. "One of our goals is to keep a lot of manufacturing jobs here in Flint and really grow the tech space within Flint just with startups. Hopefully, showing that you can be a startup and stay in Flint, and still be successful and also manufacture here as well. So that's one of the other key differences. We design it here, we manufacture a good portion of it here in Flint," he said.
How KUHMUTE 3D Prints Their Chargers
KUHMUTE printed the e-bike vehicle adapter basket bracket prototype, e-scooter vehicle adapter side wings, e-bike vehicle adapter bracket, and home hub rear mounting bracket on the Fuse 1.
To the KUHMUTE team, it is critical to keep jobs in Flint while manufacturing their product in a sustainable fashion. In order to do so, they turned to 3D printing. Before procuring a Fuse 1, the KUHMUTE team used a fused deposition modeling (FDM) 3D printer. "We actually used to 3D print all adapters with FDM 3D printers. We still use them to some extent, but now they're mainly just for prototyping. So we actually prototype on an FDM 3D printer before we put it through the Fuse," Deppe said.
The team currently has one Fuse 1, but with an eye on adding more. KUHMUTE added the Fuse 1 for several reasons: the finished product was aesthetical, Nylon 12 Powder was durable, and the Fuse 1 provided the ability to customize.
"Coming from FDM to SLS, we just love the look of these parts, because you can not see the layer lines, which in the past we did have customers that did have some complaints on FDM parts where they could see some lines. So having switched to this where it looks much, much cleaner, was a huge benefit for us, as well as just the environment resistive-ness with different heat and cold temperatures, as well as just the overall durability that it needs to have," Deppe explained. "It just overall looks much cleaner and our customers are much more happy with these parts than in the past with the FDM printers...We can add custom logos and things on there as well pretty instantly. They actually look like the logo, as opposed to previously with the FDM parts."
KUHMUTE prides themselves on their quick production times. "Once we get a sample vehicle, whether it's a new bike or scooter in house, we're able to turn around and start making production adapters in a matter of just four to six weeks, depending on how many vehicles we're integrating at a time, as well as the complexity of the design of the vehicle itself," Deppe said.
To achieve this level of production, KUHMUTE found an efficient workflow. They start with designing the CAD model with Fusion 360. The team then prints with their FDM 3D printer for a prototype run, or for a test fit. Then, they figure out how to pack the build platform as efficiently as possible. After printing on the Fuse 1, they use the Fuse Sift, the powder recovery system for the Fuse 1. 
"The main reason we went with the Fuse Sift package was actually because of the cleaning station option...Having a dedicated area for cleaning the parts, we felt was a huge benefit over other solutions that maybe had a mat that you would put on a table to clean the parts...The Sift for us has worked amazing for cleaning parts, keeping everything contained, and then also the mixing process of the material," Deppe said. "It's a crazy jungle up in this warehouse. So it's good to have something where it keeps all of the material contained, and clean and repeatable. So that way if we had to train someone new on it, it's fairly straightforward, and it doesn't take much time to get someone up and running with it. Then it's one less thing for me to do and now multiple people can operate the Fuse 1."
To bring KUHMUTE out of the warehouse, Deppe conducts durability tests with a rig that tests how much force it takes to essentially rip an adapter out of our charging hub. "Previously with our FDM print printed parts, we were achieving four to 500 pounds of pull force to rip it out of a hub. The part completely shatters and explodes," he said.
The e-bike vehicle adapter bracket was printed on the Fuse 1.
With the addition of the Fuse 1, Deppe said he was able to achieve his short term goals for KUHMUTE. "We're achieving high quality, aesthetically pleasing looking parts that really the only post-processing we do is just removing the material. We are dyeing some parts just black so that way they fit in better with the aesthetic that we have. We really like how it's just a one-step process essentially for post-processing. It's just removing the material. For us and our needs, we're not really doing any polishing right now because the parts look good enough for what we're doing right out of the build chamber. So it's fairly simple for what we need and that's really what we're achieving is just production-ready parts as quickly as possible on an on-demand basis," he said.
The main gap KUHMUTE sought to fill was producing parts at an increased density. "So we also like how we can fit multiple adapters into one print. Being a micro mobility company, sustainability is a focus of what we do," Deppe said. "Another point...that we like about SLS is that we're able to reuse the Nylon 12 Powder. So the amount of waste that we're having with our parts is also dropping as well. Being a sustainably focused company around micro mobility and sustainable transit, sustainable ways of manufacturing is also super important to us," Deppe said.
White Paper
SLS 3D Printing vs. Injection Molding: When to Replace Molded Parts With 3D Printing?
This white paper showcases the cost-dynamics for real-life use cases, and presents guidelines for using SLS 3D printing, injection molding, or both.
Download the White Paper
What's Next for KUHMUTE
E-scooters are becoming an increasingly popular form of transportation.
KUHMUTE hopes to make a green impact in cities by encouraging people to turn to micro mobility. "We're looking to hopefully get more people out of single occupancy cars and move them toward choosing more efficient modes of transportation, like electric scooters, and bikes, and cargo bikes," Deppe said. "Maybe relying on a delivery robot to deliver your food, as opposed to someone driving their car via DoorDash or UberEats. That's the impact that we're looking to make, is really helping to really change the game on transportation and mobility."
He added, "We mainly want to just provide just a real reliable service in those cities. But here in Flint, since it's our city, we're able to be a little bit more creative and try new things. Whether it's a new business model or new products that have these 3D printed parts incorporated in them. Again, 3D printing for trying to use different pilot projects. For example, we're going to be launching a brand new product on Airbnb properties for scooters and bikes here pretty soon. That piece will actually be completely 3D printed out of the Fuse 1."