How a Manhattan Service Bureau Scaled Up With the Fuse 1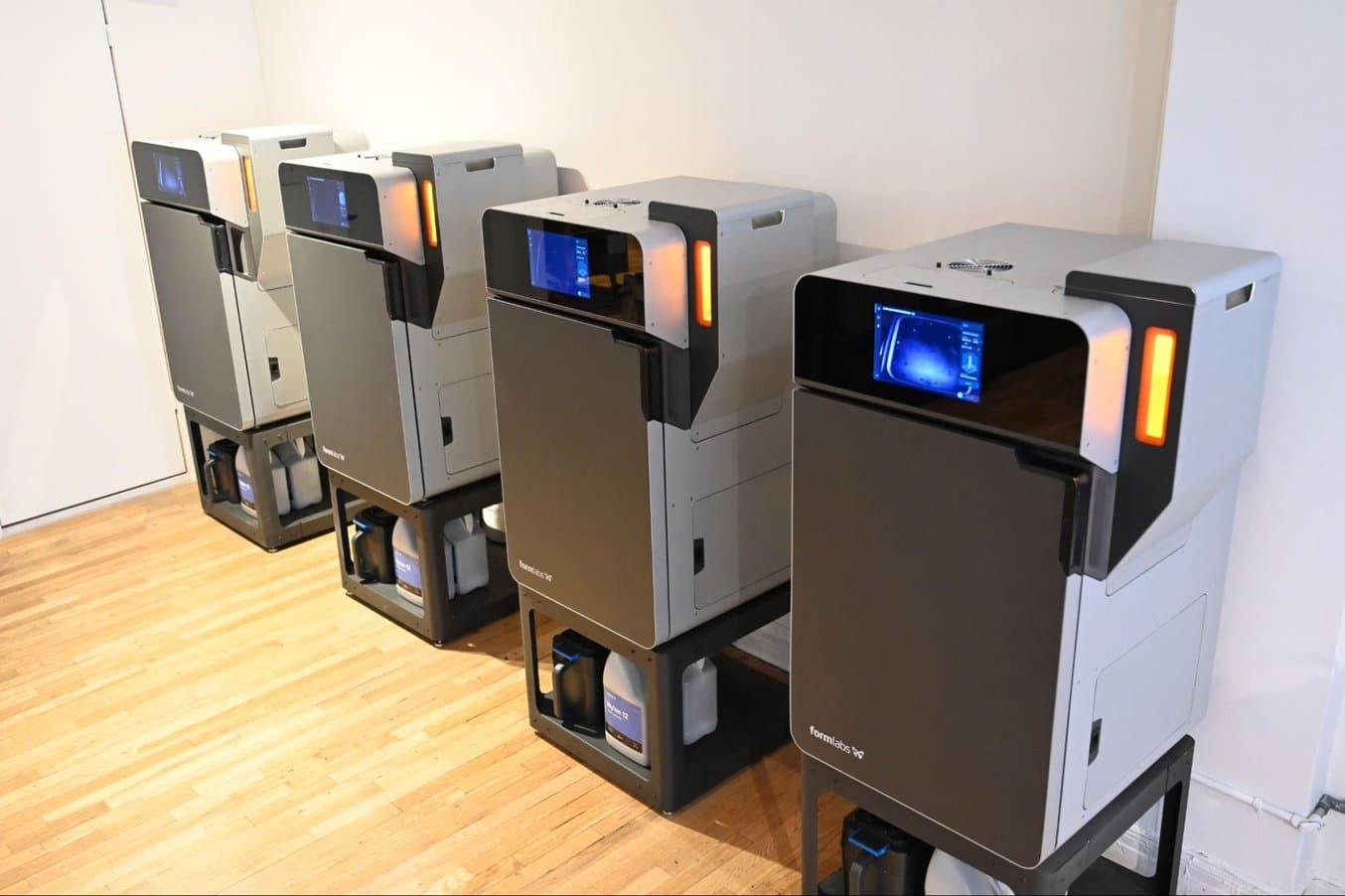 PrintParts, a 3D printing contract manufacturer in Manhattan, has grown into one of the largest service bureaus in New York City by adhering to the philosophy of CEO and founder Robert Haleluk: always evolve their operations based on customer demand. PrintParts works with dozens of engineering companies who request everything from initial prototypes to end-use production parts, and has become a trusted manufacturing partner by scaling their operation to meet the constantly evolving needs of their customers. 
However, there's been one type of request that they've historically found it hard to supply themselves: customers asking for durable selective laser sintering (SLS) prototypes and end-use parts. The powder-based 3D printing systems capable of creating those strong end-use parts have traditionally been too big to get into the PrintParts Manhattan facility, and too expensive to scale up at the volume that they envisioned, forcing them to outsource powder parts in order to meet those customers' requirements. 
PrintParts was always on the lookout for a smaller-footprint, more affordable powder-based option. So when the Formlabs Fuse SLS printer became available, Haleluk and COO Cody Burke jumped at the opportunity to scale up with four printers and two post-processing Fuse Sift systems, making PrintParts the largest customer installation of Fuse 1 printers in the country.
"The first month Formlabs announced the Fuse 1, we said, 'yes, we want this,'" says Haleluk. 
Starting Small, Scaling Up
Haleluk started PrintParts in May 2016, with just a couple FDM printers in a WeWork office, but his vision was always to supply different types of 3D printed parts to a wide range of customers. His background in injection molding and connections in the tightly knit NYC 3D printing community helped him grow a network of customers looking to outsource their production parts. 
"For me it was always about the volume, about the quantity. I wanted to be able to offer 10,000 parts in a week, and eventually 100,000 parts in a month. Having more machines gives you more throughput." says Haleluk.
To offer that quantity, PrintParts needed to have a fleet of machines able to run around the clock. Haleluk invested in small footprint machines like the Formlabs Form 2 and Markforged FFF printers. He was able to scale up volume with lower cost machines, and provide short-run production to customers looking for hundreds or thousands of parts. 
"I've always thought we need to adopt traditional manufacturing practices and develop long-term relationships with our customers. Our goal is to act as a resource to support their business, by providing expert advice during the prototype, or production design phase, and support them in using additive manufacturing for mass production of end-use parts."
Building a 3DP Powerhouse in a Manhattan Footprint
Despite moving to a private facility at a former stamp factory near Madison Square Park in 2018, space was still an issue for PrintParts. Most contract manufacturing companies have massive warehouses for their equipment, but staying near their Manhattan customer base meant that PrintParts needed to get creative about economizing their layout. 
"One of the challenges we have is our space, we have very narrow doors and it's an old building. We can't have some of the larger systems here, we're restricted in many ways. When people wanted Nylon 12 we couldn't do it ourselves," says Burke.
Narrow doorways and small elevators weren't the only obstacles to adding SLS 3D printing for PrintParts. Their approach to adding capability has always been conservative, waiting until the business case presented itself and the margin on parts was undeniable. Because traditional powder systems require a $150,000-$500,000+ investment, the equation never worked out for bringing SLS in house before. Thanks to the Fuse 1, PrintParts has been able to closely follow the demand and scale to four machines rapidly, all for less than the cost of one traditional powder 3D printing system.
In a Sculpteo survey of over 1,900 engineering companies, 72% of those surveyed said that strength was their number one concern in choosing a 3D printing technology. Typically that has meant powder based 3D printing on large, industrial machines with price tags out of the reach of a start-up like PrintParts. They were forced to rely on overflow partners for nylon parts created by industrial powder printers. The business was there, but the right size and cost of equipment was not, until Formlabs shipped the Fuse 1. 
"The Fuse allowed us to bring our existing Nylon 12 business in-house, which is much better for us financially. The size of the system and the price point was ideal for us, and more importantly, the parts are as good as what we were receiving off more expensive competitive systems and the customers are happy. For many of them, the cost is half what they were paying previously."
The new workflow has been beneficial to both customers and PrintParts internally. The price point of the Fuse 1 means that they were able to ramp up to four machines and start offering powder parts at volume, while maintaining control over price per part and lead time. 
"We've been very successful offering Nylon 12 with the Fuse 1 system. Our customers are interested in higher quality parts and Nylon 12 has been a great material to help them achieve better results because we can print without supports. We find that a lot of customers want a more cost effective option to print production grade parts using SLS, so we're excited to offer them Nylon PA12, and soon PA11, using the Fuse 1 machine."
Haleluk estimates that about half their customers come to them with a fully fleshed out design and manufacturing plan, while the other half relies on their expertise for design input as well as material selection. Finally being able to offer Fuse 1 parts without adjusting for outsourcing costs has allowed PrintParts to transition roughly 30% of their SLS customers to an in-house solution. 
Haleluk also steers customers towards the Fuse 1 when he recognizes that certain parts might just be easier to print in the fully supported powder bed, rather than constructing complex lattices of supports on an SLA or FDM printer. 
"[If] this is going to be a problem to print in FDM or resin, with a ton of overhangs or supports, or the geometry is very limiting, we'll offer SLS to make our workflow a little easier… Having that system where you can rely on a powder based process that's supportless, it's another card in our back pocket."
White Paper
SLS 3D Printing vs. Injection Molding: When to Replace Molded Parts With 3D Printing?
This white paper showcases the cost-dynamics for real-life use cases, and presents guidelines for using SLS 3D printing, injection molding, or both.
Download the White Paper
Pursuing the Future with the Fuse 1
Haleluk and Burke see a future with the Fuse 1, and predict that as new materials become available, they'll continue to grow their fleet of printers. Their goal is to keep their title as the largest installation of Fuses in the country. Though square footage is in short supply in a Manhattan high-rise, PrintParts is confident that adding more Fuse 1 printers is well worth the space. 
"We're aggressively pursuing the future...We made the investments, we're really happy with our catalogue of materials and technologies, we're working with great customers, so now we want to empower them and continue to grow our business by offering production grade parts at a price that's affordable and with lead times that are acceptable."