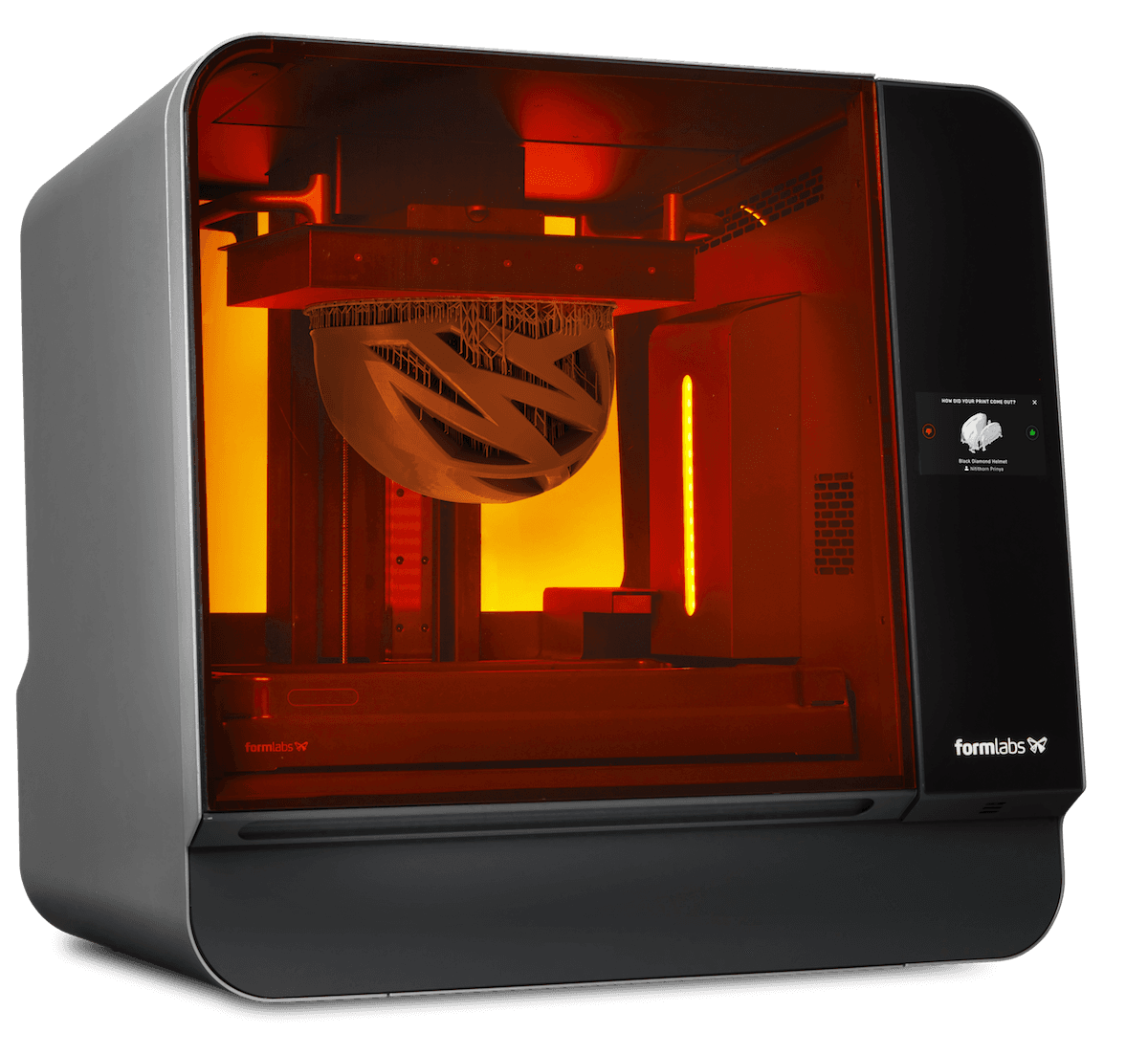 Stratasys J55 vs. Formlabs Form 3+/3L
You Don't Need to Spend $100,000 to 3D Print High-Fidelity Prototypes in House
Scale prototyping and production as your business grows with the Form 3+ and the Form 3L, affordable, industrial-quality 3D printers that don't compromise on the details.
Compare the Stratasys J55 vs. Formlabs Form 3/3L
Printer
Price
$2,499- $8,999
Transparent pricing with no hidden fees. Buy directly from Formlabs via an additive manufacturing specialist or the online store, or locally from a worldwide partner network.
$99,000
Complicated and opaque pricing, requires multiple quote requests and negotiation.
Technology
Low Force Stereolithography (LFS)™
This new generation of stereolithography (SLA) 3D printing uses lasers to cure liquid resin into hardened plastic to produce high-accuracy, isotropic, and watertight prototypes and parts with a smooth surface finish.
PolyJet 
PolyJet printers work similarly to traditional inkjet printers, but distribute droplets of resin onto a flat build platform. This process is highly accurate and creates parts with a smooth surface finish, but only works with materials that have a lower viscosity, which severely limits the material options.
 
Build Volume (W × D × H)
Form 3+: 
14.5 × 14.5 × 18.5 cm
5.7 × 5.7 × 7.3 in
Form 3L:
33.5 × 20 × 30 cm
13.2 × 7.9 × 11.8 in
J55:
14 x 20 x 19 cm 
5.5 x 7.9 x 7.5 in
Materials
30+ functional resins
A wide range of materials for prototyping from soft silicone-like to flexible, tough, durable, and rigid varieties. Specialty materials for high-temperature applications and castable patterns. A variety of dental resins, including biocompatible materials.
6 standard resins
A very limited selection of rigid and transparent materials with a low heat deflection temperature, which in turn limits the possible applications to concept models and high-fidelity prototypes that are too fragile for functional testing. 
Color 3D printing
Formlabs offer a color mixing solution to match custom colors. Most resins have an opaque finish that is easy to sand and paint.
Full-color 3D printing and multi-color parts in one print.
Setup and ease of use
Plug and print
Contact-free delivery and online or in-person training for the entire team. Easy workflow empowers anyone at your company to use the system independently after less than one hour of training.
Complex
Setup and training with on-site installation recommended. The more complex workflow and the steeper learning curve means that the system requires a skilled technician in-house to operate and maintain. 
 
Software
Free and easy to use
Formlabs' free print preparation software, PreForm, automatically suggests optimal orientation, supports, and layout, with the ability to manually refine as needed. Try it now. You can also use the online Dashboard to manage printers, materials, and teams.
Free
Stratasys also offers a free print preparation software, GrabCAD Print, with a range of basic and advanced features and online job tracking.
Service
Pro Service
Premier support service with fast response time, customized training, replacement printer, and extended warranty—all for an affordable price.
Mandatory Contract
A mandatory service contract with multiple expensive tiers and add-ons. You can't even set up the printer without it.
Company
Formlabs adapted the SLA technology to the desktop in 2011 and has since become the market leader, selling more than 100,000 printers as of today.
Founded by the inventor of the FDM process, Stratasys primarily offers industrial 3D printers that are limited to large companies and service bureaus due to their high price.
Do you have more questions about the differences between these solutions?
Request a Free Sample 3D Print
See and feel Formlabs quality firsthand. We'll ship a free sample part to your office.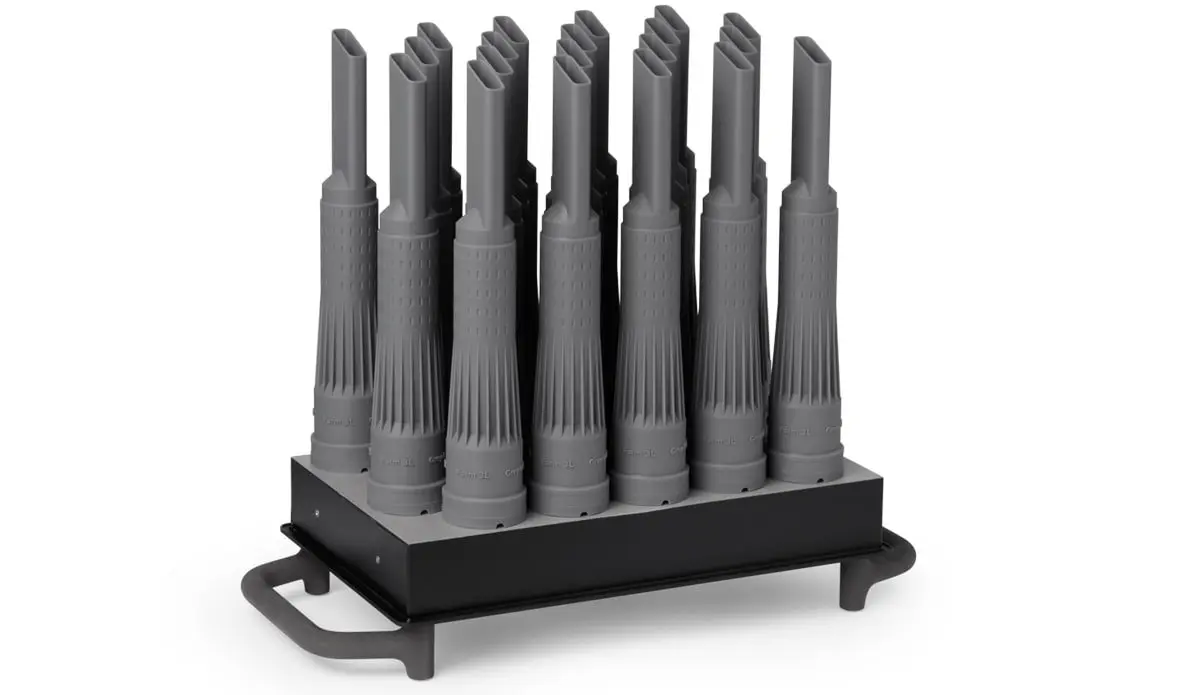 Get an Entire Fleet for the Price of a Single Stratasys J-Series 3D Printer
Buy a fleet of 40 Form 3+ printers or 11 large-format Form 3Ls for the price of one Stratasys J55 to scale your throughput, be able to print different materials simultaneously, and have a peace of mind to avoid downtime. 
Color Kit: A Full Spectrum of Possibilities
The first integrated color mixing solution for SLA 3D printing, Color Kit enables 3D printing in a range of colors without the manual work of finishing and painting. Field test product concepts more quickly with 3D prints that fit their environment.
High Quality Parts, Fast, Affordably
Reduce costs, iterate faster, and bring better experiences to market with our advanced 3D printing materials designed to deliver beautiful final parts for a wide range of applications.
70,000,000 Parts Printed With Formlabs Technology