Continuous Improvement at the World's Largest Furniture Manufacturer
In the face of decades of shifting markets, endless new technologies, and unprecedented labor shortages, Ashley Furniture has only continued to grow. In 2005, they became the largest furniture manufacturer in the world, a title they still hold today.
The company followed the arch most American businesses of its era dreamed of. Its first manufacturing facility opened in Arcadia, Wisconsin in 1970 with 35 employees, since blossoming into a global company with 900+ stores around the world. Ashley's factories produce more than 300,000 pieces of furniture a week, amounting to about 16 million a year.
A careful look around Ashley's Arcadia facilities reveals the recipe for their success, and it is a recipe. Like most modern manufacturers you'll find a variety of robots, but the company hasn't found—and aren't looking for—silver-bullet solutions. Rather, they focus on a model of continuous improvement. It's the cumulation of these improvements, and a culture that encourages them, that's fueled their growth and unbroken grip on the #1 ranking. 
3D printing, for example, has slowly trickled onto the factory floor, and gradually reorganized manufacturing processes from fabrication to assembly. 
Watch the video to learn how Ashley Furniture went from one idea to 700 3D printed parts in service across their factory floor.
A Culture of Continuous Improvement
Continuous improvement is a key ingredient in Ashley Furniture's manufacturing success. The ability to respond to change is the only constant when it comes to staying competitive in manufacturing, but it takes more than just one initiative or project to integrate new technologies and practices that impact business on a fundamental level, and more than just a top-down decree. 
"If we don't have that culture of change, that's going to start to prohibit our growth. We have to be willing to identify what that change is going to be, and figure out how to best incorporate that into our processes and operations—and teach our employees why we need to make that change, how we can make it, and empower them to help us make it," said Vaughn Pieters, Ashley Furniture senior director of casegood operations, who has been with the company for just over 25 years. 
3D printing is a clear example of Ashley Furniture's commitment to lean manufacturing processes and kaizen approach, with employee-driven incremental changes that have saved significant time and costs in getting products to market, and empowered staff to be more productive, and focus on more creative work.
"We started out just making one simple sample, because we could make that sample in a matter of a few hours versus having to potentially source from an international vendor that would take weeks. We were able to use 3D printing technology to compress some of those timelines and make better more educated decisions with our design staff," Pieters said.
"Now we've continued to grow that with how we use 3D printing technology to make components that help us run our day-to-day business on the manufacturing floor."
Learn more about how Ashley Furniture has integrated 3D printed parts across their factory floor, from assembly to fabrication. 
Hard-Coding Innovation Loops
One employee's smart questions spearheaded Ashley Furniture's success with in-house 3D printing. The technology has since blossomed into a problem-solving tool that staff across the company, from CEO to assembly line worker, understand the value of and can use to bring ideas for improvement to life.
"One of the strong aspects of being able to 3D print parts is that we're able to adapt and change to some of the end operator suggestions," said Brian Konkel, Ashley Furniture production and design engineer. "The more areas we have 3D printed parts in, it's given the employees exposure to the process, and its spurred new ideas and new requests to increase productivity."
This idea of these feedback loops across the company is not just a product of a culture of continuous improvement, it's a hard-coded practice. In addition to internal training programs, the company has an IDEA Network system where any employee can submit an idea for improving any process to management. If the idea gets implemented, they get a bonus in return. 
"The employee actually has the ability to say 'Hey, I think that this idea will help us to make our process more efficient or effective.' So that does us several things: it helps the business continue to be more efficient, more effective, and to get more product done in the same amount of time, and the employee gets a bonus for providing that information," Pieters said.
"If you don't have that employee buy-in at the ground level, the change is that much more difficult to become successful with. It's a win-win, and it really helps keep our management and our employee team that much more connected. I think that the way we have such a great relationship all the way from our owners to our manufacturing floor employees and that open communication line does great things for our business."
A People-First Approach to Automation and New Tech
This people-first approach also drives how the company thinks about investing in and implementing new technologies, especially in the face of shrinking labor markets.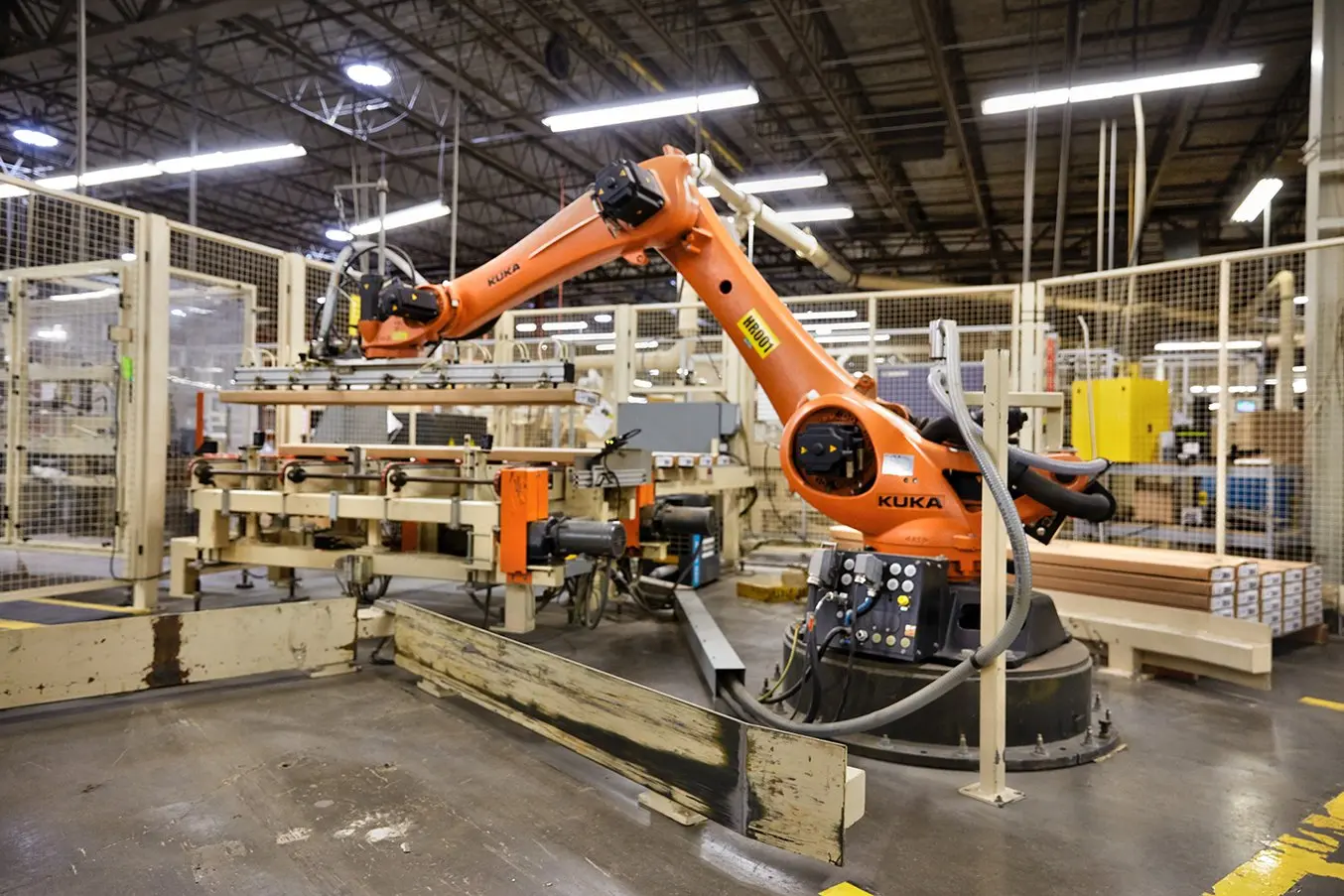 "The shortage with labor has been a real struggle for us. We have to work with automation. We're doing 10% more business out of this facility alone with 15% less labor," Pieters said.  "When we look at automation projects—where we should focus that energy and expenditure—[we look at] where is that workload is the most physical, the most repetitive—eliminate that work, and let the employee use their mind to see what can we do to continue to improve our processes," Pieters said. 
"We put our first robot in five years ago, and now you can see as you tour our facility where else we've added automation, and 3D printing has taken that same kind of growth pattern."
In addition to saving time and costs of outsourcing some parts, 3D printing has also transformed some of the traditional processes on the floor. For example, the company developed a universal system for an assembly fixture. Now, when introducing a new SKU, production engineers only need to print new parts to adapt the system, and assembly workers follow simple instructional guides for each changeover. The system has significantly reduced setup time in the assembly area, and the storage footprint of the original large fixture pieces, which could weigh up to 200 pounds.
"We've literally replaced fixtures that are three feet by six feet with a simple bin system; it's a two-minute setup time." Konkel said "It frees up jig builders from repetitive task to work on more pressing issues, from busy work to looking at more challenging items."
"Things like 3D printing and automation are making the job easier for the employee so that it's not so heavy and not so industrial," Pieters said.
Learn more about Ashley Furniture's universal assembly fixture system and other 3D printing applications.
Build in Room for Experimentation, and to Scale
Key to taking full advantage of new technologies is bringing hardware in-house that will grow with your ideas. In 3D printing, for example, while hardware is important, the machine's capabilities are also highly dependent on its materials. Ashley Furniture takes full advantage of Formlabs Engineering Resins, and are constantly experimenting with trying new resins as they are released. 
Request a sample part printed in an engineering material.
This flexibility in finding solutions that can replace machined parts, and being able to stand up to the rigors of cycling through shifts on the floor, is part of what helps Ashley Furniture scale use of the technology, with no signs of stopping. 
Learn more about how manufacturers and engineers levarage 3D printing to improve efficiency and change the way they manufacture products.