Form 3 for Jewelry Production: Smooth Prints, Finer Designs, and Easier Processing
Formlabs launched the Form 3, the latest in our line of powerful, affordable 3D printers, last summer. With the first few thousand printers now reaching our customers, we're excited to show jewelers how the Form 3 takes your jewelry manufacturing to the next level. 
Our mission is to reduce labor for your business, so you can do and sell more. We know that the performance of your jewelry 3D printer plays a big role: any difference between the CAD model, the 3D printed pattern, and the raw casting means extra work at the bench. 
Ultra Smooth Prints
Smooth prints are essential for smooth castings. The Form 3 creates 3D printed jewelry patterns with exquisitely smooth surfaces. When your parts require less grinding and polishing, you don't just save time: the quality of your jewelry improves. Sharp corners stay sharper, reflective surfaces become more eye-catching. 
Most stereolithography 3D printers use relatively simple peel systems to separate the print from the tank between layers. This tends to move and strain parts at a small scale, causing layers to appear whenever they are misaligned. 
The Form 3 achieves smoother surfaces using our state of the art Low Force Stereolithography (LFS) technology, which separates the film from the part gently throughout the layer. As a result, LFS keeps each layer precisely aligned with the next.
---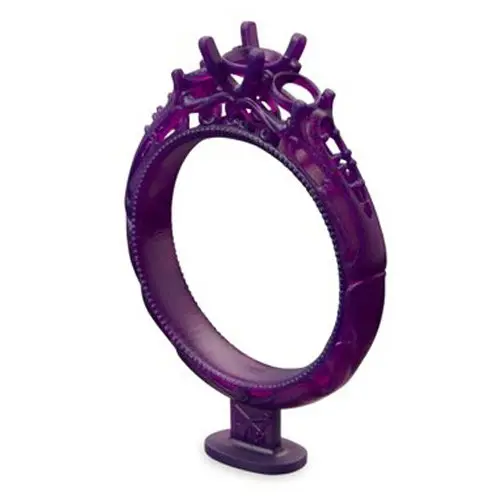 Sample Part
Request a Free Sample Part
Castable Wax is our best all-around material for investment casting, and is strong enough to be used for initial test fittings or prototyping designs. See Castable Wax Resin's crisp accuracy and smooth surface finish firsthand request a free sample three stone ring.
Request a Free Sample Part
---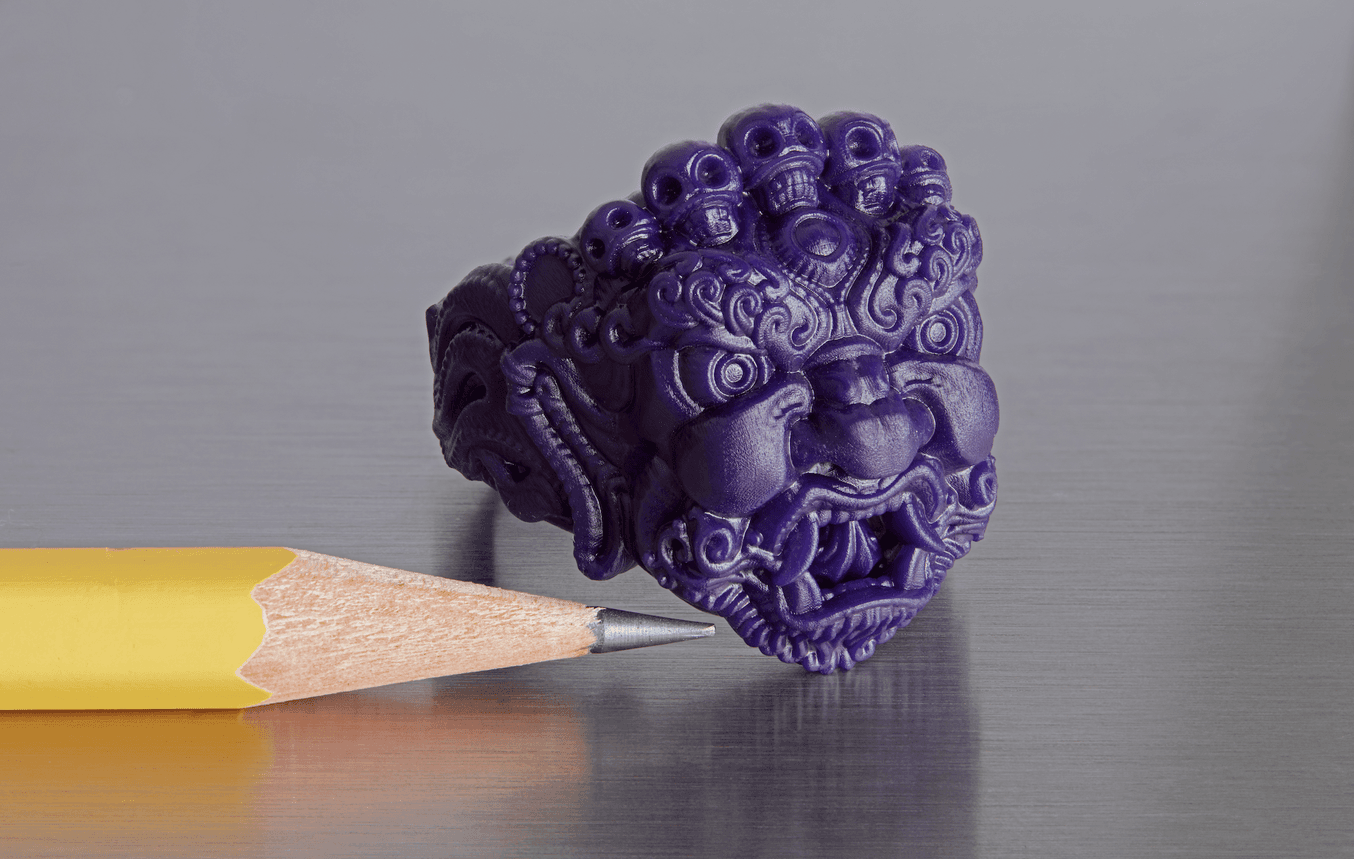 Finer Designs, Easier Processing
Supports are a necessary part of resin 3D printing, and we know that support removal has a real impact on your work: supports can obscure detail, create pits from removal, and even damage very delicate models, limiting what you can create.
The Form 3 makes support removal easier and safer, by shrinking the "touchpoint" interface between the support and the part down to 0.35 mm and smaller (in Castable Wax Resin). This is possible thanks to LFS technology, which lowers the forces on touchpoints between layers. Simply put, the smaller touchpoints are easier to break away without damaging the print. 
Not only is it easier to remove supports, the Form 3 improves print reliability in filigree pieces and designs with extremely delicate features. LFS offers the freedom to drive the design down to exceptionally fine structures, and up to massive, bulky prints, without sacrificing surface quality.
Production Ready
In a production shop, you need to know that your fleet will produce consistently accurate parts. Unexpected changes in the weight and size of 3D printed patterns can cause significant overrun in the amount of valuable cast material per part and adds cost to finishing labor.
The Form 3 offers higher repeatability and accuracy than its predecessor, the Form 2, thanks to the combination of a smaller laser spot, LFS peel technology, and advanced sensing. The Form 3's precision optics are located in the Light Processing Unit, or "LPU", which is user-replaceable and sealed against contamination. Before each print, the Form 3 LPU recalibrates itself to ensure that print quality — and your cast part accuracy — remain the same over time. 
Future-Proof Jewelry 3D Printing
Formlabs is known for our industry-leading ease-of-use and simplicity. With the Form 3 jewelry 3D printer, we are delivering uncompromising, professional-grade print quality to jewelers. In the coming months and years, the Form 3 will be our most capable platform for advanced resins for jewelry manufacturing, enabled by advanced Low Force Stereolithography 3D printing technology and the Form 3's heated build chamber. 
We believe jewelry 3D printing should be so easy that you don't have to think about it, except to be amazed at what you've created. To get you there, Formlabs is renewing our commitment to jewelers, through continued material development and a laser focus on product reliability. 
Request a Castable Wax sample part 3D printed on the Form 3 and see the Formlabs quality firsthand.