Continuous Innovation From New Balance and Formlabs

In 2017, New Balance began a partnership with Formlabs to develop a 3D printing production system, enabling new possibilities and opportunities for innovations in footwear. The first results of that partnership were revealed this summer, with the announcement that the 990 Sport TripleCell would begin shipping to stores across the United States; the 990S was met with high demand as the model sold out quickly.
Less than three months after announcing the 990S TripleCell, New Balance is now introducing the FuelCell Echo Triple. The FuelCell Echo Triple is powered by the same premium technology platform as the 990S, combining stereolithography (SLA) 3D printers with the custom-made, high performance Rebound Resin.
Continue reading to learn more about two key factors that have made this partnership successful: the unique properties of Rebound Resin, and a commitment to continuous innovation.
Rebound Resin: Unique Properties for Footwear
"One of the things that's really exciting for us is that it provides a very different experience for the runner"

Katherine Petrecca, New Balance General Manager of Footwear at the Innovation Design Studio
New Balance decided to take a bold approach for the TripleCell collection, partnering with Formlabs to create Rebound Resin. This resin has unique properties to deliver the incredible support and springiness athletes expect from New Balance shoes. With in-house 3D printing and a powerful new material on-hand, New Balance can directly print various parts of the shoe depending on the needs of the given model.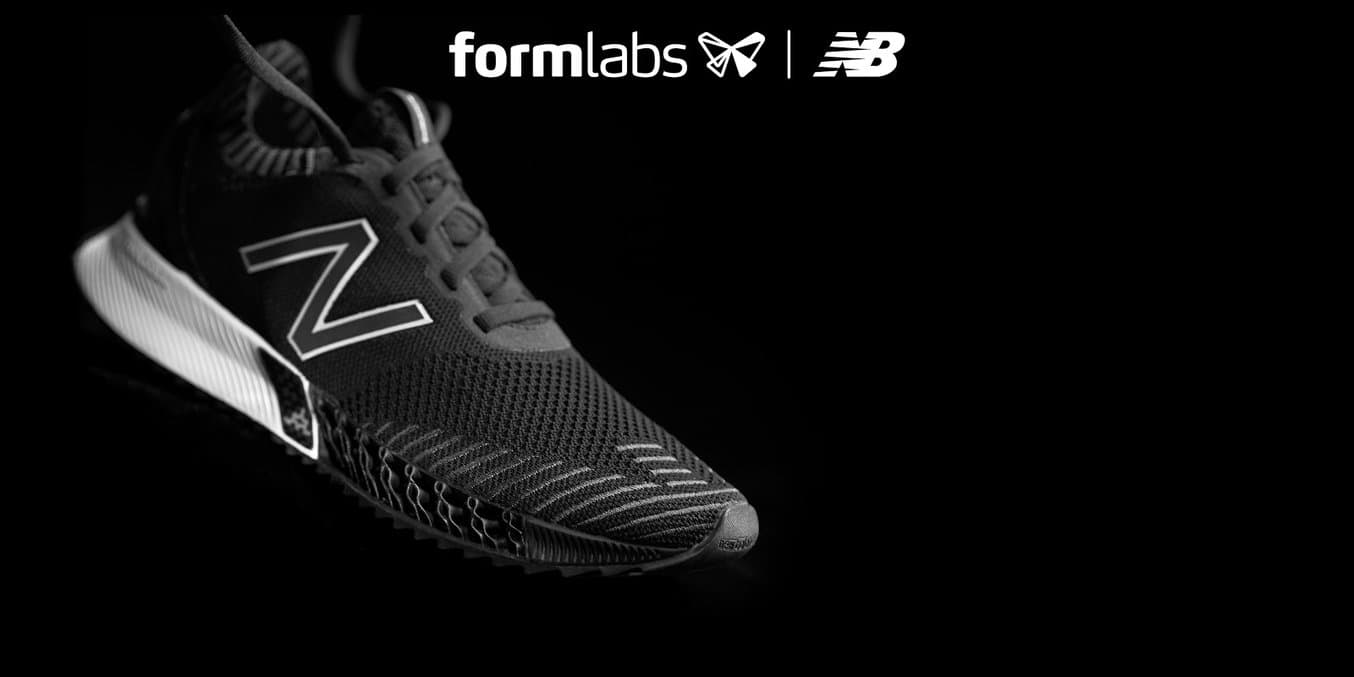 Rebound Resin was custom made to resist the daily wear and tear faced by an athletic shoe. Shoe materials experience  a variety of environments, with the additional need to withstand various levels of pressure thousands of times per day. Designed to create springy, resilient lattice structures, Rebound Resin has a much higher energy return, tear strength, and elongation than any other Formlabs material. Rebound Resin is strong enough to be used in gaskets, seals, and automotive interiors, but light and flexible enough for the sole of a shoe. New Balance has exclusive rights to use Rebound Resin in footwear, but the material was designed for a wide range of applications. 
"An athletic shoe is a workhorse, it has to last for several hundred miles of repeated impacts," Petrecca says. "It has to work for a 110-pound female runner like Jenny Simpson and a 230-pound basketball player like Kawhi Leonard. They see heavy outdoor use, need to be stable for UV and hydrolysis, and withstand heat tunnels in the manufacturing process to bond to many other materials."
At Formlabs, we believe there are no limits to which business problems 3D printing can solve. One of the most powerful advantages of stereolithography (SLA) printing is the wide range of printing materials, all of which can be used interchangeably on the same Formlabs machine. Every year, we challenge what's possible with 3D printing with the continued development of a wide array of new materials. This is done by either partnering directly with companies like we did for Rebound Resin, or by developing materials internally based on customer feedback.
Webinar
Introducing Polyurethane Rigid Resins: Pushing the Limits of 3D Printing
Join our materials experts as they discuss how the incredible properties of PU Rigid Resins paired with the benefits of 3D printing are eliminating previous limitations of traditional polyurethane manufacturing. Living within the same material family as Rebound Resin, these new materials represent 3D printing with true polyurethane materials.
Watch the Free Webinar Now
Continuous Partnership for Continuous Innovation
In the past few years, numerous popular use cases have emerged of 3D printing implementation in manufacturing workflows. These range from tapping into latent demand for customized consumer products, to the creation of jigs, fixtures, and tooling. While New Balance also uses 3D printing to rapidly prototype new shoe designs, their partnership with Formlabs has focused on capitalizing on the wide-ranging benefits that come with in-house 3D printing. This means rethinking how modifications in shoe creation itself can impact the final product, and continually innovating across the design process.
For New Balance, 3D printing will facilitate an increase of advanced shoe manufacturing, in the United States and Massachusetts, in particular. Local production will lead to the creation of new roles for manufacturing associates and ultimately reduce the company's exposure to international volatility. Just as important is reuniting the design and manufacturing teams under one roof, shortening feedback loops and and reducing costs.
"By eliminating molds, we can save months of development time. TripleCell technology makes it possible to easily produce multiple designs at the same time, reinventing the traditional iterative testing approach. We had the ability to generate and edit thousands of options before landing on the high-performance, running-focused structures you see today."
New Balance is still exploring the full ramifications 3D printing will have on footwear manufacturing, along with how to create meaningful experiences for end users. The 990S TripleCell included Rebound Resin in the heel, offering extra arch support for customers. The FuelCell Echo Triple moves Rebound Resin to the forefoot, utilizing the unique lattice structure to boost performance during athletic activity. These two shoes represent the first steps of what is possible with 3D printing, and are a showcase of what to expect from the TripleCell collection.
Moving forward, the team expects to discover multiple new unique applications, with exciting outcomes for athletes.
"TripleCell is on the forefront of a broader industry shift. This is just the beginning, 3D printing is going to reshape how we all think about the design to manufacturing process for products. Formlabs has been an integral partner in this process, expect to see more from this partnership in the near future."

Katherine Petrecca, New Balance General Manager of Footwear at the Innovation Design Studio
2020 and Beyond
These examples are just the beginning of what New Balance expects from in-house 3D printing and their partnership with Formlabs. In 2020, New Balance plans to scale up production of the TripleCell collection, with continued growth within their own manufacturing facilities. Look out for more news from Formlabs and New Balance next year.
Want to know how a partnership with Formlabs can accelerate your business? Contact our Factory Solutions team to learn more about collaborating with Formlabs on exploring and implementing new applications for 3D printing.
Webinar
How to Unlock Low Volume Production and Custom Manufacturing with 3D Printed End-Use Parts
Watch this webinar to learn how to achieve custom manufacturing and low volume production of end-use parts quickly and cost-effectively with 3D printing.
Watch the Webinar Now