The Form 3L is Shipping: Expand Your Capabilities With Large Format 3D Printing
Last year, we reinvented stereolithography 3D printing from the ground up with the Form 3, our desktop Low Force Stereolithography (LFS) 3D printer that yielded superb print quality, light supports, and expanded applications and materials. With the Form 3L, our large format LFS 3D printer, you can think big and print big without sacrificing quality. After concluding several months of rigorous beta testing with a host of innovative companies like Optimus Ride, Black Diamond, Continental, and Axial3D, we are excited to announce that the Form 3L is now shipping. 
The print possibilities are endless with the Form 3L. With a build platform measuring 33.5 × 20 × 30 cm (13.2 × 7.9 × 11.8 in), the Form 3L is 5X larger than Form 3 and supports large scale 3D printing for a wide range of industries and applications. Print just about anything — jigs and fixtures, full scale functional prototypes, and large-scale models and maquettes with intricate surface detail. Filling a gap in the market currently saturated with low quality or high cost industrial printers, the Form 3L strikes the balance between cost effectiveness and superior quality.
---
Request a Form 3L Sample 3D Print
See and feel Formlabs quality firsthand. We'll ship a free sample part to your office.
---
A Breakthrough in Large Format 3D Printing
To produce larger parts or a high quantity of parts, many currently turn to outsourcing. However, outsourcing 3D printing is time-consuming and costly. The Form 3L is a cost-effective option that can deliver parts faster without sacrificing quality. With the Form 3L, you can reliably print human-scale models or a high volume of smaller parts.
Our beta tester Black Diamond Equipment was given early access to the Form 3L. With our large format 3D printer in hand, they were able to cut prototype development lead times from seven days to three days and slash costs by about 85%.
"We have reduced our costs on full-size prototypes from $425 a print to $70 a print. With that savings, Form 3L would pay for itself in only three months."

Matt Tetzl, R+D technician at Black Diamond Equipment
High Quality Parts at Scale
The Form 3L boasts incredible part quality, providing the smooth surface finish and fine detail that stereolithography 3D printing is known for.
Smooth surface finish: Models printed on the Form 3L resemble polished injection-molded parts for realistic looks-like prototyping and testing.
 
Consistent precision: A system of lasers and mirrors ensures uniform print quality, for an XY resolution of 25 microns across the entire build platform.
 
High translucency: With precise layer registration and smooth surface finish, translucent materials print clearer than ever, right off the printer. 
---
Form 3L Deep Dive
Our Form 3L product manager, Kyle McNulty will chat with Caitlin Reyda, the lead engineer for the Form 3L, and discuss everything you need to know about bringing a large format printer in-house.
---
Efficient and Intuitive Workflow
With the Form 3L, you never have to worry about the hassle of setting up a print. The process is seamless from design to print to post-process.
Design
Design your model in standard CAD software and import an STL or OBJ file into our PreForm print preparation software. With PreForm's straightforward software to prepare your models, the Form 3L's automatic resin dispensing, and sleek interface, getting from a CAD design to a finished print is fuss-free. PreForm automatically suggests optimal orientation, supports, and layout, with the ability to manually refine as needed.
Print
Send prints over WiFi, reprint previous jobs, and manage your print queue with ease with the printer's intuitive touchscreen interface. Our user experience is designed to be user-friendly, eliminating the need for guessing and lengthy manuals. A 5.5" interactive full-color display minimizes error and eliminates the need for constant monitoring.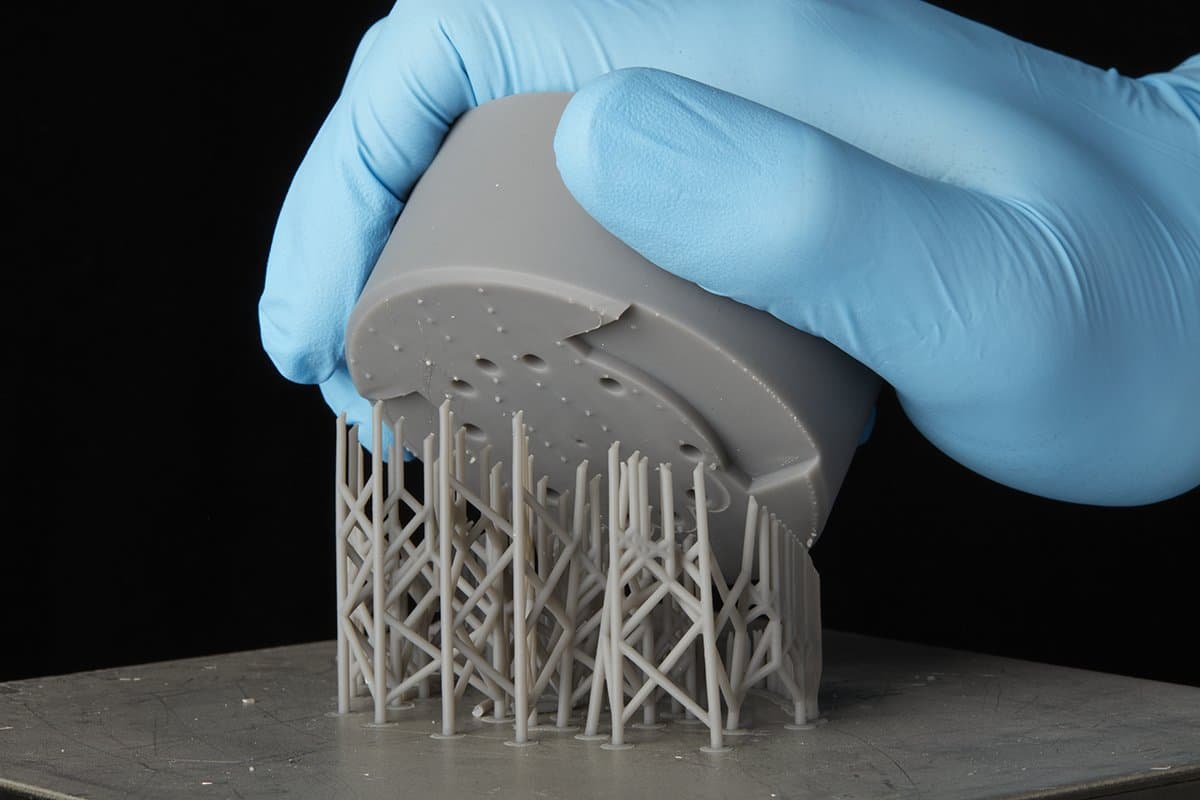 Post-Process
Rinse your part and remove supports with the Form 3L Finish Kit. For an automated finishing solution, use Form Wash and Form Cure for smaller parts, or keep an eye out for our large scale rinse and cure stations, Form Wash L and Form Cure L, coming in 2021.
Supports a Wide Range of Applications, Industries, and Materials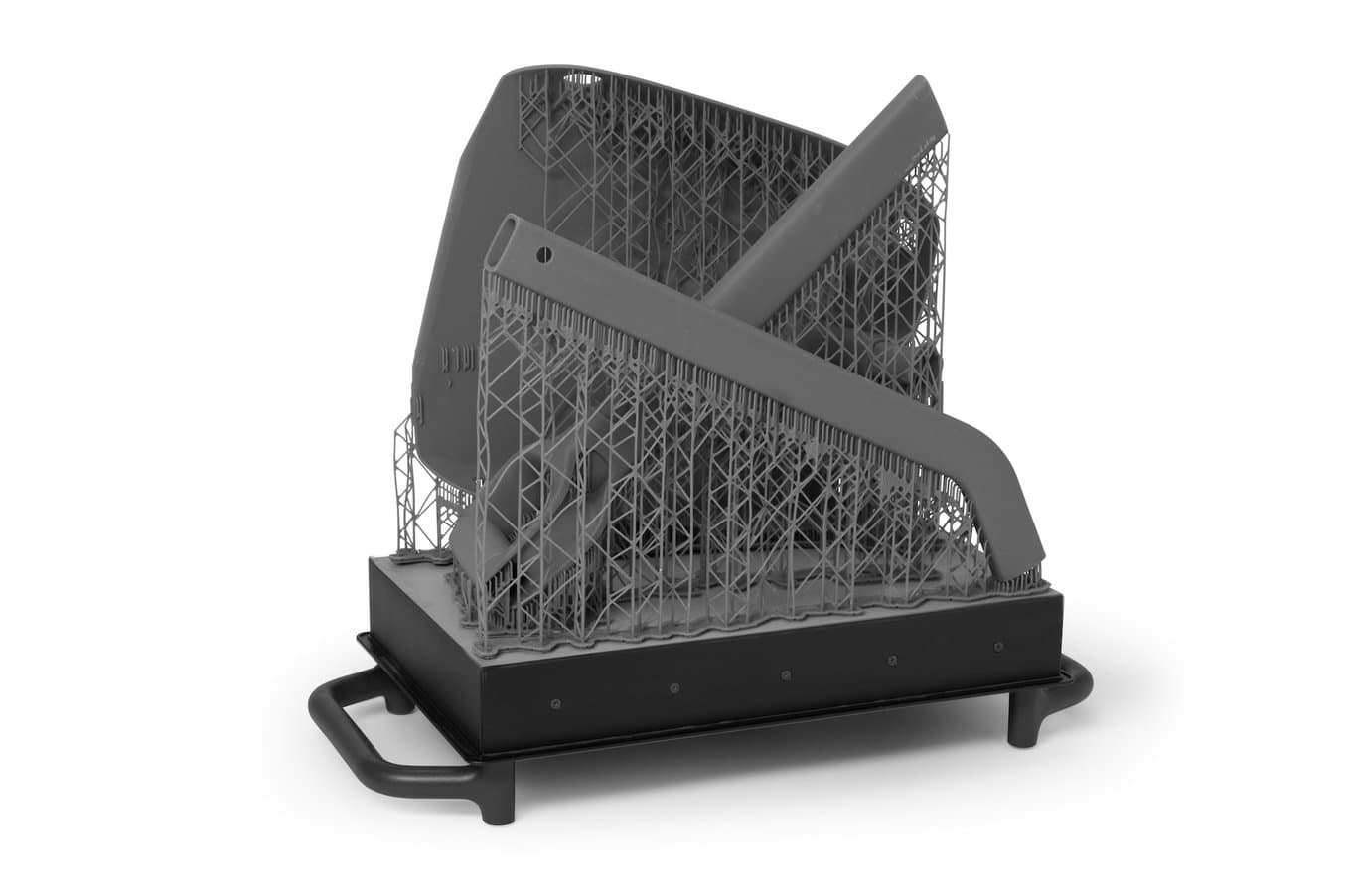 The versatile Form 3L can support just about any application, industry, and material, including:
Prototyping: Create functional prototypes at full scale and high quantity. Engineers, product designers, and more can rapidly prototype with the Form 3L.
 
Modelmaking: The entertainment and architecture industries have embraced 3D printing to bring their models to life. The Form 3L can print large models with fine details and smooth surface finish, thanks to LFS technology.
Jigs and fixtures: Produce essential components for manufacturing processes. Print dimensionally accurate, sturdy parts with Engineering Resins.
 
Medical and dental applications: The Form 3BL supports large format printing applications for the medical and dental industries. Check out the Form 3BL blog post for more details.
From art to jewelry to engineering to manufacturing, the Form 3L is expanding access to digital fabrication, so anyone can make anything.
White Paper
Why Large-Format Printing Matters
Want to learn more about the Form 3L and Form 3BL ecosystem, and how they compare to other methods of creating large prints?
In this free report, we look at how in-house large-format 3D printing with the Form 3L stacks up against other methods of production, chiefly outsourcing and using FDM printers.
Download Now
Print Biocompatible Parts With the Form 3BL
While the Form 3L can accommodate a wide range of printing needs, the Form 3BL is designed for large format printing for dental and medical purposes. It is a reliable choice for full-scale medical models, enabling you to print in biocompatible materials with minimal supervision and no interruptions.  With an intuitive workflow, anything is possible on the Form 3BL — dental models, life-sized patient anatomy, and more.
Dependable and productivity maximizing, the Form 3BL is a large-format biocompatible-focused 3D printer that raises the bar. Read more about the Form 3BL here.
Quick Stats
Form 3
Form 3L
Form 3BL
Build Volume (W × D × H)
14.5 × 14.5 × 18.5 cm
5.7 × 5.7 × 7.3 in
33.5 × 20 × 30 cm
13.2 × 7.9 × 11.8 in
33.5 × 20 × 30 cm
13.2 × 7.9 × 11.8 in
XY Resolution
25 microns
25 microns
25 microns
Biocompatible Materials
No
No
Yes
Laser Power
One 250 mW lasers
Two 250 mW lasers
Two 250 mW lasers
Weight
17.5 kg
38.5 lb
54.4 kg
120 lb
54.4 kg
120 lb
Printer Dimensions (W × D × H)
40.5 × 37.5 × 53 cm
15.9 × 14.8 × 20.9 in
77 × 52 × 74 cm
30.3 × 20.5 × 29.1 in
77 × 52 × 74 cm
30.3 × 20.5 × 29.1 in
Explore Form 3
Buy Now
Explore Form 3BL
Scaling With Low Force Stereolithography (LFS)™ 3D Printing
LFS technology represents the next phase in stereolithography (SLA) 3D printing. This technology uses a flexible tank and linear illumination to deliver incredible surface quality and print accuracy. Lower print forces allow for easy removal support structures that tear away with ease. 
The Light Processing Unit (LPU) inside the Form 3L is a precise, modular optics engine containing a system of lenses and mirrors that deliver accurate, repeatable prints. Within the LPU, a galvanometer positions the high-density laser beam in the Y direction, passes it through a spatial filter, and directs it to a fold mirror and parabolic mirror to consistently deliver the beam perpendicular to the build plane.
The Form 3L uses two staggered LPUs that work simultaneously along an optimized print path to quickly print large parts. The Form 3L prevents interruptions during even the largest print jobs with capacity for two resin cartridges, cross-compatible with other Formlabs stereolithography printers.
---
Form 3L Virtual Tour
Experience the Form 3L firsthand with an interactive walkthrough.
---
Get Started With the Form 3L
The print possibilities are endless with the Form 3L, a cost-effective, high quality large format LFS 3D printer. Take control of large-scale part production, increase your throughput, and bring your biggest ideas to life with the Form 3L, a cost-effective large format 3D printer that doesn't compromise on the details. No project or initiative is too big for the Form 3L.