From Anatomical Models to Surgical Guides: Taking Advantage of 3D Printing in Cranio-Maxillofacial Surgeries
The use of additive manufacturing in the medical field is expanding rapidly as more and more doctors and surgeons are finding ways to use these processes within their disciplines, and biocompatible materials as well as high-quality 3D printers are becoming more accessible on the market.
At the University Hospital Basel in Switzerland, Dr. Florian Thieringer, Professor and Chair of Oral- & Cranio-Maxillofacial Surgery, focuses on the benefits of 3D printing technology for his surgical cases. 
As the head of the Medical Additive Manufacturing Research Group (Swiss MAM) and cofounder of the 3D Print Lab on the hospital's campus, Dr. Thieringer and his team are passionately working towards increasing the accessibility of innovative medical solutions using virtual surgical planning (VSP) and 3D printing through providing the facilities, training students and publishing their research conclusions.
In our webinar, Dr. Thieringer showcased how VSP and medical 3D printing have evolved over the last decades, explained a typical digital workflow, and gave real-life examples of common surgical cases he uses 3D printing from models to implant guides.
Digital (R)evolution in Medicine
The evolution of 3D printing in medical surgeries started way back with the introduction of computer tomography (CT) scans, allowing clinicians to create three-dimensional digital models of tissues and organs. A solution for haptic anatomical replicas had to be found to enable physicians not only to diagnose diseases or plan treatments with the help of these scans but also to use this radiological data in the operating room.
As 3D printing technology developed, it quickly became the primary means to produce custom anatomical models. The first 3D anatomical models from digital scans were made using subtractive manufacturing methods such as milling from foam blocks. These models had a lot of limitations in terms of geometric freedom, accuracy, as well as time, and cost. 
Using stereolithography (SLA) and selective laser sintering (SLS) 3D printing, clinical engineers can produce anatomical models for complex surgical cases in a brief period of time. Over the past 20 years, 3D printers have evolved tremendously and gained traction in various medical fields, especially in dentistry, orthopedics, and cranio-maxillofacial procedures.
Where 20 years ago, such a model was outsourced, would cost several thousand Euros and take weeks to be at the point of care, nowadays, more and more innovative hospitals like the University Hospital Basel in Switzerland have their in-house print facilities. With this equipment on hand, even a larger skull model can be printed for less than 50€, within the same day.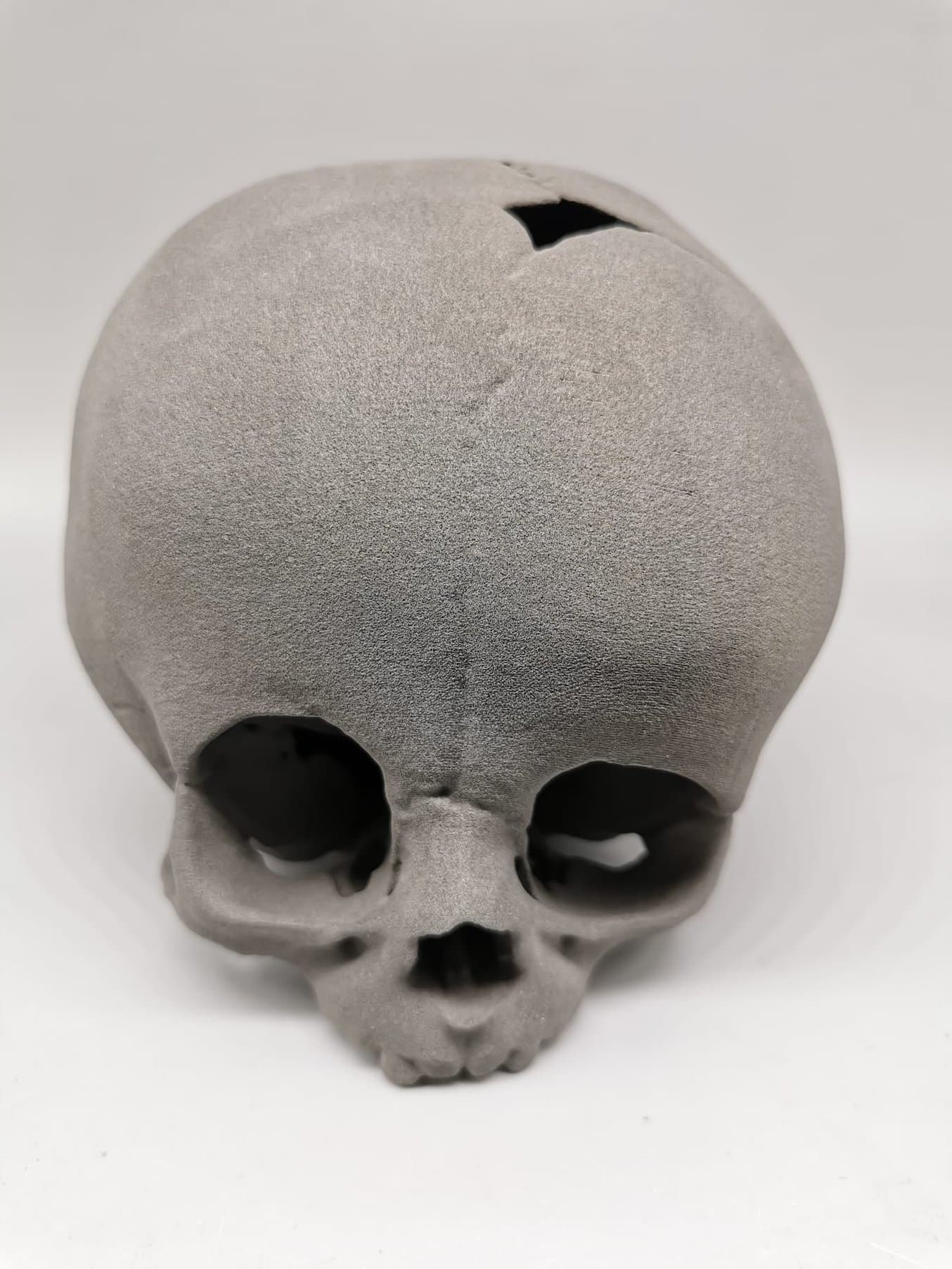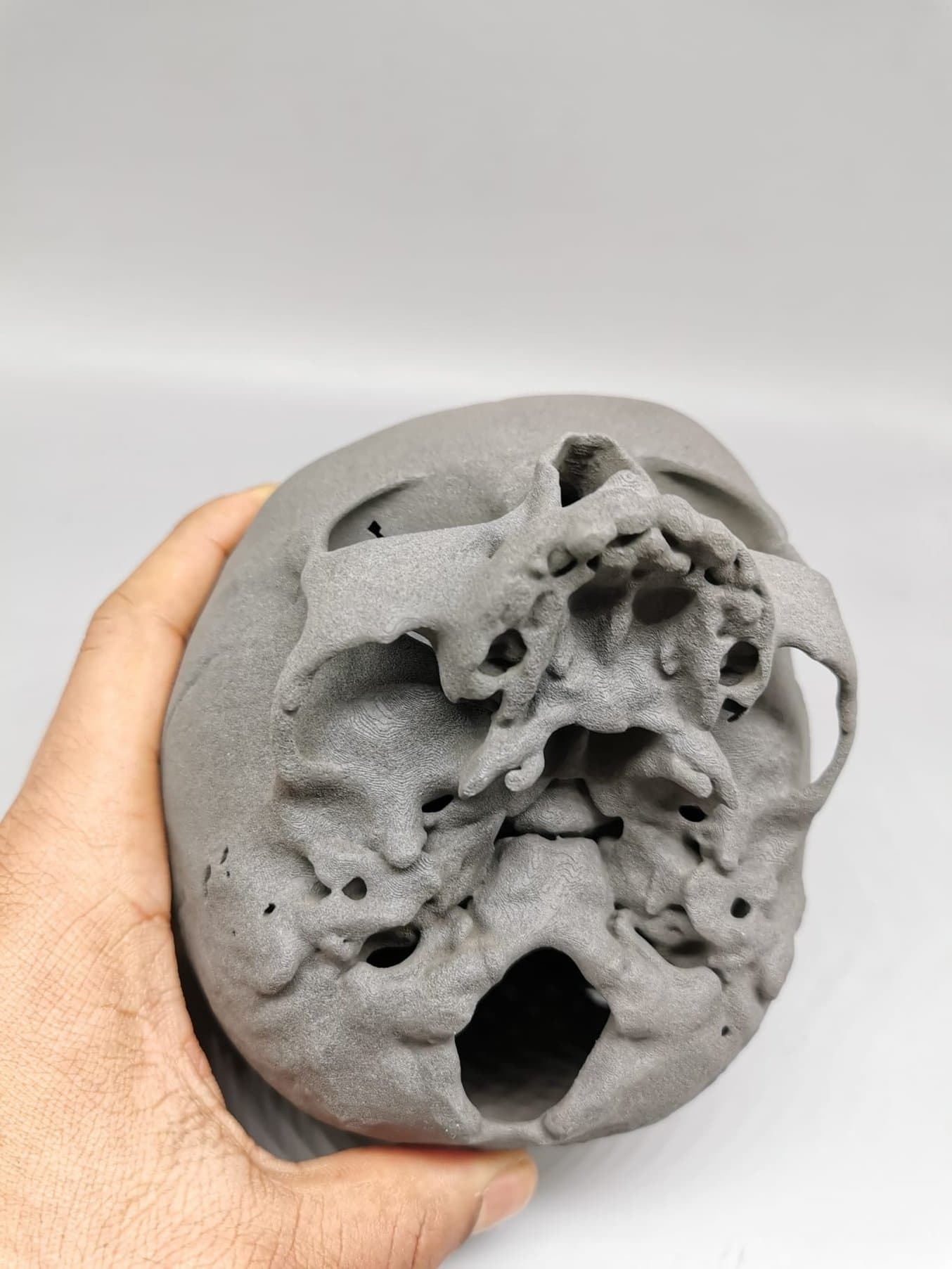 "We want to advance 3D printing technology at the point of care – to facilitate and improve medical interventions and to make 3D printing more accessible for everyday use."

Florian M. Thieringer
To pursue this shared mission of making 3D printing accessible, Formlabs has been at the forefront of process and materials development, continuously developing new medical 3D printing materials with the focus on specific mechanical properties and biocompatible properties for medical applications such as the ones Dr. Thieringer is working with.  
By 3D printing an anatomical model of a patient before surgery, Dr. Thieringer can create a more specific plan of his surgical procedure as well as drill and cutting guides, that are adapted to the patient's unique anatomy, or even pre-formed implants. Another beneficial application for surgeons are 3D printed instruments that are specifically designed for their approach in the operational theater. For this, certain 3D printed materials can be sterilized to be used in the operating room.
Webinar
Intro to Medical 3D Printing
Join Formlabs for this introduction to learn best practices for medical 3D printing and see the latest Formlabs Medical ecosystem, including multiple new medical-grade products!
Watch the Webinar Now
3D printing Workflow in CMF Surgeries
In the field of CMF reconstructive surgery, orthognathic surgery and dental implantation are primarily aided by medical additive manufacturing processes.
In general, the workflow for these procedures starts with a computer tomography (CT) scan conducted by a radiologist, followed by a segmentation process done by a clinical engineer. The second step provides the surgeon with a three-dimensional reconstruction of the anatomical data from the CT scan. The data can even be merged with information from a surface scan of the skin or an intraoral scan of the patient, depending on the planned surgery. This digital model can then either be operated on virtually to prepare a real surgery or 3D printed to plan patient specific implants and create surgical guides.
"There are a lot of cases where 3D printing can facilitate the treatment of our patients. From anatomical models for patient specific implants (PSI), over individual instruments up to drill and cutting guides, 3D printing can be very advantageous for CMF surgeons."

Florian M. Thieringer
Orbital Floor Reconstruction
"Here is an example of a patient with an orbital floor fracture. Because of the fracture the patient cannot move her eyeball properly, which leads to diplopia (double vision)," Dr. Thieringer explains.
An orbital floor fracture is predominantly treated by attaching a titanium implant to the inside of the orbit to replace or hold together the broken bone parts.
"A perfectly shaped titanium implant is not available everywhere. We're still working on the in-house printing of PEEK and titanium implants. So, a quick and easy solution is to print an anatomical model of the patient's orbit with an SLA 3D printer. With this 3D printed model, I as a surgeon can pre-bend or pre-form a standard stock titanium implant to reconstruct the defect of the orbit," Florian Thieringer describes.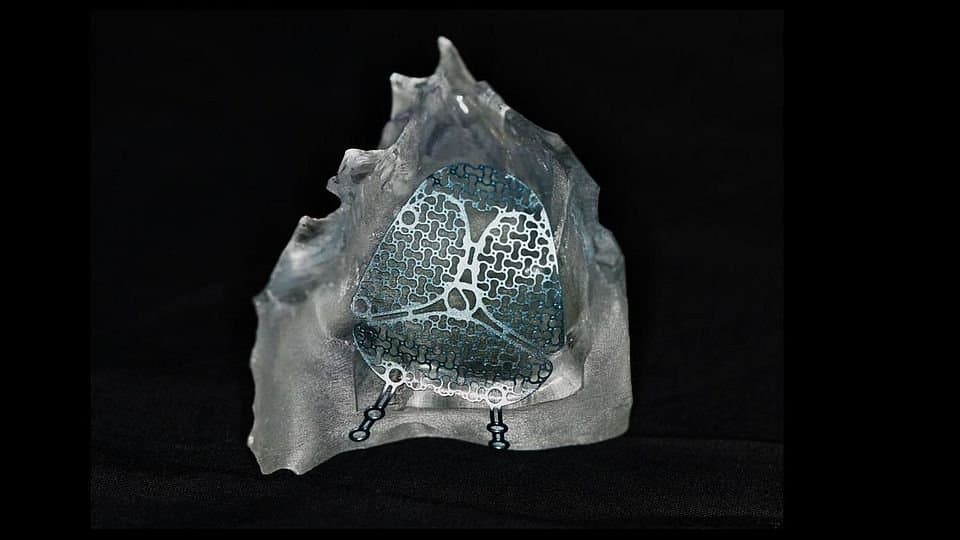 These kinds of 3D printed bending guides are only taking a few hours to manufacture in an in-house print lab and can be used for nearly every kind of fracture. 
Thanks to the rapidity of in-house production of 3D printed guides the technology even opens the range of applications even for acute trauma surgeries.
"With a 3D printer and the right specialists in your facility, you can easily start 3D printing and reconstructing your patients individually and treat trauma patients in a matter of hours."

Florian M. Thieringer
Data from the Swiss MAM research group, led by Dr. Thieringer, shows a significant time reduction in surgery cases supported by their 3D Print Lab. By using patient specific implants, designed with the help of 3D printed models prior to the operation, surgery time could be decreased by more than 35 minutes. Depending on the procedure this can result in cost benefits of several thousand USD, measured by the cost per minute in the operating room. 
Referring to the prior example of an orbital floor reconstruction with $22 to $133 per minute in the operating room this entails a cost reduction of around $1488 to $3720 in total.
| | 3D Printing in House | Time and Cost Savings |
| --- | --- | --- |
| Implant bending guide | $50 to $100 | 35 minutes operating time, around $2,600 in costs |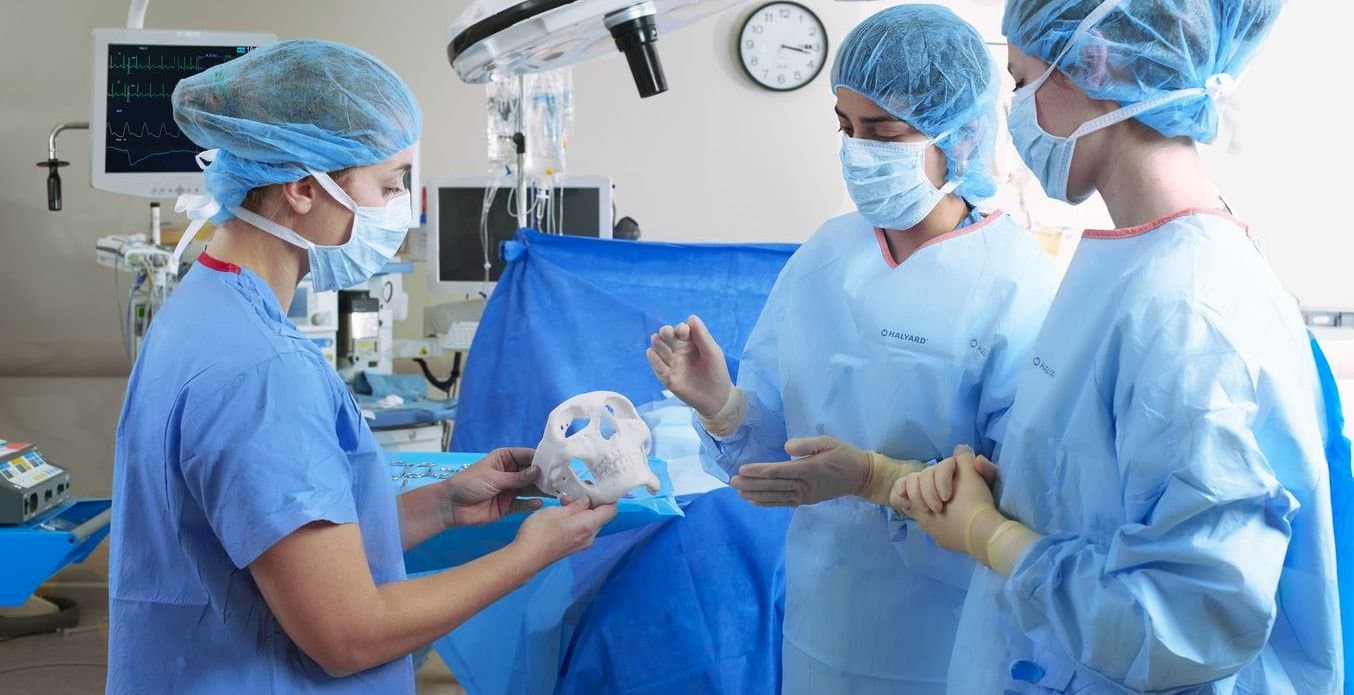 White paper
How to 3D Print Anatomical Models for Preoperative Planning and Enhanced Patient Consent
This white paper offers a practical walkthrough for physicians and technologists to get started creating 3D printed anatomicals models from patient scans, reviewing best practices for setting up a CT/MRI scan, segmenting datasets, and converting files to a 3D-printable format.
Download the White Paper Now
Orthognathic surgery
Another major area in CMF surgeries where digital workflows are widely implemented at the University Hospital Basel are orthognathic surgeries. The process begins yet again with a CT scan to provide the 3D digital data. Additionally, an intraoral scan is executed to combine it with the jaw anatomy of the patient. 
"With the digital information we are able to know the exact position of the upper and lower jaw prior to the surgery. This allows us to also manufacture 3D printed splints for postoperative treatment," Dr. Thieringer explains.
"We compared, in some studies, the classical workflow with the digital workflow and were able to show that there's a huge improvement in the manufacturing time."

Florian M. Thieringer
3D printing for Educational Purposes
"We use 3D printing not only for treatments and surgeries, but also for training. For instance, by creating models that students can operate on. 3D printing allows us to simulate nearly every kind of pathology," Florian Thieringer explains. 
To provide this training to future doctors and surgeons the interdisciplinary 3D Print Lab at the University Hospital Basel was founded in cooperation with the Department of Radiology and fellow CMF surgeons in 2015/16.
It allows students, doctors and engineers to research on topics like smart implants, innovative device technology, or minimally invasive surgery techniques, all while being in direct contact with the surgeons' real life cases using 3D printing technologies.
"We wanted to have an open lab infrastructure where doctors can meet to discuss clinical cases with clinical engineers, medical experts and students. The lab facilitates treatment processes that would not be possible without the 3D printers directly at the point of care."

Florian M. Thieringer
Get Started With 3D Printing for Medicine
To summarize, the main benefits of 3D printing as stated by Dr. Florian Thieringer in oral- and cranial maxillofacial surgery are:
Preoperative preparation allows more precision in surgery

Significant time and cost reduction

Less invasive procedures

Patient-specific treatments

Increase of patients' safety, reduce length of stay

Less complications

Hands-on education & training
"With 3D printing we have a very powerful tool that brings innovation to the point of care."

Florian M. Thieringer
Watch our webinar with Dr. Thieringer for more insights on the digital workflow and clinical cases. Explore BioMed Resins for medical applications or contact our experts to discuss how to implement 3D printing in your field.