How Vertiball Makes Trustworthy Prototypes That Mimic Injection Molded Parts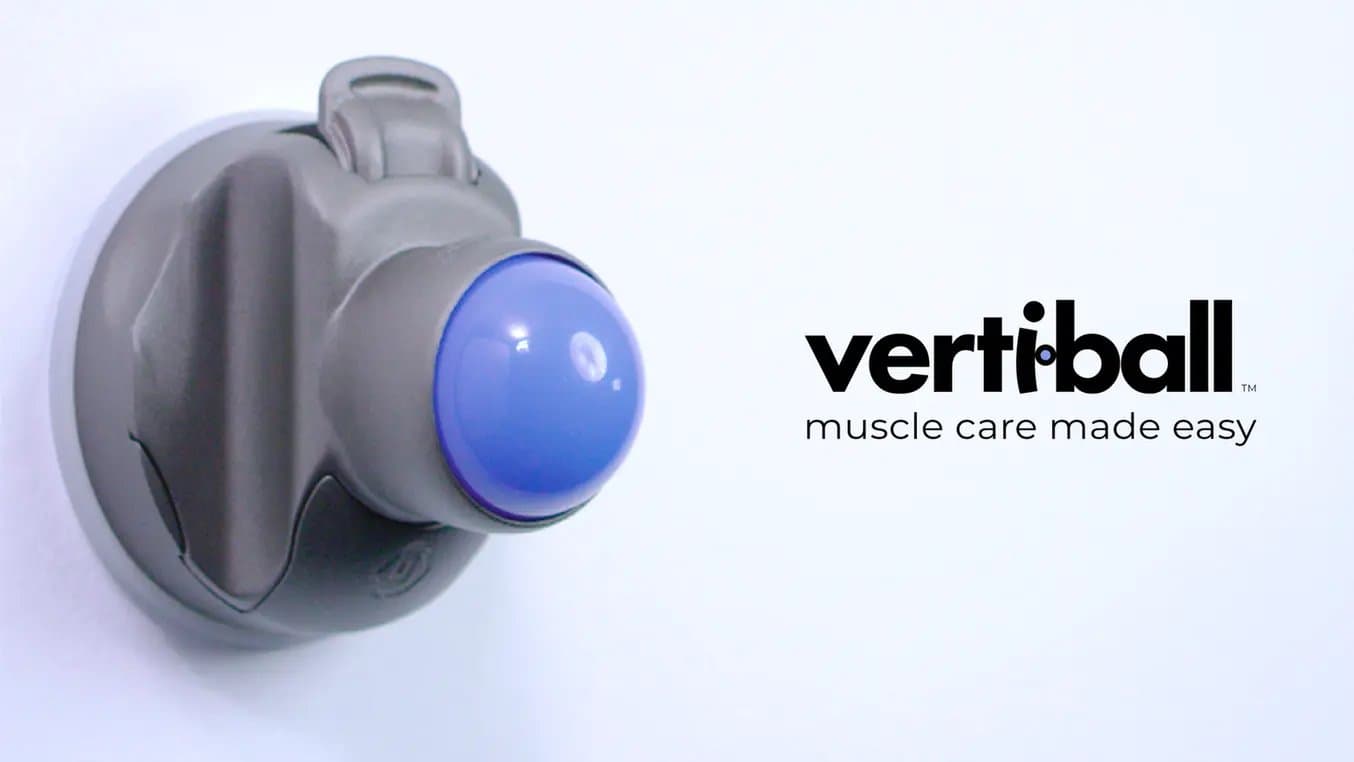 Vetiball founder and CEO Curtis Kennedy set out to change the way that muscle and back pain is treated. As someone who has experienced back pain himself, Curtis has tried many of the home therapies that are recommended by doctors, including targeting his pain areas with a tennis ball. For Curtis - and for many others seeking pain relief and injury prevention - massaging a specific area of your back while lying on a tennis ball is not an easy method to master. 
So Curtis devised a way to mount a ball on a vertical surface, empowering users to focus on the exact area that requires massage therapy. The key innovation behind Vertiball is its patented mobile mounting system,™ an industrial-strength suction cup that can attach to smooth non-porous surfaces like painted drywall, metal, or wood. The front of the device, containing a freely rotating massage ball, slides and latches onto the base mechanism. The whole device is small and portable too, so users can take it from the gym locker room to their own living room. 
"I know that Vertiball has the ability to change how we treat back and muscle pain [and give] its users the ability to control their pain and find relief on their own terms."

Curtis Kennedy, Vertiball CEO
Currently engineers at Vertiball do all of their product concept development and CAD design in Autodesk Fusion 360, and they use their Form 3 stereolithography (SLA) 3D printer to prototype and validate those designs. However, there was a long road of trial and error to land on this prototyping workflow.
Discovering a reliable SLA workflow
Curtis began designing Vertiball while he was studying at the University of New Brunswick, utilizing tools that were available to students on campus. He began prototyping with fused deposition modeling (FDM) 3D printers. However, after Curtis thought that he arrived at a final design, the injection molded samples he ordered didn't assemble properly. He realized that critical components of his prototype were inaccurate due to shrinkage during the FDM printing process. 
As an end-use product, Vertiball's design is actually quite demanding. Because the device is made for daily use, customers will flex the latching mechanism hundreds if not thousands of times. In addition, the product incorporates injection molded plastic that mates with metal hardware, the front and back components must slide together without cracking, and the ball needs to freely rotate with low friction. For these reasons, the team selected Polyamide 6, a durable low friction material, for their end use molded parts.
It was clear to Curtis that he needed highly accurate printed prototypes that mimicked the precision and surface finish of injection molded parts. As a first step, Curtis requested a custom sample part from Formlabs in Durable Resin to verify a modified design. With his SLA 3D printed part in hand, he was able to land on a final design that could be sent to an injection molding manufacturer. Later, his team invested in their own Form 3 printer.
"The Form 3 is essential in our workflow as it is the only 3D printer we own that can print with the dimensional accuracy needed to properly test new prototypes that can be compared with the functionality that would be achieved by plastic injection molding."

Curtis Kennedy
When it comes to their CAD tool of choice, Curtis and his team went through a similar process. Ultimately they landed on a CAD package that all of their designers could get behind. According to Curtis, "After having used a variety of other CAD programs, we found Fusion 360 to be the best fit for our needs. The user interface is optimized to just intuitively make sense, and when comparing it to other 3D modelling programs, we found it to be much more simple to work with."
Fusion 360 also enables designers at Vertiball to visualize how their product will perform under realistic conditions. They use the Fusion 360 simulation environment to perform stress analysis on parts under specific loading so that they can modify and optimize any areas of the model that don't yet meet their needs. Although much of their iterative design happens in simulation, the team still believes that physical prototypes are critical. "A new design can look great on the computer, but the only way to know for certain is to test it. Once we validate the theoretical functionality of a design through simulation, we then go straight to prototyping using the Form 3."
Vertiball's flagship product was successfully funded on Kickstarter in 2019, exceeding their funding goal by nearly a factor of eight. They are still garnering rave reviews on their retail product from physical therapists and professional athletes including NFL players CeeDee Lamb and Minkah Fitzpatrick. Curtis and his team also continue to innovate on muscle relief products that fulfill their company motto: "If we can feel our best, we can be our best."
Learn More
Formlabs Integration with Fusion 360
Formlabs and Autodesk's Fusion 360 have partnered to streamline your digital workflow with a new CAD software for 3D printing integration. Visit our integration hub to learn about the newest Fusion 360 features for SLA, read more user stories, and download our design guide.
Learn More