Make Anyone a Hero With 3D Printing
For the first time Hasbro is bringing mass customization to fandom, allowing fans to become part of their favorite stories.
Learn how the Formlabs Factory Solutions team collaborated with Hasbro on the Hasbro Selfie Series project — a groundbreaking endeavor to use 3D printing to create personalized action figures, manufactured at scale.
A New Experience
In partnership with Formlabs, Hasbro is giving fans a chance to digitally transform themselves into the action heroes and heroines they see on-screen and imagine themselves as part of the stories they love. From an X-Wing pilot, morphing into a Power Ranger, silently stalking Cobra as Snake Eyes, or swinging through the New York cityscape like Spiderman, fans can indulge in the ultimate consumer experience with the Hasbro Selfie Series figures.
To the fan, we're delivering one figure. There's nothing mass about it. You're going to get the figure you want, with the hairstyle that you want, with your face on it. You are becoming that action figure.
Brian Chapman
Head of Global Design and Development
Hasbro
A Collaborative Partnership
The Formlabs Factory Solutions team collaborated closely with Hasbro to create a seamless production workflow — from custom material development, to on-site support, print optimization, and more:
Custom material development
Quality assurance & testing
Production capacity planning
Factory hardware implementation
Software integration & automation
Ongoing remote & on-site support
The Perfect Resin, Developed for a Diverse Cast of Fans
Formlabs worked with Hasbro to develop a custom resin which enabled a diverse range of colors for skin and hair tones. Beyond offering aesthetics, the material had to be skin safe and durable, meeting the high standards Hasbro sets for its action figures. Based on our Tough 1500 Resin, the new material produces prints that simulate polypropylene (PP) parts in terms of stiffness and strength.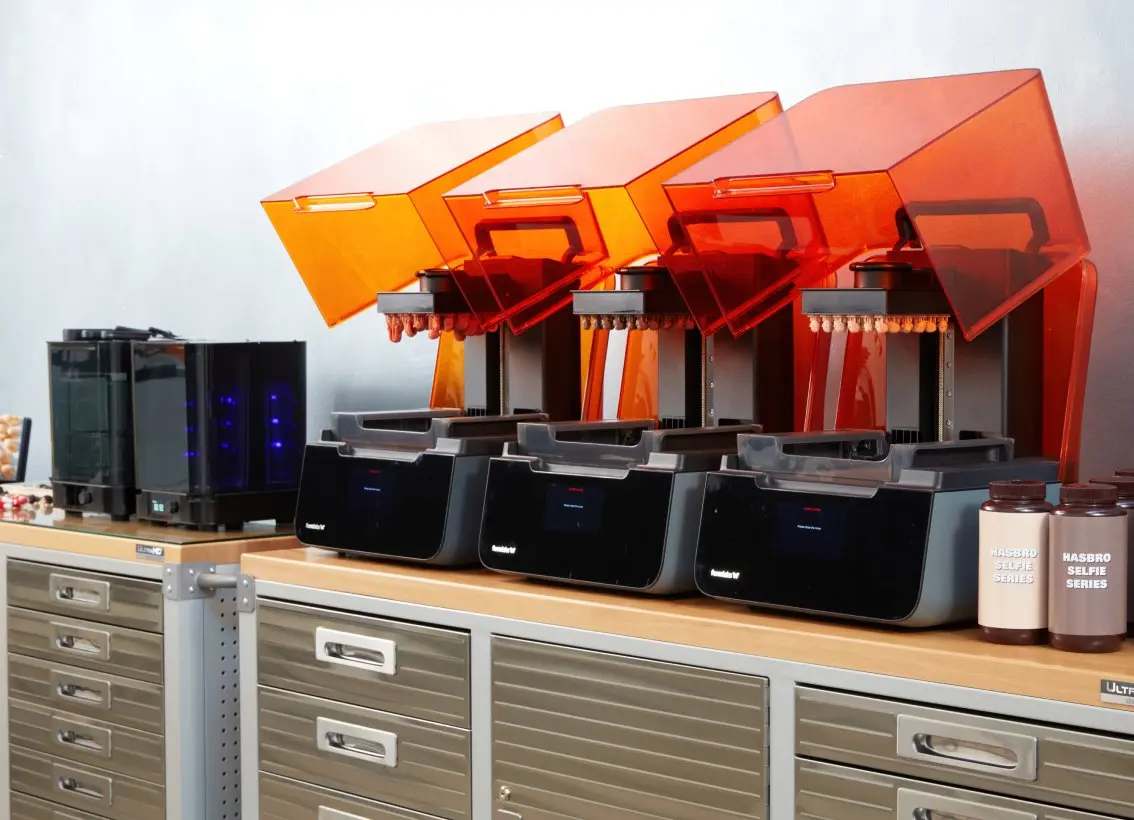 3D Printing for Mass Customization
Traditional manufacturing simply cannot scale at an affordable price to meet the demand for bespoke products. On digital platforms, customization is everywhere. Physical products, constrained by the rigidity of traditional manufacturing, haven't caught up.
Deploy and Manage a Fleet of Formlabs 3D Printers With Ease
Formlabs hardware, software, and materials are made to work together seamlessly, giving you an in-house agile factory that is a step above other 3D printing offerings. Hasbro successfully deployed, tested, and scaled a 3D printing fleet, offering custom action figures for the first time, fulfilling a customer request they've been trying to address for years. 
From Scan to Shipment
For Customers, ordering a custom action figure is easy thanks to the Hasbro Pulse app. Users scan their face with a smartphone, pick a character, and have the new figure arrive at their doorstep. Here's how the ordering process works:
Step 1
The Customer downloads the Hasbro Pulse app, scans their face, selects the hair color, and picks their preferred action figure. The entire process is complete within the Hasbro Pulse app.
Step 2
The user's configuration is sent to the Hasbro print factory, and is automatically queued up for creation.
Step 3
The customized heads are assembled with a standard/off-the-shelf action figure body.
Step 4
The customized action figure is shipped to the customer.
Get Started With 3D Printing
Get to know the SLA 3D printers that power Hasbro's Selfie Project. Explore the Form 3 and Form 3L and create your own 3D printing applications today.