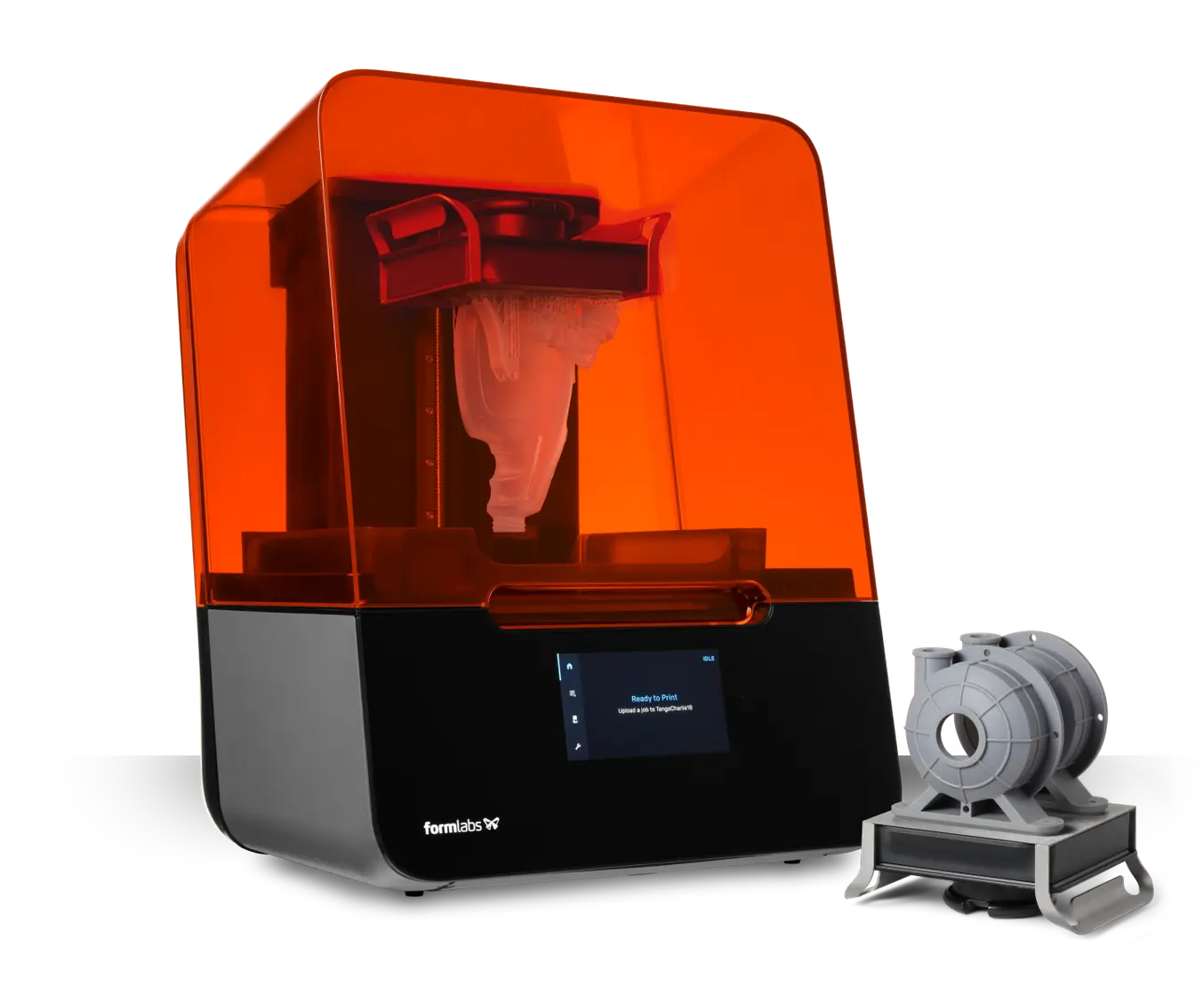 Form 3+
Flawless Parts, Every Time
Trusted by tens of thousands of professionals around the world. Whether you need rugged performance parts or accurate details, the Form 3+ delivers.
24/7 Reliability, At Your Service
Form 3+ offers industry-leading technology and support so you can spend less time troubleshooting and more time printing.
The Parts You Want, Every Time
Best-in-class printer reliability and accuracy means your parts come out right the first time.
We Help You Succeed From The Start
Get up and running right away with personalized onboarding remotely or onsite.
Service With A Human Touch
Expert service, whenever you need it. When required, we come to you for implementation, training, optimization, and repairs.
Advanced Materials for Industrial-Quality Parts
Bring your parts to life with the most comprehensive library of high-performance materials on the market, designed to deliver industrial-grade parts that are up to any challenge.
30+ Validated Materials, Ready To Be Put To The Test
Each Formlabs material comes with optimized print settings to guarantee industry-leading print success and reliability, as well as standout mechanical, thermal, or biocompatible properties.
Boundary-Breaking Photopolymers
Specialized materials offer UV stability, flame retardancy, ESD resistance, glass-filled rigidity, biocompatibility, and more.
Total Freedom With Open Platform
Enhance your printer's versatility with certified third-party materials, customizable print settings, or the ability to print with any unvalidated 405 nm photopolymer resin (optional, paid license).
Explore Materials
Learn More About Open Platform
An Easier, More Efficient Workflow
Go from design to finished part in fewer steps than ever with the streamlined, end-to-end Form 3+ ecosystem.
Hassle-Free Materials Management
Seamlessly switch between a wide range of materials in seconds with our spill-free, swappable cartridge system.
Intuitive Software
Prepare parts in PreForm with just a few clicks and manage printers, consumables, and teams through your online Dashboard.
Powerful Automation Tools
Minimize cost per part and unlock 24/7 production with the Formlabs Automation Ecosystem.
Book a Product Demo
Pre-Production Validation
Tough 1500 Resin
Forge Motorsport reverse-engineered an underperforming part, 3D printed a new design, and tested it on a vehicle for five months before committing to tooling.

Materials
Print Preparation Software
3D Printer
Post-Processing
Print Monitoring Software
Make Anything At Scale
With Formlabs Automation Ecosystem
Reach new levels of productivity with a fully-automated Form 3+ printer fleet you can operate from anywhere, at any time. Unlock 24/7 production with Formlabs Automation Ecosystem: Form Auto, Fleet Control, and the High Volume Resin System.
100,000,000 Parts Printed With Formlabs Technology