Neuroscience Meets Design: How air up Uses 3D Printed Rapid Tooling to Prototype Food-Safe Drinking Bottles
Munich-based scale up air up has kicked off a new healthy drink trend by selling bottles which flavor water using a principle called retronasal smell. 
Just two years after its founding, air up celebrated the milestone of 1 million customers and was able to grow to around 240 employees today by March 2022.  
3D printing played a key role in the development process, both for directly printing prototypes and for producing rapid tooling for silicone casting to create food-safe prototypes, saving the young scale up time and money, and empowering them to enter the market faster. 
In this interview Tim Jäger—one of the five founders and current CTO of the company—talks about coming up with the idea, the technology, and how they used their Form 3 and Form 3L stereolithography (SLA) 3D printers to create detailed functional prototypes to perfect their design.
Neuroscience Meets Design
Tim Jäger and his fellow founding partner Lena Jüngst had a vision of their own product that would have a positive effect on both health and sustainability during their bachelors degree in product design. The two topics play a key role in today's society, making them ever more important factors in the economic success of new products. 
Illnesses like diabetes—often caused by unhealthy eating and drinking habits—caught their attention in particular. One key factor is often the hidden sugar content in drinks, which consumers are unaware of. 
In discussions with doctors and patients, it also became apparent that many people simply don't like the taste of pure water and therefore often turn to sweetened beverages with more flavor, such as sodas and juices.
With the motto "make a healthy and sustainable lifestyle the most attractive choice", Jäger and Jüngst wanted to find a compromise that would make it more appealing for more people to drink water, or even inspire them to drink more of it. 
"What many consumers don't know is that actually up to 80 percent of our taste isn't defined by our mouths or our tongues, but by our noses. That is, by the air we breathe out when we're tasting something," Jäger explains.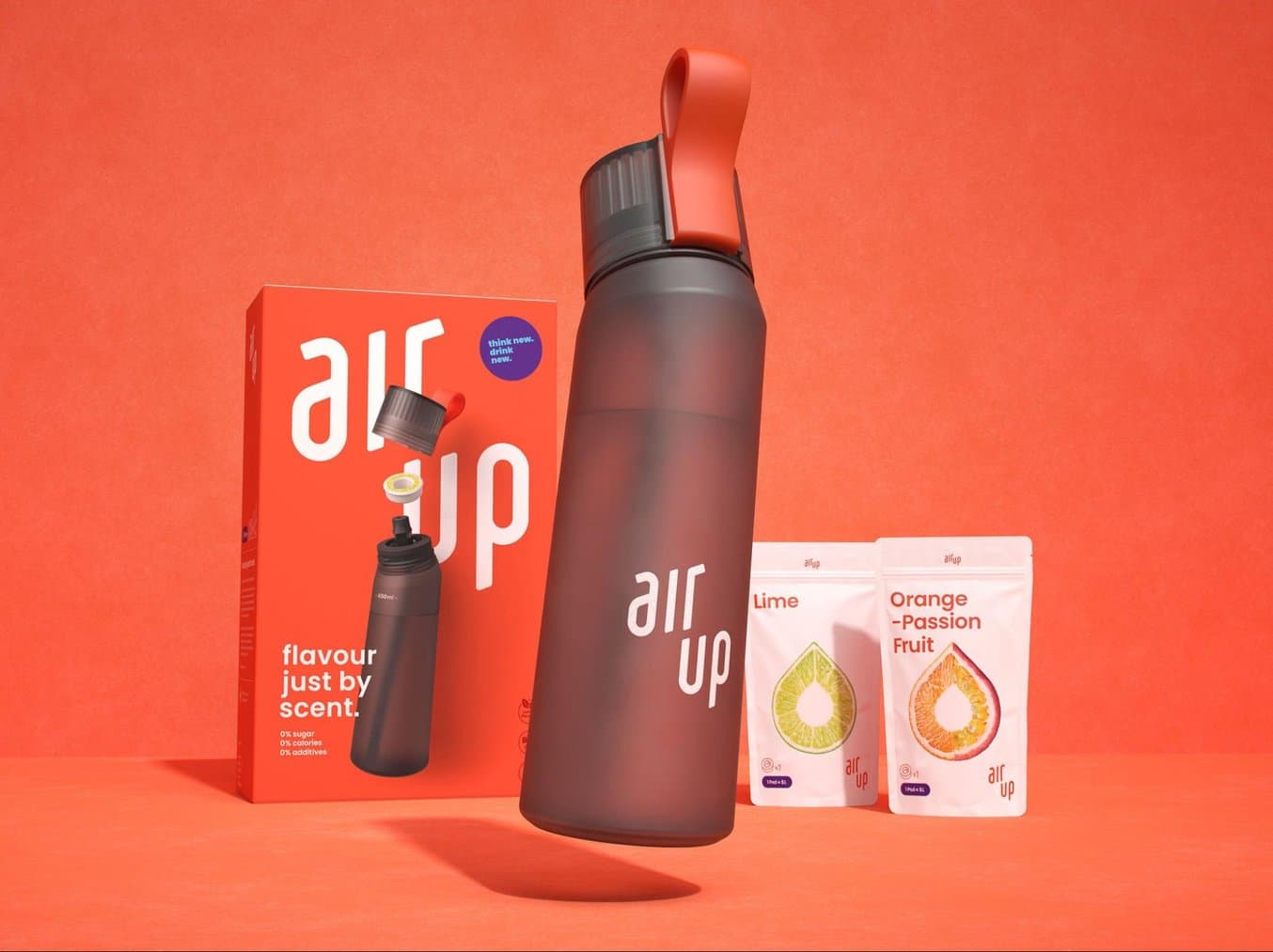 The pair used this phenomenon—known as retronasal smell—for the technology behind their new water bottle. Through the flavor pods on the mouthpiece, aromatized air bubbles rise into the oral cavity when drinking, which reach the olfactory receptors via our pharynx. These are responsible for transmitting the smell to the brain. Since the scent from the pods comes from the throat, our brain recognizes the smell but perceives it as a taste.
Pure water becomes more attractive to drink, but remains healthy and free from any hidden added sugars.
Plus, depending on the user's sense of taste, the scent pods can flavor at least five to seven liters of water, meaning less waste PET disposable plastic bottles of water.
Choosing the Right Method for Prototyping
For Jäger, 3D printing had long been a key tool in coming up with a concept for a final product quickly and cost-effectively. 
After deciding to make the topic of their bachelor's thesis a reality, Jäger and Jüngst first had to choose the right 3D printing process to construct the first prototypes of the drinking bottle according to the requirements they had.
As a basic principle, it was important that the prototype materials could create waterproof parts. 
"Of course we also need airtight and food-safe parts. And the use of food-safe parts in particular often proves difficulty in 3D printing. 3D printed rapid tooling lets me create food-safe parts much better and above all much faster," Jäger explains. 
Rapid tooling combines 3D printed tools with traditional manufacturing processes like injection molding, thermoforming, and silicone casting. This allowed Jäger and his team to work with silicone, which as it happens is the material that was used for the final consumer product. It also meant design changes on the prototypes could be made flexibly, cost-effectively, and lightning-fast.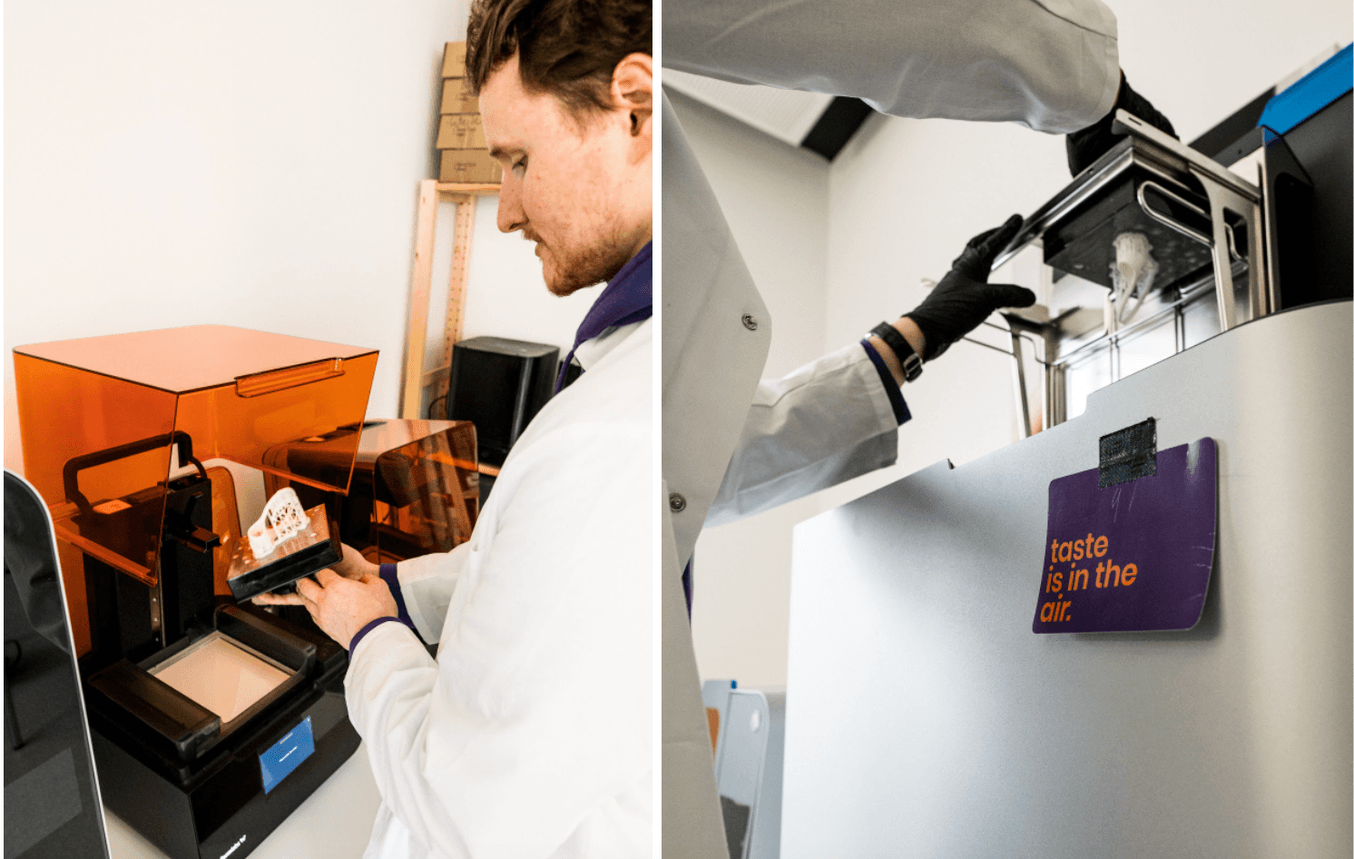 The founding team worked closely with Formlabs partner Beta2Shape, who used their wide-ranging expertise in 3D printing to support the young team with professional advice and guidance with the method, massively increasing productivity in the first stages of the development process. 
air up's founders first acquired a Form 2 and then expanded their printing capabilities with a Form 3 and a Form 3L during product development. 
Beyond silicone casting for the complex mouthpieces, Formlabs SLA 3D printers were also used for other parts, including producing prototypes of the pod mechanisms and drinking straws. 
"The most exciting thing about the 3D printing method was all the time we were able to save. In the end I was able to make a complete series switch in 24 hours."

Tim Jäger
Today, Beta2Shape continues to support the scale up further expand their 3D printing expertise for new projects involving rapid tooling and rapid prototyping. 
Food-Safe Prototypes Using Silicone Casting
In order for consumers to enjoy pure and varied drinking pleasure by means of retronasal smelling, special requirements had to be met in terms of the design of the mouthpiece and the flavor pod. 
Jäger describes the solution as follows: "I used 3D printing to create a mold that I could then pour silicone into. I tried out hundreds of variations and was always able to iterate prototypes in a genuine finished material."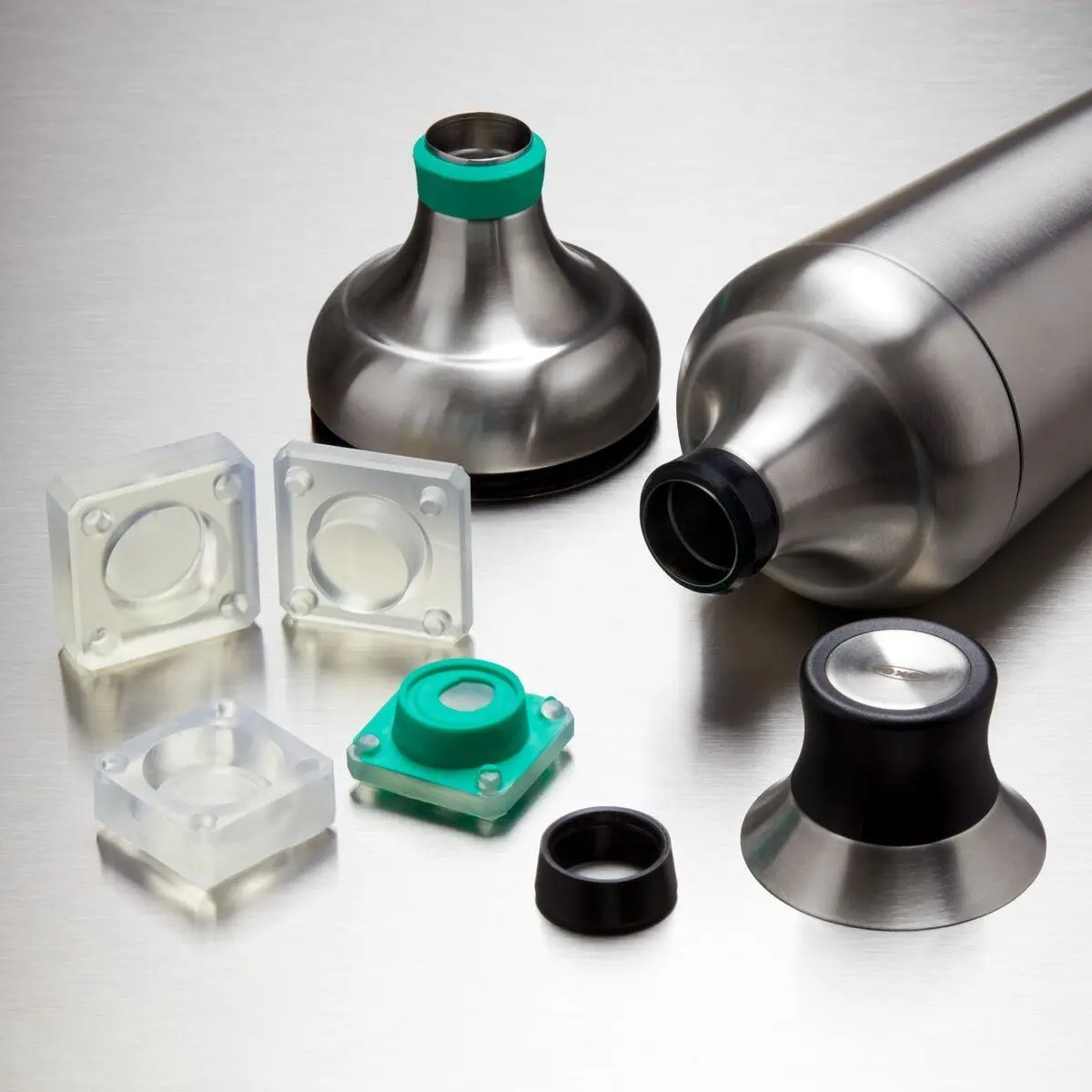 White Paper
Silicone Part Production With 3D Printed Tools
Download this report for a step by step guide on 3D printed tooling for silicone part production, with mold design best practices and customer case studies.
Download the White Paper
The 3D printed molds and casting silicone allowed Jäger to be especially precise in both detail and dimensional accuracy without losing valuable time. 
"Formlabs made rapid tooling possible for us with their technology. I just can't get the precision I need with fusion deposition modeling (FDM)," Jäger says.
The material air up chose during prototyping was predominantly White Resin as it could be used pretty much universally especially in the beginning of the design process. Biocompatible resins and Model Resin from the dental resin series were also used for rapid prototyping from time to time.
Design Power Instead of a Machine Plant
"We didn't want to construct a machine plant here, but to really put the power in the hands of the designer," said Jäger.
The easy handling of Formlabs 3D printers meant that the designers themselves were able to produce prototypes from their designs, test them right away, and make changes with ease. 
Jäger also underlines how important 3D printers can be in the design process. "What I think is often underestimated is that the designer can only really see what's possible to make once you've got the printer, because it opens up a completely new horizon to you," said Jäger.
What's more, Jäger drew a quantitative comparison between the rapid tooling with their internal 3D-printers and outsourced prototyping with silicone casting. An iteration with rapid tooling takes 24 hours and costs around €16 in material. In contrast, outsourcing the process took four weeks and required approximately €20,000.
"[Using rapid tooling with 3D printing] we were able to avoid so many mistakes and get to the final version for our launch so much faster."

Tim Jäger
Rapid Tooling With 3D Printing
The Form 3 and Form 3L allowed air up to realize a large part of their product development process with rapid tooling. Internal  iterations and prototype tests have not only saved the Munich-based company time and money, but also enabled it to continuously improve the quality of its products.

Alongside the silicone forming used by air up, other rapid tooling methods like thermoforming and injection molding with SLA printed molds are also possible.