New BioMed Flex 80A Resin and BioMed Elastic 50A Resin Enable Workflows for Elastomeric, Biocompatible 3D Printed Parts
Formlabs is pleased to announce two new materials for direct 3D printing of elastomeric, biocompatible medical devices and models. BioMed Flex 80A Resin and BioMed Elastic 50A Resin further expand 3D printing possibilities in medical device and medical component manufacturing as well as at the point of care in hospitals and in medical service bureaus. 
Traditionally, professionals in these industries must rely on multi-step silicone molding processes, which are often labor-intensive and messy or they must outsource to expensive contract manufacturers. 
Now, with BioMed Flex 80A Resin and BioMed Elastic 50A Resin, professionals can combine the benefits of traditional elastomeric and biocompatible materials with the ease of use and streamlined workflow of Formlabs resin 3D printers. 
These two new materials are ISO 10993 and USP Class VI tested and produced in an FDA-registered, ISO 13485-certified facility, ensuring that medical professionals can use these products with the utmost confidence. As Formlabs' library of biocompatible materials expands, 3D printing becomes an option in more workflows and applications, improving patient care, reducing costs, and expanding possibilities.
Webinar
Leveraging Formlabs' Biocomp Elastomers for Vascular Anatomical Models
Learn how medical professionals can incorporate elastomeric and biocompatible materials into innovative 3D printing workflows using Formlabs' newest BioMed Flex 80A and BioMed Elastic 50A Resins.
Watch the Webinar
The Difficulty With Creating Flexible, Biocompatible Parts In Healthcare
For years 3D printing has improved workflows for medical device companies and healthcare professionals. However, for applications that require both flexibility and biocompatibility, there hasn't been an end-to-end 3D printing process available for the Formlabs ecosystem, until now. 
Medical device companies have traditionally been limited by the availability of elastomeric 3D printing materials in each stage of the design and manufacturing process. In prototyping, designers must either 3D print with non-biocompatible or rigid materials, create a 3D printed mold and hand-pour medical-grade silicone, or outsource to a molding company that has prohibitive costs. These workflows impair the design cycle, hurting the performance of the product and making it more difficult for the company to reach the market quickly.
For production stages of biocompatible rigid parts, many companies have found that 3D printing can be a cost-effective means of production. For elastomeric parts, however, 3D printing hasn't been a solution due to the lack of materials that have the right Shore hardness and elongation at break while adhering to strict biocompatibility requirements. End-use flexible parts such as customized devices, patient-specific surgical models, and short-term wearable or skin-contact devices have been extremely difficult to produce cost-effectively, and many companies only offer standardized options. 
At the point of care, the lack of flexible and biocompatible material options has limited the scope of what hospitals and medical service bureaus can use 3D printing for, despite the enormous benefit that this technology imparts. Several hospital researchers today use flexible non-biocompatible materials for training and educational purposes, but cannot bring them into the operating room (O.R.). With a flexible and biocompatible 3D printing workflow, hospitals and medical service bureaus can bring those models into the O.R. now as well as expand the range of parts they provide, improve the quality of patient care, and reduce costs for the provider. 
Flexibility, Transparency, and Biocompatibility Enable New 3D Printing Applications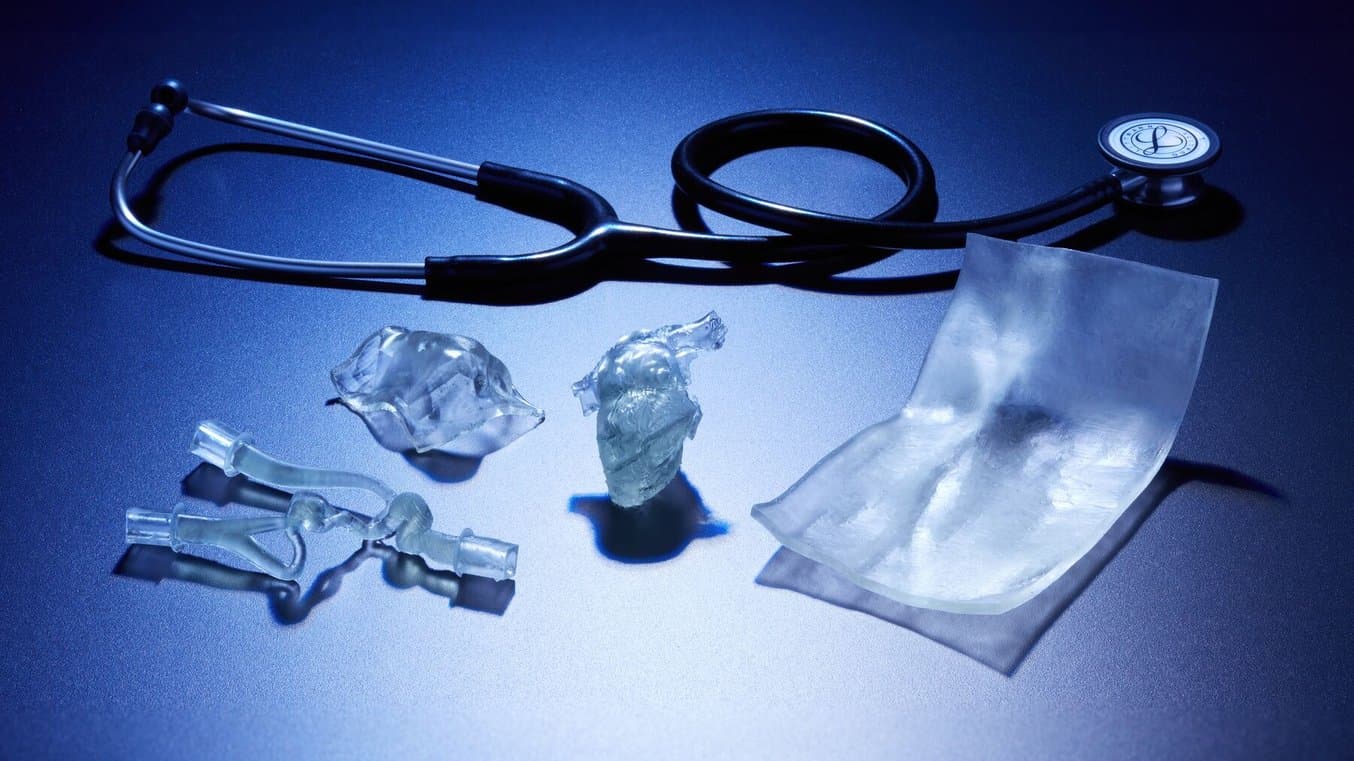 With the introduction of BioMed Flex 80A Resin and BioMed Elastic 50A Resin, medical device companies, healthcare professionals, and surgical planning bureaus finally have access to streamlined workflows that combine the best of 3D printing with the best of biocompatibility and materials. Formlabs' commitment to maintaining regulated and certified workflows ensures that users can have full confidence that these parts are ISO 10993 and USP Class VI tested and produced in an FDA-registered, ISO 13485 certified facility.
| | Ultimate Tensile Strength | Tear Strength | Shore Hardness |
| --- | --- | --- | --- |
| BioMed Flex 80A Resin | 7.2 MPa | 22 kN/m | 80A |
| BioMed Elastic 50A Resin | 2.3 MPa | 11 kN/m | 50A |
BioMed Flex 80A Resin has a Shore hardness of 80A and elongation of 120% at break, meaning that parts will return to their original shape after deformation, and allow the manipulation of the part during study or testing. These parts can be used for flexible components on devices and patient-specific instruments such as short-term mucosal membrane tubes that are customized to the patient's anatomy. For surgeons, anatomical models that more closely resemble firm tissue can be brought into the O.R. for study and reference during a procedure, which has been shown to improve the outcome and patient recovery time. 
Dr. Prashanth Ravi, Assistant Professor at the Department of Radiology at the University of Cincinnati, has worked with Formlabs' suite of specialized resins for years, and is excited for the new applications possible with BioMed Flex 80A Resin, telling us, "The BioMed Flex 80A Resin is a great tool to have in that it is flexible and has all the ingredients to be biocompatible for different clinical indications, and it really gives us more options in our arsenal to help surgeons out in the field."
At Northwell Health, a leading provider of advanced medical care, 3D printing has been part of their workflow for years. Until the release of these two new materials, Northwell's Allison Neuwirth had to complete a multi-step silicone molding process for biocompatible customized medical devices or components that interface with a patient.
"In our hospital serving environment, this material excels in producing custom malleable parts which interface with the body. It also eliminates the need for prototyping via silicone molding which is labor-intensive and wasteful."

Allison Neuwirth, Project Manager, Northwell Health
BioMed Elastic 50A Resin's elastic properties, shore hardness of 50A, and elongation of 150% at break, enable new 3D printing applications for biocompatible workflows. The parts can be easily bent, manipulated, and compressed, enabling components such as gaskets and seals or thin, flexible enclosures for medical device companies. BioMed Elastic 50A Resin's transparent properties mean that tube-like parts can show fluid moving through them, so customized, biocompatible fluidic devices can be manufactured cost-effectively in medical settings. 
BioMed Elastic 50A Resin is also ideal for 3D printing soft-tissue models that surgeons can bring into the O.R. for reference, or even comfortable patient-specific long-term skin contact parts like nose tubing, patches, or more. Dr. Ravi saw one specific use as a perfect application for the new elastomeric material, saying, "One clear application is in device sizing for left atrial appendage closure planning to treat atrial fibrillation. If the cardiologist wants to take the sterilized 3D printed anatomic model into the operating room to actually size the device and communicate with the surgical team prior to the intervention, the BioMed Elastic 50A resin is the material we would be using."
At Baystate Health, 3D Printing Specialist Greg Gagnon prepares 3D printed bolus devices as well as other devices for physicians. Gagnon hadn't been able to utilize a direct-3D printed elastomeric material until working with BioMed Elastic 50A Resin.
"Really enjoyed the material. Relative electron density was almost identical to water which is 1.0g/cm3 and is great for 3D printing patient boluses. [We] already have some designs completed to start testing and expand our use cases into our surgical field."

Greg Gagnon, 3D Printing Specialist, Baystate Health
Streamlining Workflows for Medical-Grade Flexible Parts
Formlabs' Form 3B/+ and Form 3BL printers enable medical device manufacturers and healthcare professionals to fabricate models, devices, and components easily and cost-effectively. The small footprint and low-touch workflow of the platform make it easy to use in a hospital setting where space is scarce, as well as scale effectively at manufacturing sites. 
These two new resins enable medical professionals to remove steps in their fabrication process and streamline workflows. Directly 3D printing biocompatible and flexible parts can now be done with the same consistency and reliability that Formlabs has brought to so many other applications. 
Brian Powell, a Medical Device Consultant in Pennsylvania, recently told us, "Formlabs BioMed Flex 80A Resin is a robust, durable addition to the company's suite of material offerings. It offers high precision accuracy, and small-feature generation capability in conjunction with a high durometer while being biocompatible. Even in view of the additional water immersion U.V. cure step, I found this material to be compliant with my needs for high-resolution net shape generation and general ease of post-processing. I view this offering as a welcome addition to Formlabs BioMed material line-up which opens up an array of options resultant of flexible bio-compatible component generation. Its introduction along with BioMed Elastic 50A Resin is definitely worth the wait."
BioMed Flex 80A Resin and BioMed Elastic 50A Resin can remove barriers that exist in medical device manufacturing and anatomical modeling workflows—ensuring that users can focus on what's important, and eliminating the need for laborious silicone molding processes. Watch our webinar for more details on the two materials or schedule a consultation with a medical 3D printing specialist about integrating them into your workflow.