Elastic Resin: A Resilient, Soft, and Flexible 3D Printing Material
Formlabs is pleased to announce Elastic Resin, the latest addition to our library of soft and flexible 3D printing resins for Formlabs desktop stereolithography (SLA) resin 3D printers.
Elastic Resin is the most pliable of our Engineering Resins, with a Shore durometer of 50A as well as high elongation and energy return. Parts printed in this material look and behave like a molded silicone part, and are durable enough to use for multiple cycles.
Order Elastic Resin Now Request a Free Sample Part
Read on to learn how using Elastic Resin can cut down on lead time and costs in engineering, healthcare, and more, and why it's now possible to directly 3D print flexible and soft materials like this one on the desktop.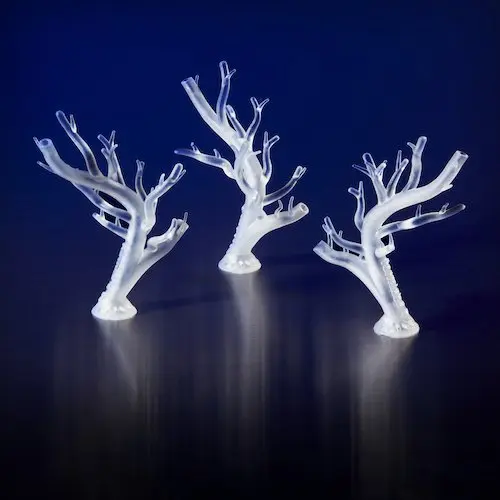 Sample part
Request a Free Sample Part
Request a free sample part to feel Elastic Resin for yourself. Elastic Resin has a Shore durometer of 50A, while our harder flexible 3D printing resin, Flexible Resin, has a Shore durometer of 80A.
Request a Free Sample Part
Elastomeric Materials: An Emerging Category
Typically, soft silicone and urethane parts for applications like wearables, medical models, robotics, and special effects props are produced through moldmaking techniques or outsourcing.
Some soft materials for direct 3D printing have started to appear, but parts printed in these materials might only last for one or two cycles, and don't offer the feel expected from a "silicone-like" part. Developing soft stereolithography (SLA) resins can be challenging. Parts must be highly elastic, yet strong enough not to tear during printing—two properties that are typically diametrically opposed.
Producing quality elastic materials was once only possible for expensive industrial equipment, but with affordable, industrial-quality 3D printers like the Form 3+ and the large-format Form 3L, it's possible to produce elastic parts on the desktop in a matter of hours.
Looking to manufacture real silicone parts? Read our in-depth guide on silicone 3D printing and its alternatives.
Formlabs Soft and Flexible 3D Printing Materials
With Formlabs SLA 3D printers, it's possible to produce flexible parts in-house in a matter of hours to replace outsourcing and molding of silicone, urethane, and rubber parts.
Our family of Flexible and Elastic Resins include:
Elastic 50A Resin is a soft material that's suitable for prototyping parts normally produced with silicone. This 50A Shore material is ideal for parts that will bend, stretch, compress, and hold up to repeated cycles without tearing, and spring back quickly to their original shape. Choose Elastic 50A Resin for applications like wearables (straps), stretchable enclosures and casings, compressible buttons, or soft tissue anatomy in healthcare.

Flexible 80A Resin is a stiff soft-touch material  with an 80A Shore durometer to simulate the flexibility of hard silicones, as well as rubber or TPU. Balancing softness with strength, Flexible 80A Resin can withstand bending, flexing, and compression, even through repeated cycles. It is ideal for prototyping applications like handles, grips, overmolds, cushioning, damping, shock absorptions, seals, gaskets, and masks, or cartilage, tendon, and ligament anatomy in healthcare.
Faster Turnaround Time for Rapid Product Development
For companies like NeoSensory, a designer of wearables that create novel sensory experiences, and RightHand Robotics, a designer of robotic grippers for manufacturing lines, the ability to rapidly prototype silicone parts before manufacturing is key to successful development of final products with the potential to change an industry.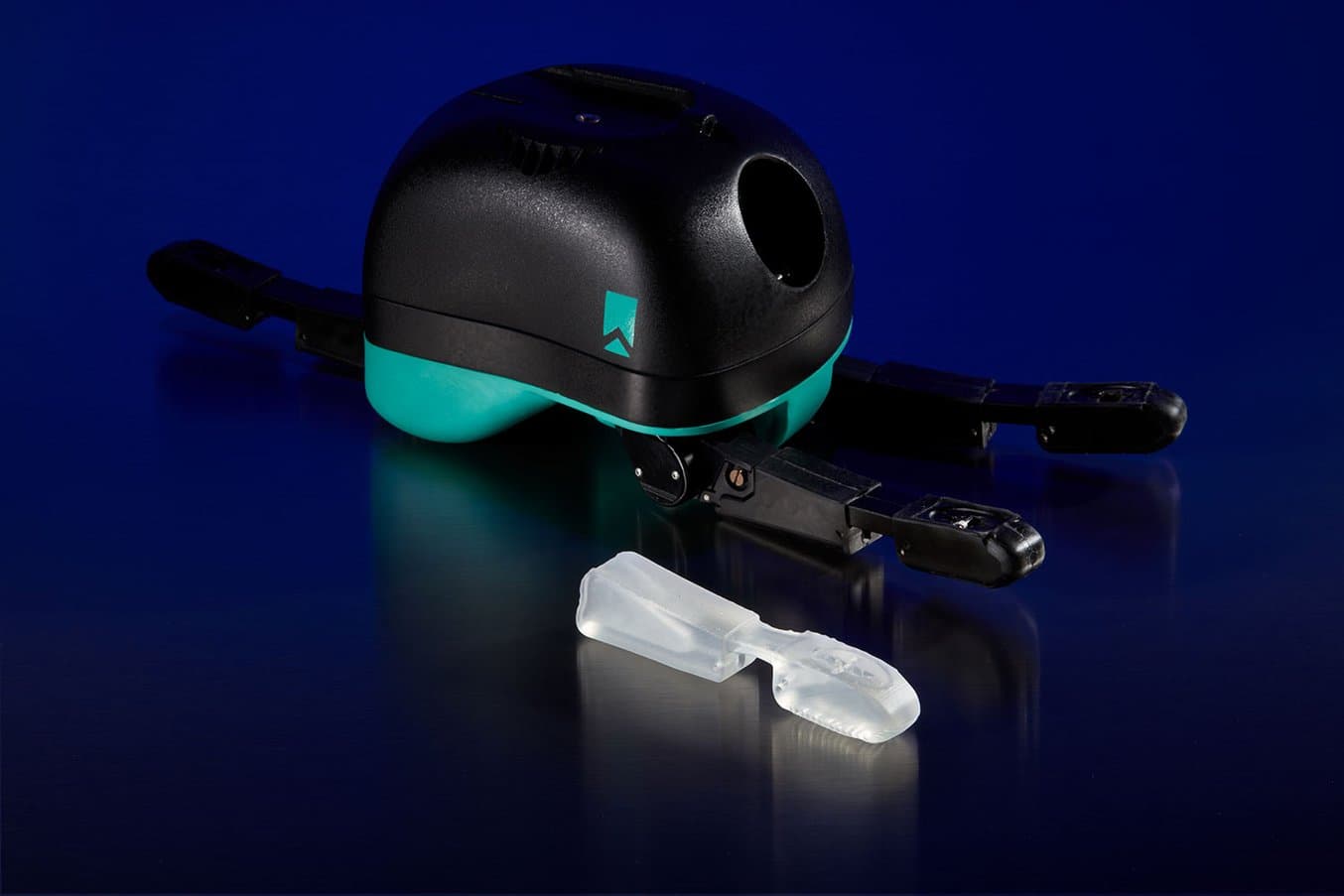 Engineers and product designers have traditionally used moldmaking techniques (such as RTV molding, transfer molding, and injection molding) to create short runs of prototype parts in silicone. Directly printing these parts saves time and labor, allowing for deeper iteration and shorter product development cycles.
Use Elastic Resin to 3D print batches of small to moderately sized soft and flexible parts with the ability to make changes to design between and within batches. Moldmaking may be preferable for producing larger numbers of the same part, or for using the final production material during later stages of development.
"We had been looking for a softer material with higher elongation for prototyping of grips and frame protection pieces. Until now we were urethane casting these soft parts in 3D printed molds. The parts we have printed in Elastic Resin simulate 50-60A TPU very well. Printing these parts directly will be a big cost and time saver. Elastic Resin is a great addition to our material library."
—Jeremy Mikesell, Engineering Manager, Research at Cycling Sports Group
Reducing Costs for Patient-Specific Anatomical Models
Surgeons, researchers, radiologists, and other healthcare professionals depend on patient-specific medical models to better prepare for complex cases and operations. Models facilitate better communication both within surgical teams and between practitioners and patients. We've heard many requests from healthcare professionals for a clear flexible material to support cases in cardiac surgery, neurosurgery, surgical oncology, and other specialties.
Notice: Parts printed with Elastic Resin are not biocompatible.
Historically, medical models from service providers and traditional industrial machines have been prohibitively expensive, with slow turnaround times. The ability to quickly and affordably 3D print educational and preoperative planning models on demand expands access across the industry, and we're excited to see the future impact of Elastic Resin on doctors, researchers, and patients.
"Elastic Resin's opacity illuminates internal cavities well and its durability means that educators, trainees, and clinicians can handle and examine models without worry of breakage. This material will be of particular interest to cardiovascular surgeons and interventional radiologists, as well as those conducting fluid dynamics studies and working in catheterization labs. It is relatively cost effective when compared with other similar materials on the market, which can only help accelerate adoption of 3D printing in medicine."
—Sanjay Prabhu, MBBS, FRCR; Pediatric Neuroradiologist and Clinical Director, SIMPeds3D, Boston Children's Hospital
White Paper
How to 3D Print Anatomical Models for Preoperative Planning and Enhanced Patient Consent
Download our white paper for a practical walkthrough for physicians and technologists to get started creating 3D printed anatomicals models from patient scans, reviewing best practices for setting up a CT/MRI scan, segmenting datasets, and converting files to a 3D-printable format.
Download the White Paper
Design Guidelines for Elastic Resin
We've worked to develop and test a material that will print to the high quality standard you've come to expect from Formlabs materials. However, 3D printing flexible and soft materials in general requires denser support structures and attention to specific design guidelines before you print.
Read our "Using Elastic Resin" support article for a deeper look at how to support and orient parts for printing with this material.
Start 3D Printing Flexible and Soft Materials
As 3D printers and their subsystems evolve, so does access to new materials. With the launch of Elastic Resin, we're excited to continue evolving our library of Engineering Resins and open up new possibilities in product design, healthcare, and beyond. Order our soft 3D printing material now or request a free sample part to see the quality firsthand.