Form 3 vs. Form 2: Customers Highlight Changes With Real-Life Examples
Earlier this year we launched the Form 3 printer, powered by our new Low Force Stereolithography (LFS) technology. One of the first questions users had was: how much of an improvement is the Form 3 compared to the Form 2 and other stereolithography (SLA) printers?
We asked some of our Ambassadors for their most difficult print so we could see how the Form 3 stacked up. Formlabs Ambassadors are globally recognized 3D printing leaders who use Formlabs products and services to push boundaries, bring ideas to life, and create new solutions to existing problems.
"The Form 3 model has an insanely nicer surface finish."
- April Krivoniak, Biomedical Engineer at UPMC
Read on to learn which prints we selected, and how the Form 3 performed.
Sci-Fi Outfit Breastplate
In 2015, we wrote a blog post about how sci-fi inspired 3D printing fashion. Wearables are a growing space for 3D printing, and the market has matured since Aiman Akhtar printed an outfit on the Form 1+. Four years later, Aiman wanted to return to the complex breastplate to see how the Form 3 would perform.
"This model is near impossible to sculpt, mold or cast, it can only be created through high-quality 3D printing."

Aiman Akhtar
At some point, the original breastplate print was broken. Aiman tried to recreate it on the Form 2 with no success. With minimal problems, he was able to create the print on the Form 3 at 100 microns. Since the original print was done at 50 microns, Aiman figured the quality was compromised. Instead, Aiman found the quality of the Form 3 print to be superior and was "blown away" by how clean the model looked.
"The impression I get from this is that the Form 3 is a superior printer to the previous two and the LFS print technology is a huge step up for the medium in terms of reliability and final quality."
For large prints Aiman uses clippers and a knife to remove supports, being careful to avoid damaging the parts. Damage done during support removal requires additional post-processing time to fix, and can often be the most frustrating part of 3D printing. With the part printed on the Form 3, he could remove the supports by hand, leaving no marks or blemishes.
"I've used all of the Formlabs machines, and the Form 3 seems by far the best in terms of quality and reliability."
While at first Aiman was simply interested in whether the print would work on the Form 3, it was the easy support removal that left the biggest impression. He currently uses the Form 2 for multiple projects, such as concept art maquettes, toy prototyping, and to make functional objects. The Form 3 would likely improve prints across all of these workflows, reducing errors and improving quality.
Fully Transparent Parts With Internal Cavities for Biomedical Engineering
April Krivoniak, a Biomedical Engineer at UPMC, prints complex anatomic models that physicians use for surgical planning, rehearsal, training of residents and fellows, and patient education, as well as to iterate designs of patient-specific surgical instrumentation, while working with physicians to develop novel medical applications.
"Both the Clear and Dental SG resins have been most influential to my work. Printing hollow anatomic structures as part of one connected assembly, in Clear Resin, I can then fill the hollow cavities with paint to produce full-color anatomic models at a fraction of the cost of PolyJet materials. Printing in Dental SG resin, I am able to provide surgeons with anatomic models that can be sterilized and used to size orthopedic devices and trial other commercially available instruments, at the time of the procedure."
April sent us a complex brain phantom model which is a major challenge for the Form 2. It often takes several tries, altering wall thicknesses, changing fitting styles, and toying with different orientations to arrive at a successful print. The team also tried to print the brain model on a Viper SLA 3D printer, a traditional industrial device that costs as much as dozens of Formlabs 3D printers.
The Form 3 was able to print the model with less support structures, which is very important for complex medical models. Less dense supports reduce the risk of cracks and damage to the sensitive internal cavities. Clear Resin models also experience massive quality improvements on the Form 3,  with higher surface finishes and transparency.
"When high-quality surface finish matters, we will rely on the Form 3 to produce those models."

April Krivoniak
April is convinced that the Form 3 is the right tool for complex medical models. She says the machine will give her team greater confidence in pursuing delicate prints, prints with small internal cavities, and models where high-quality surface finish matters.
Saving Time on Post-Processing Highly Detailed Train Models
We've recently covered Matt Schmotzer and his 3D printed train sets. In the previous post we reviewed how he combines Fused Deposition Modeling (FDM) and SLA printing, and briefly mentioned the high-detailed parts required for the train models.
Matt was curious how the Form 3 would handle the functional parts of his trains, including seats and internal pieces. Matt has experienced difficulty printing these parts on an FDM printer and also on SLA machines such as the Form 2. Since these parts are small and require high detail, difficult support removal can damage aesthetics and require additional post-processing.
The Form 3 prints came with minimal, easy to remove supports even on the smallest pieces. The support removal process left negligible wear and bumps, reducing clean-up time before assembling the trains.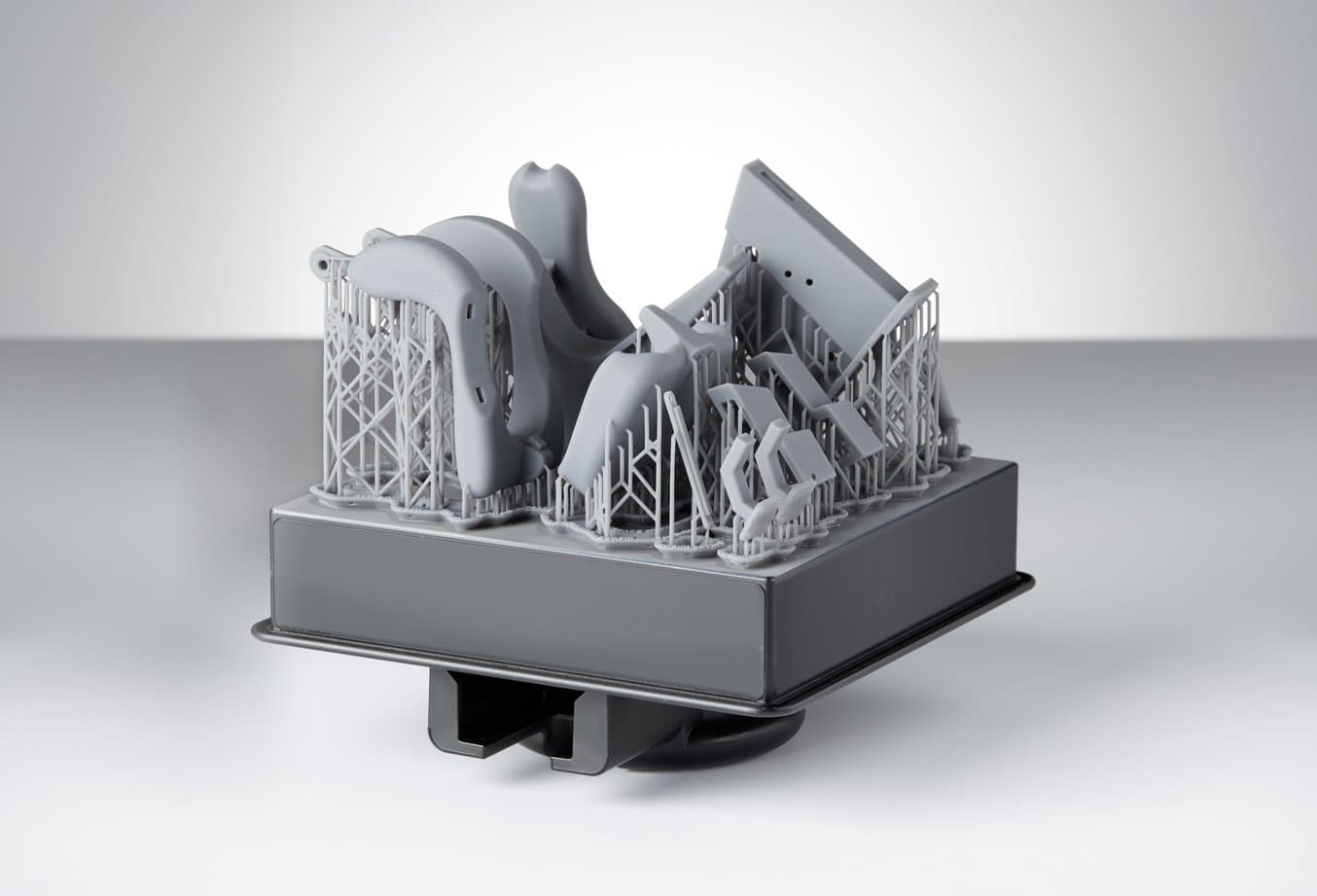 Matt said seeing the Form 3 parts sold him on LFS. The part detail was better than on the Form 2, and clean up time was significantly reduced. In his words, this makes the machine "the best of both worlds" due to its high resolution prints that go from the build platform to final use faster than was possible on the Form 2 or other SLA printers. 
"The Form 3 really blows away FDM and SLS prints that I have worked with in the past. You don't see the line segmentation that you would see in a FDM machine and you have easy clean up in comparison to SLS parts."

Matt Schmotzer
See the Form 3 for Yourself
The Form 3, powered by LFS technology, represents the best desktop SLA printer on the market. In every test case, the machine held up to the challenge presented by our users. Want to see a Form 3 print for yourself? Order a free sample part.
Additional Ambassador Prints on the Form 3: