How a Contract Manufacturer Uses 3D Printed Molds for Low-Volume Production
In the years after joining the World Trade Organization (WTO) in 2001, China quickly became the world's largest manufacturer in terms of output. Much of this manufacturing power comes from the Pearl River Delta region, a group of nine cities in the southern Guangdong Province that includes Shenzhen. In 2020, the region accounted for roughly one third of China's trade value. 
Propelled by this rapid growth, many small workshops grew into international companies. Founded in 2005 in Shenzhen, Multiplus started as a micro injection molding workshop and quickly grew into a solutions provider that covers the entire production cycle from design to manufacturing of plastic products, both large and small, single or multi-shot (where two or more colours or materials are injection molded simultaneously into a single mold). Today, Multiplus provides services to over 250 clients per year, including some Fortune 500 companies.
Some of these clients require small batch production, which is traditionally expensive and time-consuming with injection molding due to the complexity of manufacturing hard tooling.
Read on to learn how Multiplus uses 3D printed injection molds to shorten lead times for small batches of around 100 injection molded parts from four weeks to only three days.
White Paper
Low-Volume Rapid Injection Molding With 3D Printed Molds
Download our white paper for guidelines for using 3D printed molds in the injection molding process to lower costs and lead time and see real-life case studies with Braskem, Holimaker, and Novus Applications.
Read the White Paper
Growing Demand for Small Batch Production
Watch the video to see how Multiplus uses 3D printed injection molds for low-volume production.
In most cases, the molds used in injection molding are made from metals such as steel or aluminum. But when it comes to small batch production, metal molds can represent a hefty cost as they are expensive and time-consuming to make. 
"Although it is not the majority of what we do now, small batch production requests are becoming more common. Some are for design and functional validation, but more are becoming end use. This makes sense because more and more companies want to test the market," said Kevin Li, CEO of Multiplus.
A few years ago, Multiplus adopted 3D printing and has since purchased several 3D printers, mostly to print communication models and parts for design validation in different materials. As the demand for small batch production started to grow, Multiplus turned to 3D printing to explore different materials in an attempt to find a cost-effective way to produce cheaper plastic molds for smaller orders. Fabricating low-volume injection molds with Formlabs 3D printers reduced costs, labor, and time compared to machining aluminum molds, and could seamlessly be used with their Babyplast industrial injection molding machines.
One of the materials Multiplus tested was Formlabs Rigid 10K Resin, a glass-filled resin that is very stiff, strong, as well as heat and chemical resistant, which are necessary properties for an injection mold. Additionally, parts printed in Rigid 10K Resin on the Form 3 SLA 3D printer have a smooth matte finish that translates to clean surface finishes on the injected parts. 
"Not many 3D printed materials can withstand the repeated pressure, heating, and cooling during the injection molding process. Our experience is that even with a material claimed to withstand high temperatures, the printed mold might be able to withstand 10-20 injection cycles but would crack shortly after that, or the quality degrades so that the finished part becomes undesirable. The first batch we produced with the Rigid 10K mold produced 100 parts with no issues," said Mr. Lin Wei, Multiplus' injection molding department manager.
Cutting Fulfillment Time From Four Weeks to One
Multiplus has tested injection molding parts with ABS, PP, PC+ABS and PC. After designing the mold, they would print and post process the mold in a day, assemble the molds in the assembly workshop in half an hour or so and start injection molding on their injection molding machines. Once injection molding starts, it takes roughly 3 minutes for a part to be finished. Multiplus limits each mold to roughly 100 shots of use and prints multiples of the molds for larger order quantities. 
With multiple 3D printers and injection molding machines in the workshop, Multiplus can deliver hundreds of pieces as fast as 3 days, that is substantially shorter than the 3-4 weeks needed if they were to injection mold parts with a CNC machined metal mold.
| Injection Molding 100 Parts | SLA 3D Printed Mold | CNC Machined Mold |
| --- | --- | --- |
| Lead Time | 3-5 days | 3-4 weeks |
"Having the Form 3 in our factory floor has made our mold-making process much more agile, and the Rigid 10K resin is one of the best resins we have used so far for injection molding. Now we are able to respond to customer requests much faster."

Kevin Li
Molding Conditions and Results
Multiplus has used their 3D printed injection molds with a Babyplast 10/12 Standard machine under a wide range of pressures, temperatures, and materials. The part tested was a control box housing for home appliances including a few small features. 
From these tests, we observed that PP injected at 180°C was fairly easy to process. Multiplus obtained injected parts with a good quality and a smooth surface. The printed mold ran 100 injections and was still in good condition. Similarly, ABS was processed at 220°C for 60 shots without damaging the mold. Multiplus did not test the molds to failure because of the tight production schedule, but would expect a lifetime above 100 iterations per mold for PP, ABS, and PC-ABS. 
Trials with PC at 260°C led to mold breakage after only four iterations. This shows that plastics above 250°C with high viscosity are challenging to process with a Rigid 10K 3D printed mold, in particular for this geometry with thin walls. High Temp Resin has a higher heat deflection temperature and can be considered as an alternative material when clamping and injection pressures are not too high.
| Material | PP | ABS | PC-ABS | PC |
| --- | --- | --- | --- | --- |
| Injection Temperature (Nozzle) | 180 ℃ | 220 ℃ | 240 ℃ | 260 ℃ |
| Injection Volume | 36 cc | 39 cc | 37 cc | 40 cc |
| Cooling Time | 80 sec | 60 sec | 50 sec | 90 sec |
| Injection Pressure | 60 bar | 95 bar | 95 bar | 110 bar |
| Holding Pressure | 35 bar | 30 bar | 25 bar | 80 bar |
| Holding Time | 0 sec | 1.5 sec | 1 sec | 2.5 sec |
| Number of Cycles | 100+ | 60+ | 60+ | 4 |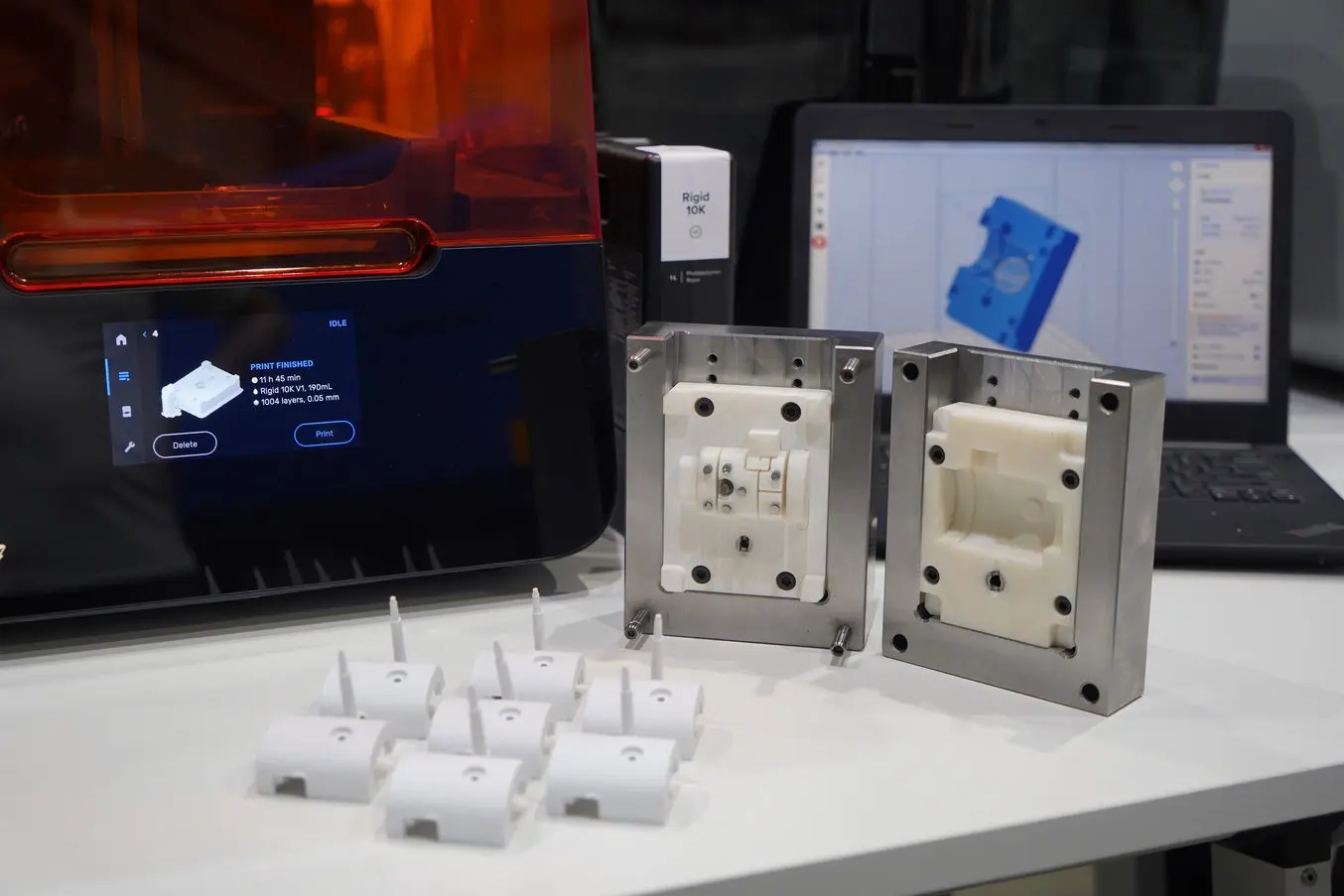 Low Volume Injection Molding With 3D Printed Molds
By seamlessly integrating 3D printing into their injection molding workflow, Multiplus was able to grow their business, take on more jobs, and be more competitive, all while reducing costs, improving turnaround time, and helping their clients bring better products to market quickly. 
Download our free white paper or watch the webinar for a detailed process workflow, design guidelines, and other best practices for using 3D printed molds in the injection molding process and see additional real-life case studies with Novus, Braskem, and Holimaker.