Driving Cost Savings and Customization: Labconco's Strategic Shift to 3D Printing
In Brent Griffith's first meeting at Labconco in early 2020, 3D printing shut down the room. The team had met in part to discuss a small pan stake for their new Logic Vue product that had to be injection molded. Because the product was new and supply quantities weren't set yet, the $15,000+ tool might only need to produce 100 parts for the first year. The resulting high cost per part spurred the group to look for new solutions. "I spoke up and said, 'You know, I could 3D print that and have a year's worth of what we're anticipating completed by tomorrow.' The whole room went silent," says Brent Griffith, Product Engineer at Labconco.  
At that point, Labconco didn't have any 3D printers in-house. When Griffith returned the next day with several versions of the component he printed on his own printers at home, the 3D printing business case spoke for itself. 
Today, Griffith oversees a growing lab with three Fuse 1+ 30W selective laser sintering (SLS) printers, the Fuse Sift and Fuse Blast, a Form 3L stereolithography (SLA) printer, and several fused deposition modeling (FDM) printers for Labconco, which manufactures laboratory equipment for a range of industries, from food testing to pharmaceutical development, to oncology diagnostics, and forensics. Griffith is now printing hundreds of parts a week that improve on what would have been machined or molded components, serve as stopgap options when supply chain snarls affect production, and help in the development phases of Labconco's many new products.
Making the Case
After Griffith proved the business case with that first 3D printed pan stake component, he started printing other parts for engineers around the office supporting their development work, quickly building up a queue. "It got hectic really fast," says Griffith. 
To find out what else was possible with 3D printing, he and fellow engineer Austin Orme set out to audit the thousands of parts, tools, and components that go into Labconco products. "Our specific instructions were to find one machine that has an excellent build volume and gives really high-quality parts that we can use for both prototypes and production," says Griffith. "We quickly found that one machine would not be enough to do the job, as one machine wouldn't give us the widespread capabilities and flexibility we needed to succeed." The lab ended up adding six printers to start, including three Fuse 1+ 30W SLS printers and a Form 3L large-format SLA printer.
"We bought the Form 3L because we wanted access to Formlabs' resin library. I knew it would allow us flexibility and open new opportunities. And it's lived up to exactly what we hoped it would."

Brent Griffith, Product Engineer
Between the range of materials possible for the Form 3L and the mid-to-high-production volumes made possible with three Fuse Series printers, Griffith has been able to improve existing products, save tens of thousands on tooling costs, speed the development of existing projects, and replace parts on-demand.
Replace, Improve, Scale: 3D Printing Applications at Labconco
SLS Fill Sensor: Replacing a Molded Assembly
Labconco's Glassware Washer line incorporates cutting-edge engineering breakthroughs, including additive manufactured (AM) components. One component, a fill sensor mount, acts as a backup for overflow protection. In the conventional approach, this component would have been produced through the injection molding of two separate pieces, followed by assembly using a pin to hold the two parts together.
However, Tim Grove, a product engineer at Labconco, recognized the potential for cost and time savings that fabricating through SLS 3D printing could provide. Inspired by the hinge design employed in Formlabs' own Nylon 12 Powder standard sample, Grove embarked on reimagining the fill sensor mount, aiming to streamline assembly and eliminate the expenses associated with ordering multiple tools.
Through an iterative collaboration with Griffith, Grove worked through multiple versions of the part, ensuring flawless functionality and uncompromising performance. 
"It comes out of the printer with the hinge already functioning and ready to go. So, there are cost savings there and flexibility with production. The Nylon 12 Powder off the Fuse is a good, middle-ground polymer for us. We find a lot of applications for it, and it works really well for us," says Griffith.
| SLS Fill Sensor | Number of Components | Assembly Labor Time (per 50 components) | Cost Per Finished Part (with labor) | |
| --- | --- | --- | --- | --- |
| Molded | 3 | 1 hour | $4.45/ea + tooling | |
| SLS 3D Printed | 1 | 0 | $2.56/ea | |
SLA Blower Wheel: Solving for Supplier Obsolescence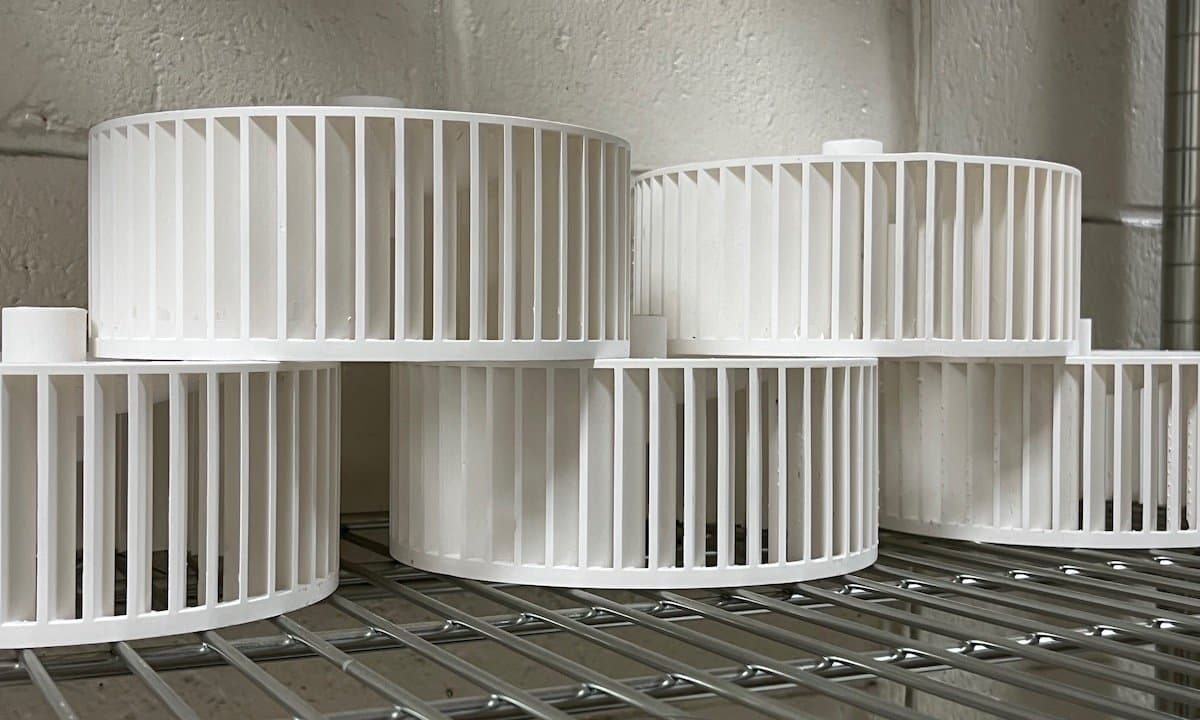 On Labconco's Kjeldahl apparatus, which is used in analyzing grains, the team was working with an external supplier that produced a tool for a critical blower wheel component. Quantities were low, and the supplier decided to obsolete the part when the tooling reached the end of its life.
Labconco faced a new supplier search, waiting for the design and production of a new tool and molding run, and the high cost of materials and labor. "We looked at a dozen different solutions, and none came close to meeting our specs, especially regarding chemical compatibility. So, I ended up taking a copy, reverse engineering the component, optimizing it, and printing it in Rigid 10K Resin," says Griffith. "After testing to ensure it would hold up, we decided it was the best solution."
Their sizeable new format SLA printer, the Form 3L, had arrived just in time — they printed the reverse-engineered blower wheel for 40 days straight to build their stock of the part back up. 
"Rigid 10K Resin has been a go-to for several components. The chemical compatibility was in line with what we needed regarding acids, particularly, in this case, vaporized sulfuric acid. We save hundreds of hours verifying suppliers and materials that don't pan out by switching to additive manufacturing. In this regard, it's a strong business case," says Griffith.
| SLA Blower Wheel | Cost |
| --- | --- |
| Original Molded | $178.77 |
| Redesigned and Printed in Rigid 10K Resin | $52.65 |
SLS Bearing Cage Separator: From $500 to $20
Though some components may be relatively simple, traditional methods of fabricating them can still be costly. A machinist quoted one part, a separator that holds two bearings apart and prevents the bearings from being pulled towards one another, for about $500 each. The part was for a new product, and Labconco had already proved the use case for their 3D printing lab. Griffith immediately started printing the separator on the Fuse 1+ 30W and lowered the price to about $45, around a tenth of what it would cost to outsource to the machinist. 
The improvement process didn't stop there. Griffith applied the principles he'd acquired during his graduate work through Penn State's Additive Manufacturing and Design program and reframing the process from just a one-to-one replacement to an entire optimization overhaul.
"This was exactly what I had been learning, how to apply the opportunistic and restrictive aspects of additive manufacturing. Instead of asking, 'Can we make it with AM?' ask, 'Should we?' In this case, we could make a 1:1 replacement, but in doing so, we failed to take advantage of the opportunities AM provides. Because we had these Fuse Series printers, which offer very few real geometry constraints, I could go a little crazy and try new things."

Brent Griffith, Product Engineer
He experimented with reducing material throughout the part using generative design while maintaining the safety features on the separator that protected operators. Within a day, he had a revised, optimized design, and Labconco started SLS 3D printing the parts in-house for around $20 each. 
"3D printing gives us these huge advantages in terms of what we can do with geometry. If you lightweight a part or apply different design techniques, we can combine components in ways they haven't been before. We can bring manufacturing in-house and save a lot of money," says Griffith. 
| SLS Bearing Cage Separator | Cost (Including Labor) | Lead Time |
| --- | --- | --- |
| Machined | $485.82 | 2-3 weeks |
| 1:1 SLS Replacement | $43.50 | 29 hours |
| Optimized for SLS | $21.08 | 28 hours |
SLS Parts in Testing: Reducing Component Counts and Improving Functionality
Labconco's unwavering pursuit of excellence extends to testing critical components used in one of its flagship products, the biological safety cabinets. These cabinets are vital in safeguarding personnel and the products being handled within them, relying on specific airflow patterns and HEPA filters. To ensure the highest level of performance, these filters undergo rigorous testing and certification before being marked as complete.
In the past, this testing process heavily relied on human operators, introducing potential variability and limitations. However, Labconco has embraced a transformative approach, harnessing the power of robotic systems to automate the scanning of each filter with impeccable precision. This shift to automation necessitated the development of customized tooling and end effectors for the robotic arms responsible for conducting the tests. Traditional methods of fabrication would be exorbitantly costly and could take months; for the low volume of parts required, 3D printing these parts on the Fuse Series machines was an important part of the transformative approach. 
With SLS parts produced in-house on the Fuse 1+ 30W, Labconco has achieved a remarkable daily utilization of these components, elevating the accuracy and reliability of their product safety testing. This pivotal adoption of additive manufacturing has not only streamlined operations but also empowered Labconco to ensure its products' uncompromising safety and performance.
| Effector Components | Cost |
| --- | --- |
| Machined | $508.32 |
| SLS 3D Printed | $73.44 |
Fume Hood Component: Mid Volume SLS Production for Increased Agility
Labconco was the first company to commercialize the production of fume hoods, and now it's one of their most significant product divisions. Fume hoods are indispensable for large-scale chemical, pharmaceutical, or agricultural ventures.
One component, a mechanical sash stop that prevents users from opening the hood sash past a specified point (thus saving energy costs), was previously being injection molded. Ordering large volumes made from a single tool limited Labconco's ability to make changes or customize orders for large customers. Tools wear out, and suppliers sometimes become less reliable in replacing them. To counter supply chain issues they started printing these sash stops on the Fuse 1+ 30W, and now Griffith produces between 50 and 100 of these components each week in Nylon 12 Powder. 
"If you molded that part, you can't make any revisions easily. It's as uncommon as it should be, but we've had components in the past where we went the injection molding route, and it burned us because we got them back, put them into use, and they started breaking or didn't work as intended. The engineers are now mindful that if converted some parts to 3D printing, it would be a lot less of a pain to redesign if the need arose, and the number of options for what changes you can make are greater. You can't always put a dollar value on that, and there are significant 'intangible' benefits to additive manufacturing that I believe are often overlooked," says Griffith. 
Another advantage of bringing 3D printing technology in-house  is the confidence it infers to young employees just starting their careers. Without the absolute perfection necessary to order a new tool, they're more willing to try new things or bring forth a new idea. "The younger engineers don't have 20 years of experience that lets them look at a part and say, 'this will work.' Having that ability to 3D print, try something – or even a lot of things - out, and if it fails, it's not hurting as much, if at all, it's empowering," says Griffith. "Allowing them to focus on finding the best, most creative solution for any given problem is the head space we want them to live in, and 3D printing is a big part of that."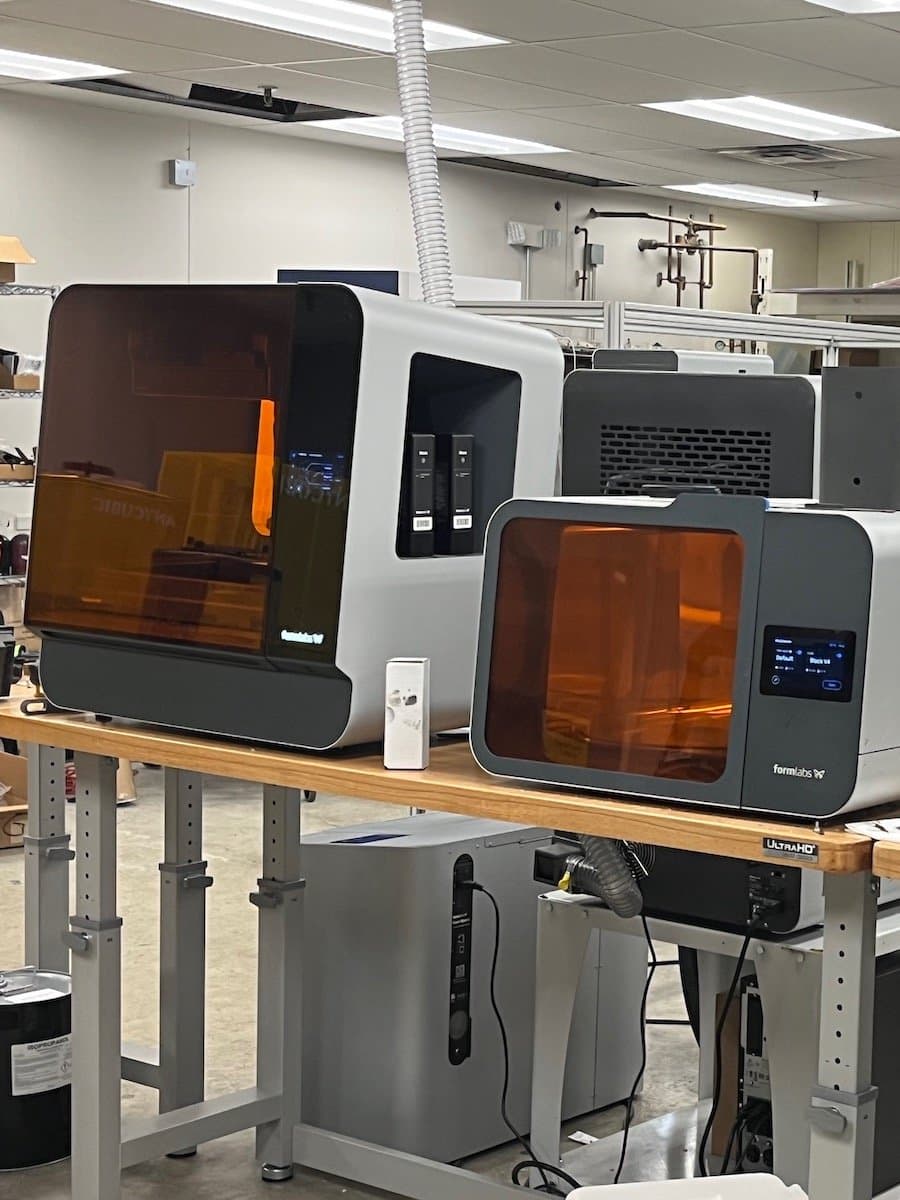 Labconco's Fuse Blast Completes Their SLS Ecosystem
With production volumes of over one hundred SLS parts each week, manual post-processing steps like media blasting and cleaning were requiring hours of hands-on labor — time better spent on higher-value design and engineering tasks. "The company wants us focused on finding new opportunities, redesigning components to make them better, and cutting down on costs rather than standing there, manually cleaning all these parts off," says Griffith.  
Along with a high-cost automated blasting system, Labconco added the Fuse Blast to complete their Fuse SLS ecosystem. After a ten minute set-up, Griffith could automate the cleaning and media blasting of two full Fuse Series build chambers. "Set-up was a breeze… it's almost the same size as our manual blasting system. And so if someone's got space for a manual blasting system, which every company that has SLS should, you're going to have space for a Fuse Blast without any issue," says Griffith.
Better Part Quality and Performance
Right away, the requesting teams around Labconco noticed a difference in surface smoothness and part quality.
"The Blast immediately made a huge difference, and the engineers, every single one that I started handing parts to on the prototyping side, started to recognize that the parts had changed — even without me having to tell them that we'd automated the post-processing. They immediately noticed that there was less residual powder on the parts, they felt smoother, they felt nicer, they looked better. It made a noticeable difference in the quality of parts."

Brent Griffith, Labconco Product Engineer
The smooth surfaces and lack of any powder residue had an unexpected effect on part performance — machines were functioning more smoothly when their SLS printed components had been cleaned in the Fuse Blast. "We actually gained slightly better performance on some of the components that we were manufacturing because they were so much cleaner, especially on the initial, commissioning runs for one of our products" says Griffith. 
The results were virtually identical to those cleaned in their other high-cost automated blasting system. "I can't say I notice much of a difference between the two. [The Blast] is definitely punching way outside of its weight class," Griffith continued. 
Less Time Post-Processing, More Time For Design Optimization
The Fuse Blast's automation does more than just eliminate time spent hands-on manually blasting parts — it reduces the amount of time Griffith and the team have to spend with the Fuse Sift. Spending more time in the Fuse Sift used to pay dividends by shortening manual blasting time. Now, the Fuse Blast runs through automated cycles and produces clean parts, even if parts begin buried in powder. "I care a lot less about how much powder we're getting off [in the Sift] because I know what the Blast is capable of. Thoroughly cleaning parts in the Sift doesn't translate to time savings anymore. Any minor powder recovery we would have gained by being more thorough in the Sift just isn't justified by the additional labor expense to obtain it" says Griffith.
For one part that has a steady production rate of about 50 parts per week, Griffith's team was manually blasting and having to clean out three holes per part with a pipe cleaner. With the Fuse Blast, he can set an automated cycle and walk away, coming back after 20-30 minutes to a set of perfectly clean parts. "The Blast is a phenomenal unit. It does a fantastic job on clearing out holes, which is probably one of the bigger time savers for us," says Griffith.
Scaling 3D Printing Operations
Griffith and his colleague approached 3D printing systematically — their initial audit proved the use case for the first six machines they brought on. As they've continued to find cost savings, labor reductions, and improved designs for their extensive catalog of components, they're looking to scale their 3D printing capabilities. 
"Every time a part comes across my desk, the first question I'm asking is, 'Can we improve on this, make it a little better with AM?' I think looking for those opportunities has really been where we've been able to shine and save the most money or cut the most cost on many components," says Griffith. 
The benefits are apparent to the entire company — teams working with customers with specific or niche applications can confidently pitch cost-effective solutions because of the power of in-house, low-volume manufacturing. "Even customers that just need five, 10, or 50 of a custom part, we can often meet that demand cost-effectively. We're able to respond quickly to market needs." says Griffith. 
From the first example that shocked a room into silence, Griffith has built a business case for manufacturers of all sizes — in-house production with SLA and SLS 3D printing can enable new applications and improve business success, as well as optimize product performance, insulate from supply chain disruptions, and reduce costs.
To learn more about bringing SLS and SLA in-house, schedule a consultation with our manufacturing sales team.