How Eyewear Manufacturer Plastinax Uses SLA and SLS to Reduce Lead Time By 40%
Since 1976, Plastinax has been manufacturing eyewear for some of the world's biggest brands. They work with global customers to design sunglasses, optical frames, and safety frames, then move into high-volume production, injection molding as many as 80,000 to 100,000  frames each month. Lead time and responsiveness are of utmost importance — in order to remain competitive in a global market, Plastinax has to expedite design and manufacturing so that their frames can travel from their base in Mauritius to their customers on every continent. 
Plastinax, owned by the ENL Group, uses Formlabs stereolithography (SLA) and selective laser sintering (SLS) 3D printers to produce functional prototypes of frames in low volumes for their customers to evaluate and give feedback on before moving to tooling. They also have expanded into 3D printed tooling for low volume runs and bridge production of eyewear components, using the Fuse 1 SLS 3D printer and Nylon 12 Powder.
The 3D printing workflow has also increased their responsiveness and expanded the range of designs they can produce. Plastinax Design Engineer Steeven Devasagayaum spoke with us about integrating the Form 2 and Fuse 1 into his workflow, and how 3D printing has changed the company's approach to design and manufacturing.
White Paper
Production of 3D Printed Eyewear on the Formlabs Fuse Series SLS Ecosystem
In this white paper, we'll walk through design and material considerations of current manufacturers leveraging the power of 3D printing in the eyewear industry.
Download the White Paper
Large Scale Manufacturing in Mauritius
Plastinax started manufacturing eyewear frames in the 1970s for big-name brands in the US, Europe, and across the world. Much like other industries at the time, the design process was slower and more hands-on, although even in the early days the industry was focused on creativity and differentiation through complex designs or branding. 
When Devasagayaum joined the company in 2006, he helped the team transition from handmade prototypes to outsourced 3D printed models. This new workflow helped get early iteration models closer to the final injection molded product and sped up the design process — they could move from a design brief or technical drawing to a hand-made prototype, then to outsourced 3D scanning and 3D drawing. 
The additional step of 3D printed models was helpful in getting prototypes more similar to final run parts but still presented issues if a client requested further changes — an additional set of prototypes could take a week or more to arrive. The extended timeline made it difficult for Plastinax to remain competitive.
Bringing 3D Printing In-House
The Plastinax Research and Development team started looking for an SLA 3D printer to bring in-house and cut down on lead times. However, the machines on the market were expensive, and outsourcing rapid prototypes was more cost-effective than investing in the machines available on the market at the time. 
In 2016, Plastinax decided to bring 3D printing in-house with a Form 2. A second unit followed a year later to satisfy the increasing demand for rapid prototypes. "Those machines were game changers. I could design and get a rapid prototype in a matter of hours. We could show our reactivity, we could do changes within a week for our international clients. They have the best quality-to-price ratio and above all, are reliable." says Devasagayaum. 
By leveraging the industrial power of a large-scale manufacturing operation (left), Plastinax produces over a million pairs of eyeglasses each year. Adding in-house 3D printers like the Fuse Series (center) and Form 2 (right), enables them to iterate more thoroughly and continue growing their business. 
Scaling Up With SLS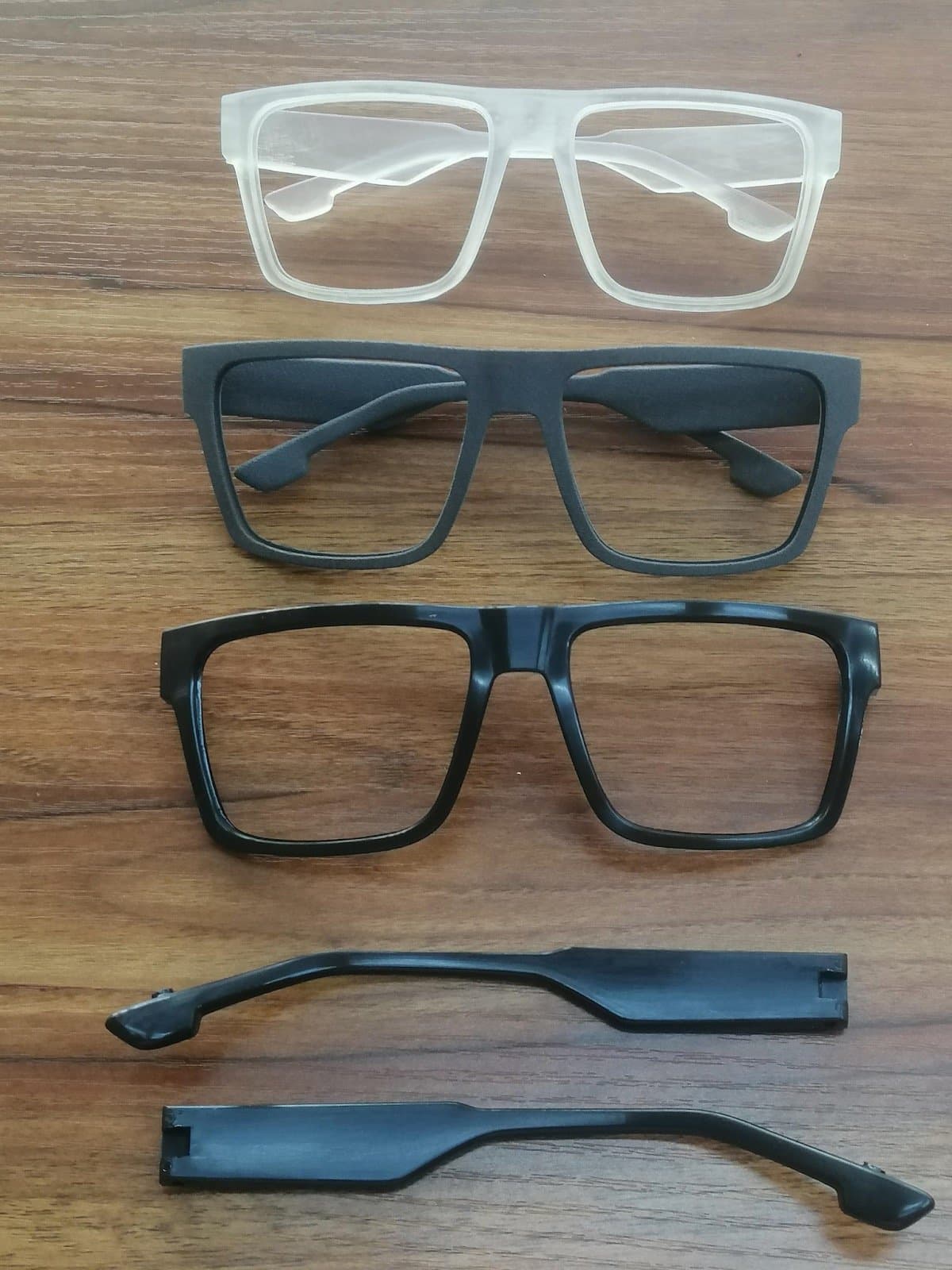 Plastinax now has the capability to injection mold with their industrial machinery (left) as well as 3D print in both SLA and SLS materials (right, top and middle) for frames that look and function like the end-product (right, bottom). 
Plastinax scaled up, expanding the number of resins they were using — everything from Clear Resin for translucent designer frames to Grey Pro Resin for functional testing. Then, in 2021, a client showed them 3D printed nylon prototypes from a competitor in East Asia and demonstrated their long-lasting durability. "The quest began for a machine that could do something like that. We had to innovate by bringing in some reliable, high-performance equipment so as to be as competitive as possible. We had been working with Formlabs for six years. The support and service have been so great, so we went with the Fuse 1," says Devasagayaum.
Small Variations, Big Results
For an international contract manufacturer like Plastinax, success hinges on the ability to secure a client's business and prove that their final product is superior. Sending clients a single design in a high-quality material might not be enough. Steeven Devasagayaum relies on the Fuse 1 to respond to minute changes in a client's request. 
"With eyewear, tiny differences are so important. They might vary by a few tenths of a millimeter. I've been asked to vary the angle of the nose bridge by one degree, and these printers can do that. Then I'll send the customer the different versions," says Devasagayaum. 
The self-supporting powder bed of the Fuse 1 SLS technology allows users to pack parts efficiently, nesting them or stacking them to take full advantage of every bit of powder. Printing more than 10  frames at once is now possible. This simplifies the workflow and makes it easy to post-process them together in the Fuse Sift. Offering multiple variations at once has helped Plastinax secure contract orders after just one back-and-forth conversation. For one order, a competitor had submitted frames but sent them with the wrong lens size, and Plastinax was able to step in. "In a matter of hours we were able to find the right size, 3D print the frames, and send them a new print the next day," says Devasagayaum.
Simplified SLA and SLS Workflow
Having a powerful industrial solution in-house helps keep the workflow efficient. Devasagayaum uses both SLA and SLS in his design process, and the accessible footprint of both printers makes it easy to move from one technology to the other over the course of a day. While the Fuse 1 is working on functional prototypes that accurately display tiny measurement differences, the Form 2 could be printing two frames in Clear Resin that will be painted to show options for the final aesthetic finish. 
"Both technologies help my design process. The Nylon 12 Powder is similar to the final polyamide the frames will be made of with injection molding and some varnish and patterns can be applied to the Clear Resin parts so they can see what finishes we can make. We're able to use both — both the surface quality of SLA, and the strength and durability of nylon."

Steeven Devasagayaum, Plastinax Design Engineer
The similarity of nylon to polyamide helps customers get an idea of the weight and strength of their finished, injection molded frames. For one customer with a design brief for safety goggles, Devasagayaum printed several rapid prototypes to show the customer's marketing team. The safety goggles had to be durable, impact-resistant, with slight flexibility, so SLS was the perfect fit. "We were able to quickly varnish them, and they looked like the finished plastic injected versions," says Devasagayaum. 
The flexibility inherent in the Nylon 12 Powder parts also helps when fitting lenses in and out of the prototypes. Plastinax can offer a fully functional prototype with different thickness lenses for a variety of frames, giving the customers a model that looks and behaves exactly as the injection molded frames will. 
Plastinax can now print 28 prototypes at once in the Fuse 1 when larger quantities are needed, such as an industry trade-show. "We can make these rapid prototypes that look and feel like the finished product easily in-house. If we had to outsource, it would have taken 10 days or more," says Devasagayaum. 
In addition to prototoyping, the Fuse Series also enables new tooling workflows for Plastinax. The slight flexibility of nylon and high dimensional accuracy make offers the possibility to devise, test, and produce durable toolings to help the production lines. For example, Devasagayaum prints lens formers and bases for lens cutting purposes, as well as bases for flex metal hinge insertions on the temple components or for holding frames still while drilling cavities for affixing customized metal logos.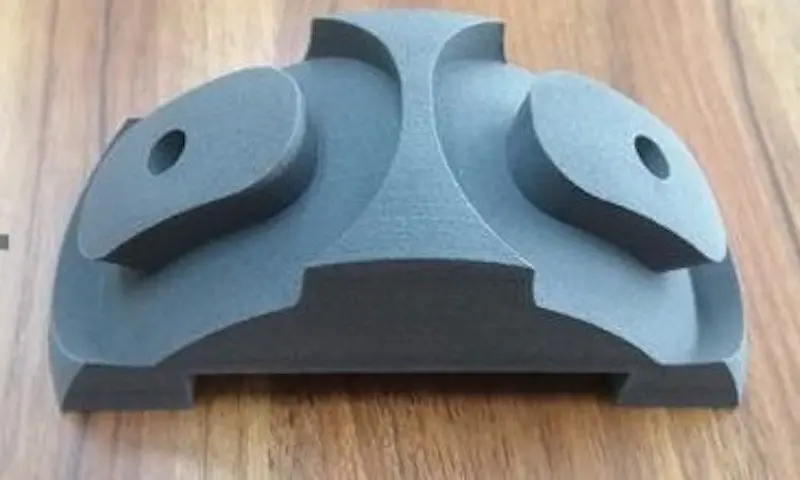 Plastinax creates lens forming tooling (left) or bases for metal flex hinge insertion into the temple components of a pair of glasses, or for CNC drilling of cavities on frames for customized metal logos.
Looking Forward
The eyewear industry is poised to become a frontrunner in customization. Glasses are one of the only products that are used both as a fashion statement and as a necessary part of life for millions of people who need corrective lenses. Both sides of the industry can benefit from customization based on face shape as well as personalized aesthetic decisions. 
Plastinax knows that customization will be a high-value capability in the near future, and sees both SLA and SLS as workflow options. SLA 3D printed rapid tooling for injection molding with materials like Rigid 10K Resin offers an alternative to metal tooling, and direct-printed end-use frames in small volume series production on the Fuse 1 are already in Devasagayaum's sights. "The possibilities are endless. The Form 2 changed the game in 2016 and the Fuse 1 was another game changer," he told us. 
To learn more about 3D printing eyewear frames, check out our application guide, or contact our sales team to learn more about bringing SLS and SLA 3D printing in-house.