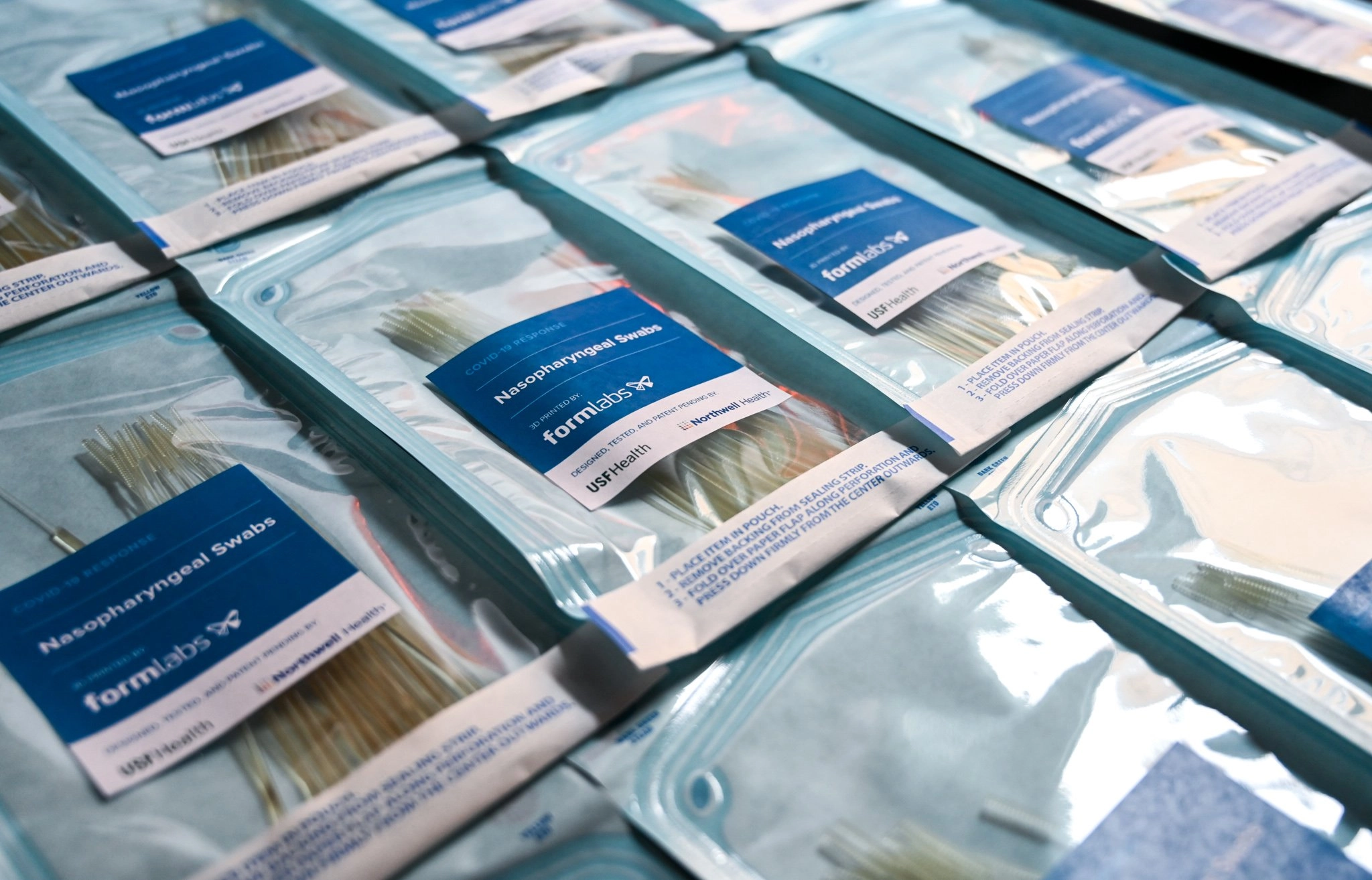 Problem
There is a worldwide shortage of the nasopharyngeal (NP) swabs needed to collect samples for COVID-19 testing. The shortage is expected to become even more acute as many governments and healthcare institutions around the world consider ramping up testing a prerequisite before lifting restrictions and resuming normal economic activity. The current and impending supply chain shortages are serious enough that clinicians have begun to design and test their own swabs as quickly and safely as possible.
NP swabs are typically used for testing for influenza and other respiratory infections. They are flexible sticks with a bristled end that are inserted into the nose to the back of the nasal cavity and swept around to collect material that sticks to or wicks up the bristles. The swab is then placed into a vial that contains a culture medium. Swab sticks have an intentionally weak point 7–8 cm from the bristled tip, which allows the stick to be broken to the correct length so that the vial can be capped before it is transported to a laboratory for testing.
Solution
After identifying that nasal swabs for testing COVID-19 were in high demand and extremely limited in supply, a team from the USF Health's 3D Clinical Applications Division created an initial design, working with Northwell Health and collaborating with Formlabs to develop prototypes and secure materials for a 3D printed alternative. Over the span of one week, the teams worked together to develop a nasal swab prototype and test it in the USF Health and Northwell Health labs. In two days, USF Health and Northwell Health developed prototypes using Formlabs' 3D printers and biocompatible, autoclavable resins. 
Validation Status
The nasal swabs have cleared all testing hurdles and are now being produced. Key milestones in testing the swabs were conducted by USF Health faculty researchers in the Departments of Radiology and Infectious Diseases in collaboration with Northwell Health, including validation testing (24-hour, 3-day, and leaching), and rapid clinical testing at Northwell Health and Tampa General Hospital. All testing showed that the 3D printed nasal swabs perform as good as or better than traditional swabs used for nasopharyngeal specimen collection.
These swabs are Class I medical devices exempted from premarket notification requirements and require manufacturers to register and list the products. 
How to Get 3D Printed Test Swabs
Material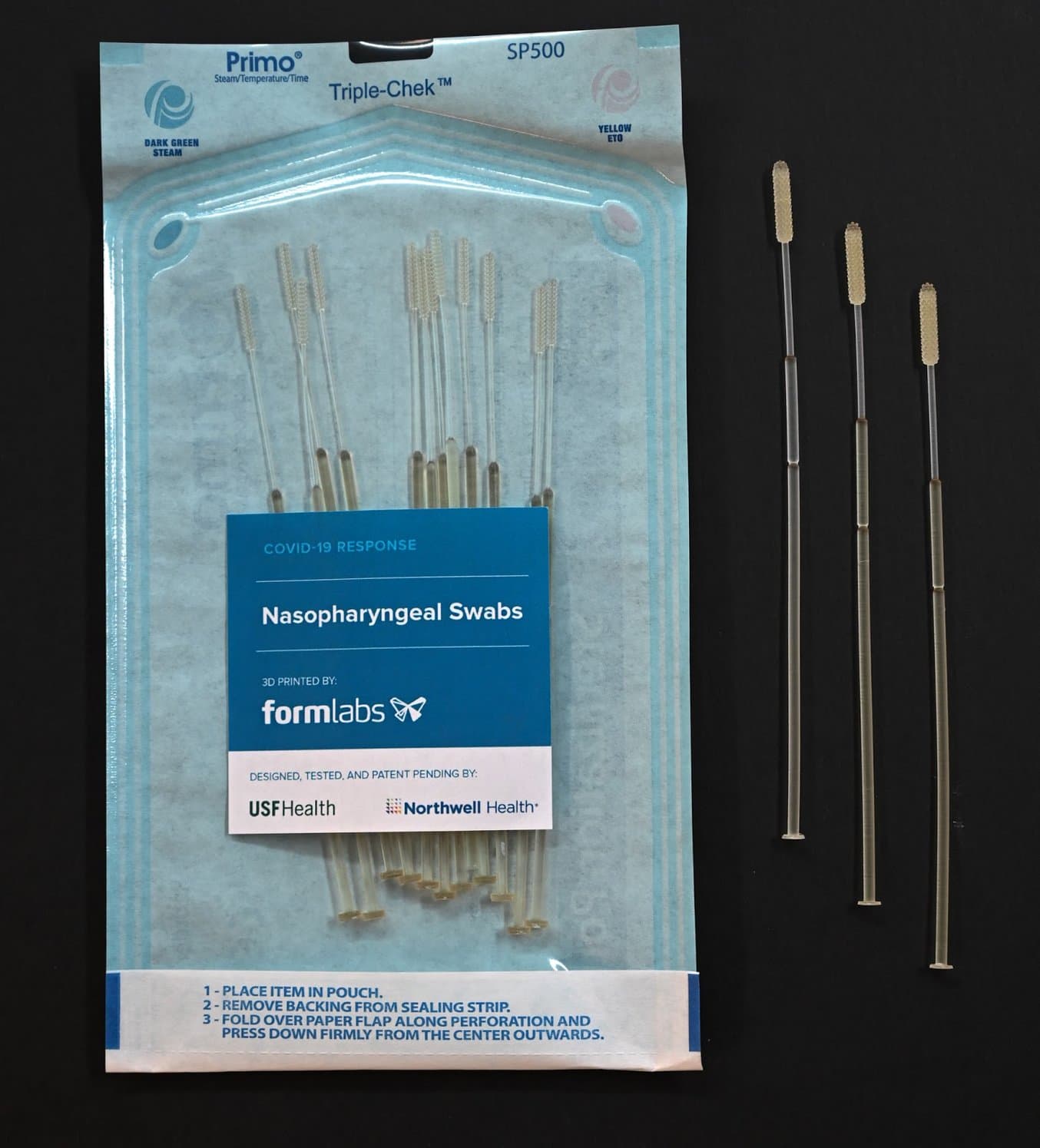 Dimensions
| | | | | |
| --- | --- | --- | --- | --- |
| Length | 6.00" (150.00mm) | | | |
| Head Diameter | 0.15" (3.85mm) | | | |
| Head Length | 0.73" (18.60mm) | | | |
| Neck Diameter | 0.06" (1.50mm) | | | |
| Body Diameter | 0.10" (2.45mm) | | | |
| Break Point Location From Tip | (70mm) | | | |
Formlabs' Production Network for 3D Printing Swabs
Formlabs has partnered with healthcare systems, medical device manufacturers and governments all over the world to help them print their own swabs locally and become self-sufficient during the COVID-19 pandemic. 
Nasopharyngeal swabs are medical devices that require manufacturers to comply with regulatory requirements. You can be eligible to produce swabs using Formlabs 3D printers if your organization is:
A dental lab or veterinary practice registered as a device manufacturer and have GMP or ISO 13485 certification
A medical device manufacturer
A hospital or medical practice
If you fulfill the criteria above and are interested in 3D printing test swabs in-house, contact us.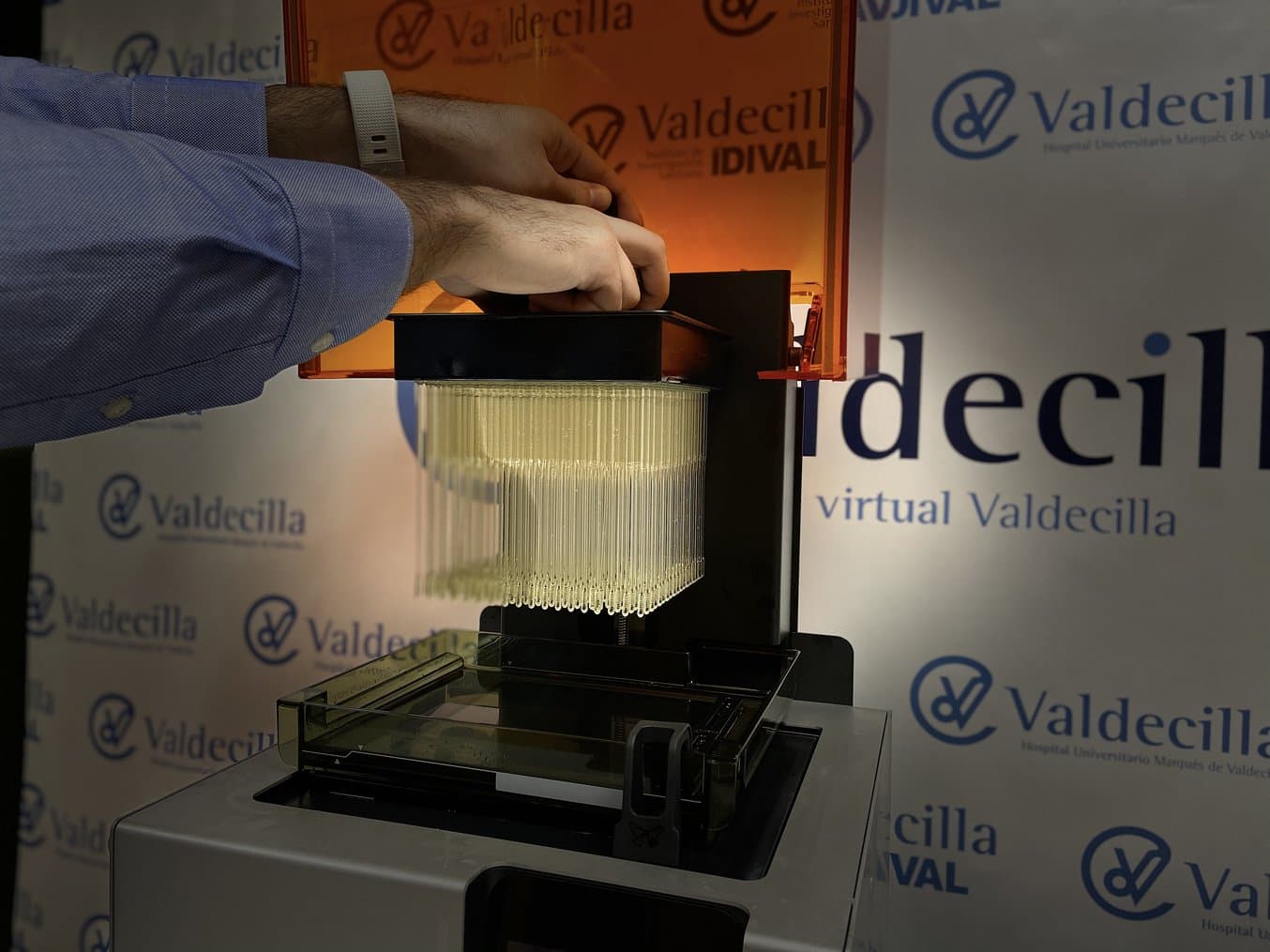 Hospital virtual Valdecilla (HvV) in Spain
After identifying that NP swabs for testing COVID-19 were in high demand and extremely limited in supply, officials from the healthcare system of Cantabria in Spain contacted the Hospital virtual Valdecilla (HvV) and challenged the institution to develop ways to design and manufacture swabs internally in their region. 
"What we are facing today, I'm sure in a short period, will be also a situation in many other regions. Before we lift the shelter in place restrictions, we need to test more people, so we need more swabs. But that's a challenge because the US needs more swabs, Italy, Spain, and many other countries also need more swabs," said Ignacio Del Moral, MD, PhD, Executive Director at Hospital virtual Valdecilla (HvV).
HvV established a multidisciplinary research group—ear, nose & throat (ENT) specialists, microbiology specialists, nurses, and engineers—to develop an alternative design using Formlabs' 3D printers and biocompatible, autoclavable resin, and conduct testing. The team designed and tested new iterations every two days until reaching a final design within 10 days—a process that normally takes months for medical devices.
"The latest, fifth version has been used on more than 100 patients. The ENT department is very happy with these swabs because the design is hard, but at the same time, it's very flexible. It allows them to get to the far away point in the nasal cavity to collect the biological specimen", said Juan Pedraja Vidal, Human Factor Engineer and Leader of the 3D printing and Virtual Reality Lab at HvV.
Using a Formlabs SLA 3D printer, HvV can manufacture 324 swabs in 11 hours, which translates to 650 swabs on a single printer within 24 hours by printing overnight.
Validation Status
The 3D printed swabs have been tested in more than 100 patients in Spain to validate patient safety and usability to ensure that they function as intended and that they don't cause any harm to the patients. HvV has also defined a manufacturing process from the point of 3D printing to cleaning, post-curing, and quality controlling, using sterilized tools to create an aseptic and controlled environment.
The internal clinical validation was performed by clinicians from the Microbiology and ENT departments at Valdecilla University Hospital. After the internal clinical validation, healthcare authorities in the Cantabria region of Spain have approved the clinical use of the 3D printed swabs.
HvV has started to produce swabs and provide them to clinicians in the region and others from hospitals in other regions of the country. With a second 3D printer on the way, they'll be able to manufacture enough swabs to become one of the first regions in Europe to achieve autonomy in the production of this fundamental piece of equipment for PCR tests.
HvV also worked with a regional technological institute, Centro tecnológico CTC, to conduct mechanical tests to evaluate the behavior of the swabs under stress and to gather data on the maximum flexion of the part before breaking. See the results of the mechanical validation (in Spanish).
The researchers are now planning to collect more data to compare the effectiveness of the 3D printed swabs to standard swabs, and then publish the results in a scientific journal. HvV is also working with other healthcare organizations to submit the information of the swab to get the CE mark, which confirms that the medical device meets certain "essential requirements" of the European Medical Devices Directive (i.e. that it is safe and effective for the intended purpose).
Swab Production in Switzerland
Swiss Armed Forces
Following a shortage of COVID-19 test kits, particularly the nasopharyngeal (NP) swabs, on Swiss soil and to be less dependent on international supply chains, the Surgeon General of the Swiss Armed Forces, responsible for coordinating preparations and the deployment of Swiss public health resources in special and exceptional situations, launched a collaborative effort to bring production inside Swiss borders.
A multi-disciplinary team of experts from GobiX GmbH designed and prototyped dozens of iterations of a proprietary swab design. The final swab design was tested and successfully deployed across Switzerland and used for a study in April 2020 (Social distancing alters the clinical course of COVID-19 in young adults: A comparative cohort study), by a team of ten doctors and medical laboratory analysts.
Prof. Patricia Schlagenhauf, Co-Director of the WHO Collaborating Centre for Travellers' Health, at the University of Zurich (UZH) and COVID-19 research collaborator with GobiX co-founder M. Bielecki, said "Having access to tests and to test kits is so important especially in resource-limited, vulnerable countries. Even in developed countries, testing capacity was sub-optimal, particularly at the start of the outbreak, mainly due to a shortage of test material and sample collection fluids. Widespread testing is really the best way to monitor the trajectory of the pandemic. The WHO mantra on the control of COVID-19 is simple and effective and reads "TEST, TEST; TEST" Without tests, developing countries will not be able to monitor and control the spread of COVID-19."
Validation Status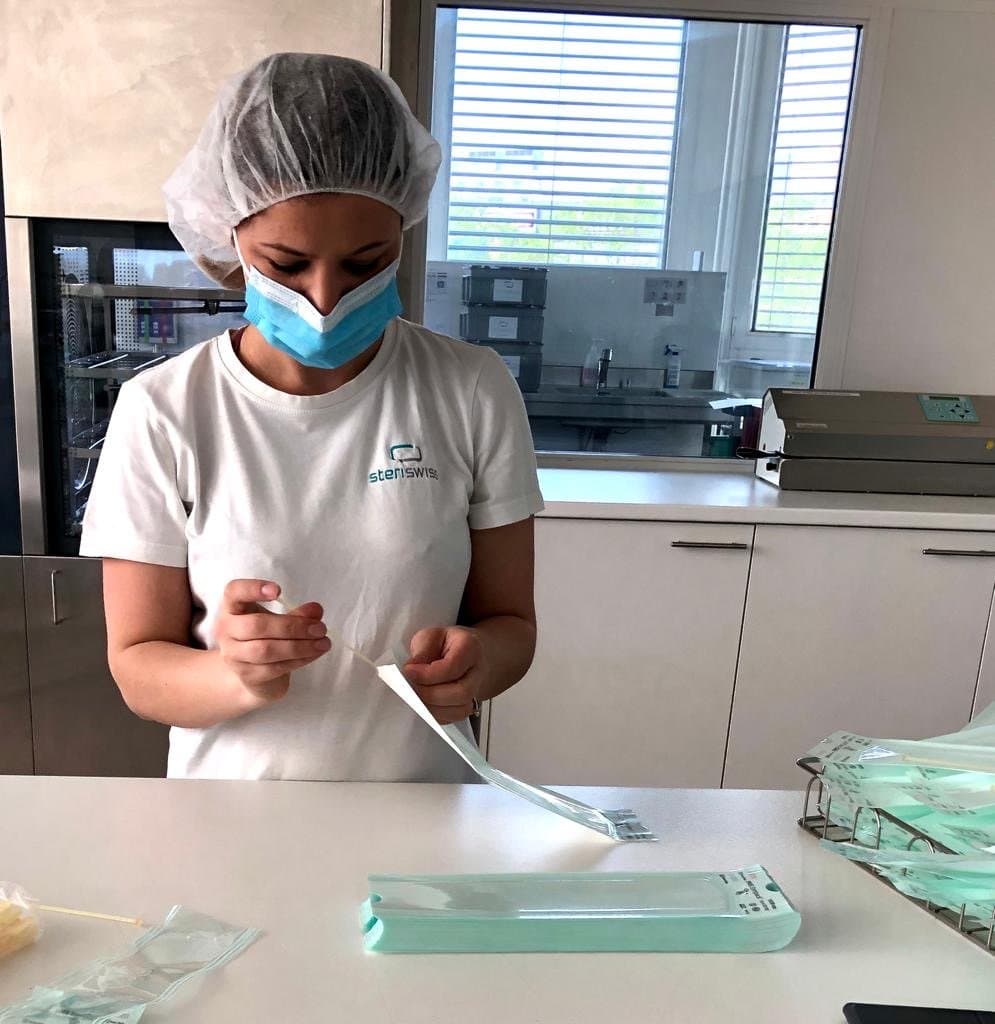 The swabs have been clinically-tested by a team of ten doctors and medical laboratory analysts for collection efficiency, testing ease, and patient comfort during the first Swiss COVID-19 outbreak in Ticino, Switzerland, and deployed across Switzerland.
The swabs are CE-certified as a medical class I device and in production. GobiX GmbH produces and packages the swabs for distribution among test locations across the country.
Swab Production in Singapore

Meet Dr. Ho Chaw Sing
 'We are extremely proud to be helping in the global fight against COVID-19. NP swabs enable testing, which is a critical element in controlling the pandemic, and Project Python will provide Singapore with significant domestic production capabilities of these swabs. We have now helped establish swab manufacturing facilities in several countries around the world, which is a testament to the agility and distributed manufacturing capabilities 3D printing can offer."
Formlabs CEO Max Lobovsky
As COVID-19 went global, test swab shortages impacted healthcare systems around the world. In Singapore, a healthcare consortium led by Dr. Ho Chaw Sing went to work to develop their own test swab design. Dr. Ho Chaw Sing, the managing director of the National Additive Manufacturing Innovation Cluster (NAMIC), called upon the support of Formlabs and our distribution partner Eye 2 Eye as they needed to quickly develop a clinically validated, cost-effective 3D printed NP swab to combat imminent supply chain shortages. 
Multiple divisions at National University of Singapore (NUS) worked to rapidly develop and test thirty prototypes. After rigorous testing, the Python swab demonstrates comparable accuracy, performance, and comfort, with no significant performance difference compared to a non-3D printed swab. After successful clinical trials, the Python was chosen for mass production. Due to the versatility and accuracy of the Form 3B, the NUS team operated with minimal design restraints, producing an accurate, delicate geometry at scale.
The swabs are being printed using Surgical Guide Resin. This resin has been developed by our team of materials engineers specifically for Formlabs printers. It's a biocompatible material that meets Class I requirements and is CE certified, and is typically used in medical applications involving short-term skin or mucosal membrane contact that require high dimensional accuracy, stiffness, and strength.
Surgical Guide Resin has been rigorously tested with autoclaves, solvents, and implant systems. As each swab is being individually sterilized and packaged before being delivered it was the perfect candidate for this project. 
In less than two months, Dr. Ho Chaw Sing and team had designed, tested, validated, and mass produced a swab. Eye to Eye, ramped production to 30,000 Python swabs a day with a fleet of Form 3B printers, and as of today they have printed over two million swabs and counting. Their goal is to produce more than four million swabs before the end of 2020. 
"We are proud to play a part in Singapore's efforts to help combat COVID-19," said Miles Podmore, Chief Executive Officer of Eye-2-Eye Communications. "It has not only been an excellent opportunity to showcase the advantages of 3D printing for rapid design and development but it has also shown Formlabs effectiveness in being able to mass produce products in very short timeframes. Also, as we see spikes in cases across the globe it is reassuring to know we can scale our production relatively easily to meet demand if required."
Chief Executive Officer of Eye-2-Eye Communications Miles Podmore
Formlabs would like to thank our partner Domotek for their contribution to this project.
Disclaimer
Formlabs has created this website and has become involved in varying degrees with the projects described here during a global medical crisis.  Formlabs is working on many projects to address global healthcare-related supply shortages around the world, but in trying to mitigate these shortages, patient safety is still Formlabs' top concern. We must remind those who are helping to alleviate these shortages that masks, swabs, face shields, and other 3D printed products intended to prevent or treat COVID-19 are medical devices. These devices must be safe for their intended purpose and anyone considering the manufacturing of these products should consider the following items:
Formlabs is a manufacturer of 3D printing materials capable of fabricating finished devices according to their labeling and any other product manufactured from these materials should be verified and validated according to their intended purpose.

You may be fabricating a device that does not have the required regulatory approvals and clearances. If you are fabricating devices, follow the guidelines on the label for each material.  You may seek to obtain reliable regulatory advice. 

Please consider local regulations, material safety data sheets, software capabilities, sterilization requirements, and institutional requirements before 3D printing medical devices.

Regulatory agencies (such as the FDA, MHRA, BfraM, etc) may consider expedited review of manufacturing information and/or premarket submissions.
Formlabs cannot warrant that any products not manufactured by Formlabs are suitable for their intended purpose. Formlabs has not independently verified or validated the specific design parts mentioned in this case study and if they are safe or effective for their intended purpose. Any 3D printed appliances that are subjected to skin contact should meet the biocompatibility requirements stated in ISO 10993-1.
Regulatory Statement
NP swabs, intended to collect specimens from a patient, are Class I devices exempt from premarket notifications according to 21 CFR § 880.6025 Absorbent tipped applicator.
FDA requires medical device manufacturers to register their facility and list their products according to 21 CFR § 807.20.
Formlabs facilities are registered:
Formlabs Inc. Registration Number: 3010279788 (Link)
Formlabs Ohio Inc. Registration Number: 3015491441 (Link)
Formlabs' 3D Printed NP Swabs are listed. (Link)