How 3D Printing Supports Innovation for Everyone at BU EPIC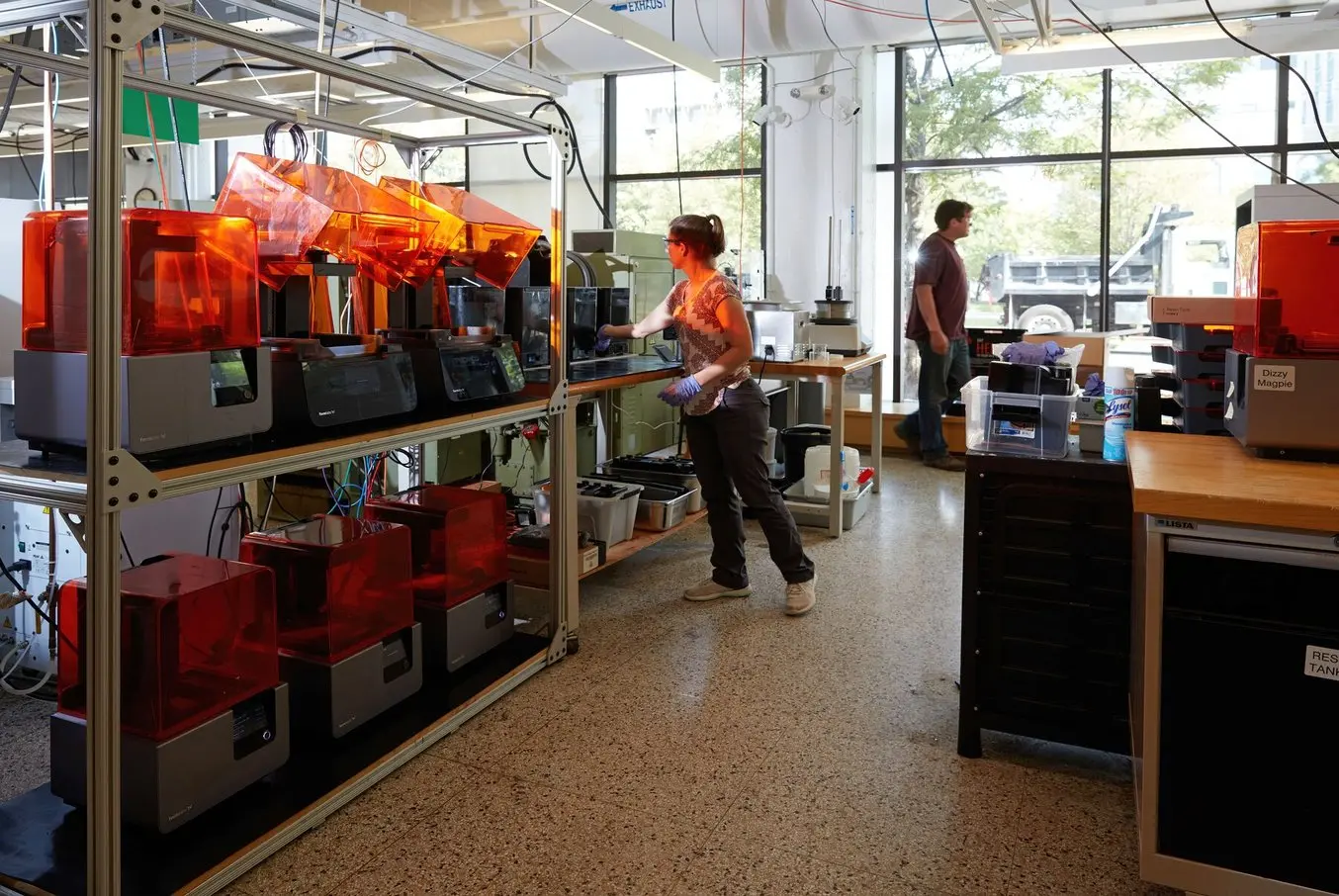 A bank of 3D printers quietly hums in an airy, open space in a low-slung building near the center of Boston University's urban campus. Light rail trains trundle along outside the long glass facade of the workshop. Inside, academics, expert staff, and students bustle about, operating state-of-the-art technology.
The Engineering Product Innovation Center (EPIC) at Boston University is a 15,000-square-foot facility packed full of manufacturing equipment, from milling machines to robotics equipment and, of course, 3D printers. Although the lab is closely tied with the college of engineering, it is open to all members of the BU community. EPIC's mission is to prepare students with both the practical skills and the inspiration to succeed in the fields of engineering, design, and manufacturing. Through project based-learning and a continuously evolving curriculum, students have the opportunity to connect theory to practice in a welcoming environment.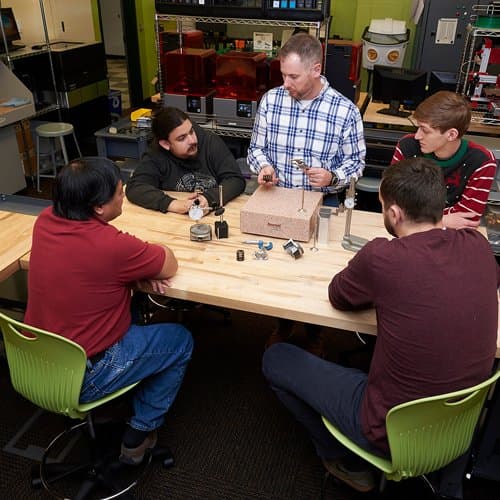 White Paper
Guide to 3D Printing In Education
In this guide, we'll discuss the benefits of 3D printing in education, from improved student collaboration to workforce development and empowered creativity.
Download the White Paper
How the Innovation Center Is Used On Campus
Dr. Anna Thornton, Professor of the Practice (Mechanical Engineering) and Director of EPIC, says that there are four main ways students and faculty use the 3D printers and other manufacturing equipment in the EPIC facility.
Coursework: Departments across the university, from the medical school to mechanical engineering, will direct students to EPIC to work on hands-on projects. One example is Dr. Thornton's Product Realization class, which teaches mechanical engineering students what happens between a working prototype and a final product — a subject often glossed over in engineering instruction. She teaches topics like design for manufacturing (DFM), validation testing, and cost-benefit analysis of outsourcing and in-house production. For that class, students frequently use the Formlabs 3D printers in the EPIC lab to produce tooling for their own product design.

Research: Individual researchers, research assistants, and students will come to EPIC with ideas for test parts, jigs, and other creative ways to use 3D printing for their work. It's different for every lab, and the EPIC staff — including student employees — can flex their expertise to advise their peers on manufacturing techniques.

Clubs: From robotics to rockets, student clubs always have practical uses for the equipment at EPIC. Racing competition teams like Formula Student are often the most sophisticated users of makerspaces and innovation centers on college campuses, since they are fabricating and testing real-world performance parts.

Personal projects: Some students come to EPIC to laser-cut custom presents for family members; some are brought there through the BUild Lab, an entrepreneurial center on campus, to turn their product ideas into prototypes. Regardless of the motivation, these projects get students thinking about skills with an outcome in mind, letting them practice project-based learning.
Even when EPIC projects aren't for assigned coursework, Dr. Thornton says she notices students drawing connections through real-world practice. Mold design draws from and reinforces a knowledge of fluid dynamics, for example, and casting is an exercise in thermodynamics. Giving students the opportunity to make these connections on their own — between coursework and hands-on projects — helps them retain theory in a more permanent, tangible way.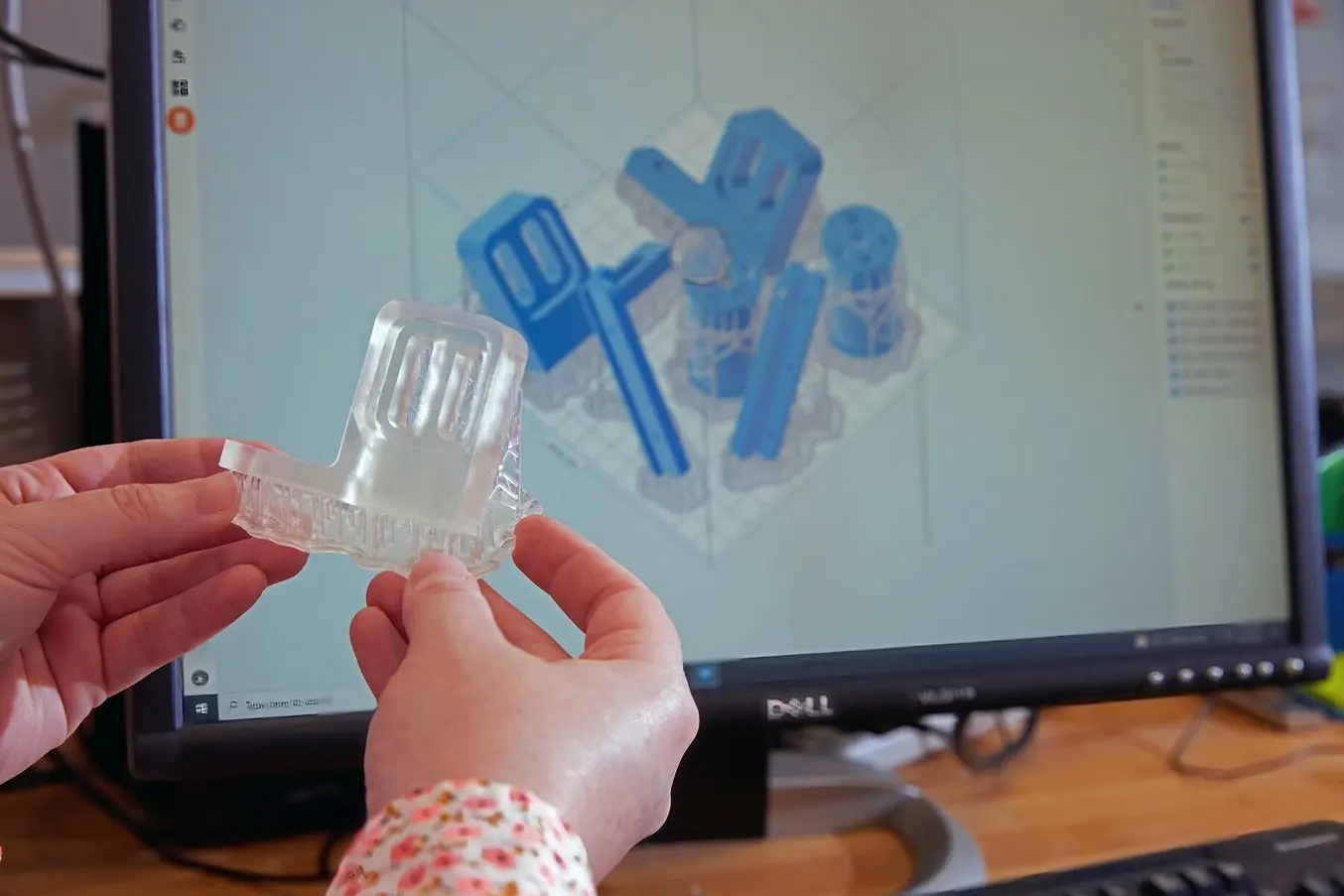 The Formlabs-EPIC Connection
Formlabs is headquartered just a few miles down the road from BU, and there are several points of connection between the two organizations. BU students have interned at and gone on to work full-time at Formlabs, and the connection flows both ways: a BU professor led a team of mechanical engineers at Formlabs before returning to teaching, and he and his students use the EPIC space frequently.
EPIC has ten Formlabs resin printers. The main lab space has five Form 2 stereolithography (SLA) printers and two Form 3 printers, and a basement annex has three more printers that are used for a graduate course in additive manufacturing and a soft robotics course. There are additional printers across the campus, in the private workspaces of some research groups that have decided they want a printer in their own lab.
The main EPIC space uses mainly Clear Resin, Grey Pro Resin, and Durable Resin for student prototypes and molds. The downstairs annex uses a lot of Elastic 50A Resin for the soft robotics course. The lab has several more materials, including some specialty resins that are on hand for specific student projects that require advanced mechanical properties, like temperature resistance.
Students and staff tend to choose Formlabs products over others when they need parts with a smooth surface finish with minimal post-processing required. They often prototype functional parts with Formlabs 3D printers that will ultimately be machined on one of the multiple milling machines in the lab, or 3D print either molds or masters to be used in a casting process. 
Dr. Thornton says students often choose Formlabs 3D printers "when they need to test product concepts, or if the geometry of their part is too complex for traditional subtractive methods."
Social Change with the Next Generation
In addition to full-time staff members and an advisory board of industry experts, EPIC has a Student Advisory Board. Dr. Thornton credits the diverse group of graduate and undergraduate students with several initiatives that have made the space more welcoming to students. "They have focused on reducing the friction of getting students in the door. They're helping us to engage with a more representative profile within the campus," she says.
These initiatives have meant both changes to the physical space and to the programming. In one example of an update to the space planning, the Student Advisory Board pushed to designate a gender-neutral bathroom near the lab, so gender-nonconforming students wouldn't be inconvenienced by spending several hours at a time working on a project. They also encouraged the removal of opaque room dividers at the lab entrance in favor of low cubbies, so it's less intimidating to enter — it's clear to any passer-by that it's a shared workspace, not a private one.
As for changes to programming, the Student Advisory Board recommended creating workshops that are focused on outcomes, rather than on processes. For example, students are encouraged to design and create their own fidget toy rather than attend a workshop about operating a milling machine. With an outcome in mind, learning a new technology feels within reach of those who might not have thought themselves as engineers before. Tinkering, and the pride of making something with your own hands, is more universally relatable.
Dr. Thornton and her colleagues are acutely aware of the importance of closing the gender and racial gaps in engineering and manufacturing for future generations. They've experienced it themselves, from having worked in industry, and their students expect proactive initiatives to foster diversity, equity, and inclusion. It's hard to know the right way to do outreach to students who haven't been encouraged to seek out engineering or technology before, but that's the value of the Student Advisory Board:  "These students are telling us how to connect with them and their peers in their own language."
Supporting Non-Traditional Paths to Engineering Graduate Degrees
BU also breaks the mold by offering paths to lucrative careers in engineering and manufacturing even to those without an undergrad engineering degree. BU offers the Late Entry Accelerated Program (LEAP), a master's degree program designed for adults in their twenties and thirties who have an undergraduate degree in a field other than engineering. These students take core classes alongside undergraduates to meet their pre-requisite requirements, and from there earn their master's degree in engineering.
All the LEAP students encounter EPIC in their coursework, and many of them continue to seek out the resources available there after their classes are over. "I love the LEAP students because they're so excited to be here and they take every opportunity to engage," says Dr. Thornton, who notes that these students have an interdisciplinary approach that helps them spot problems and opportunities that traditional engineers might miss. 
For these students in particular, EPIC provides a closer connection to faculty and staff, who can help them network during the job search process. "Their resumes are nontraditional, but they have great skills," says Dr. Thornton — skills they developed and honed in spaces like EPIC.
Encouraging Innovation, Preparing for the Future
The demand for professionals skilled in 3D design and 3D printing grows exponentially every year. Through programs like LEAP and traditional courses like the engineering curriculum at BU, graduates are entering the workforce already prepared to contribute meaningfully in innovative new ways, incorporating the skills they've developed in CAD, Design for Additive Manufacturing, multi-disciplinary thinking, and 3D printing optimization. Utilizing Formlabs printers, as BU's EPIC has done, enables the greatest range of 3D printing applications through the diverse material library, end-use quality surface finish, and rugged mechanical properties. As these 3D-skilled professionals become a growing percentage of the workforce, the futures of manufacturing, engineering, product design, medicine, and more, will become more entwined than ever with 3D printing.