Introducing Formlabs' First Flexible SLS 3D Printing Material: TPU 90A
Formlabs is proud to announce TPU 90A Powder, our first soft-touch material for the Fuse Series SLS printers. TPU unlocks new possibilities in applications by combining the high tear strength and elongation at break of rubber materials with the design freedom and durability of SLS 3D printing. 
TPU 90A Powder is a flexible elastomer, making it ideal for 3D printing parts such as:
Skin-safe wearables 
Soles, splints, orthotics, and prosthetics 
Protective sport equipment
Gaskets, seals, masks, belts, plugs, and tubes
Padding, dampers, cushions, and grippers
By adding TPU 90A Powder to your SLS materials library, you can combine the Fuse Series printers' efficiency, affordability, and ease of use with an entirely new capacity for in-house fabrication of soft-touch SLS parts. The 20% refresh rate is the lowest of all our SLS powders to date, which reduces cost per part and makes creating rubber prototypes, end-use products, and manufacturing aids possible in-house without expensive tooling. 
Webinar
TPU 90A: Formlabs' Flexible SLS Powder
Watch our webinar to learn how TPU 90A Powder can help you bring soft-touch, rubber parts in-house with Fuse Series 3D printers. 
Watch the Webinar
Why TPU for the Fuse Series?
There are currently many ways to fabricate elastomeric parts, including traditional molding workflows and traditional powder bed fusion 3D printers. These workflows are either hampered by the geometric limitations of molding or the expense and complex workflows of most large industrial 3D printing solutions. TPU 3D printing on the Formlabs Fuse Series is the ideal solution for fast, geometrically advanced, and flexible parts, in-house. 
The Formlabs Fuse printers are the first powder bed fusion 3D printing systems to offer industrial SLS power with an accessible footprint and affordable price point. Now that the workflow has been proven by thousands of Fuse customers, expanding the powder library is Formlabs' top priority. Accessible SLS enables small businesses to gain momentum and control over their means of production, and large businesses to diversify and decentralize their manufacturing methods, stabilizing their supply chains. Introducing materials that are new to the Fuse Series, but familiar to the industry, is the most powerful way we can enable innovation and encourage new workflows across every discipline.
Property
Nylon 11 CF
Nylon 12 GF
Nylon 12
Nylon 11
TPU 90A
Stiffness
★★★★
★★★★
★★★
★★
★
Ductility
★★★
★
★★
★★★★
★★★★★
Thermal Stability
★★★★
★★★★
★★★
★
★
Refresh Rate
30% (n2)
30-50% (air)
30% (air)
30% (N2)
50% (air)
20% (air)
TPU 90A Powder delivers the lowest stiffness and highest ductility in our family of SLS powders.
What Can TPU 90A Powder Do?
TPU, or thermoplastic polyurethane, is one of the most commonly used elastomeric thermoplastics in the engineering, design, and manufacturing disciplines. This rubbery, durable material is everywhere: from sporting goods to medical devices, and the soles of the shoes on your feet. 
There are proven workflows for the traditional manufacturing of TPU parts — and these workflows are still ideal for mass-produced rubber products. The advantages of printing TPU 90A Powder on the Fuse Series are found in the system's ease of use for rapid prototyping, on-demand manufacturing aids, and customization possibilities.
Rapid Prototyping
The Fuse Series enables businesses to bring prototyping capacity under their own roof, cutting down lead times and reducing costs previously charged by service bureaus or machine shops. 
Prototyping a sports helmet, for instance, requires the ability to fabricate a hard shell as well as the soft cushioning inside. Innovative companies are working to design new lattice structures and impact negation technology for those cushions, and TPU is a perfect material.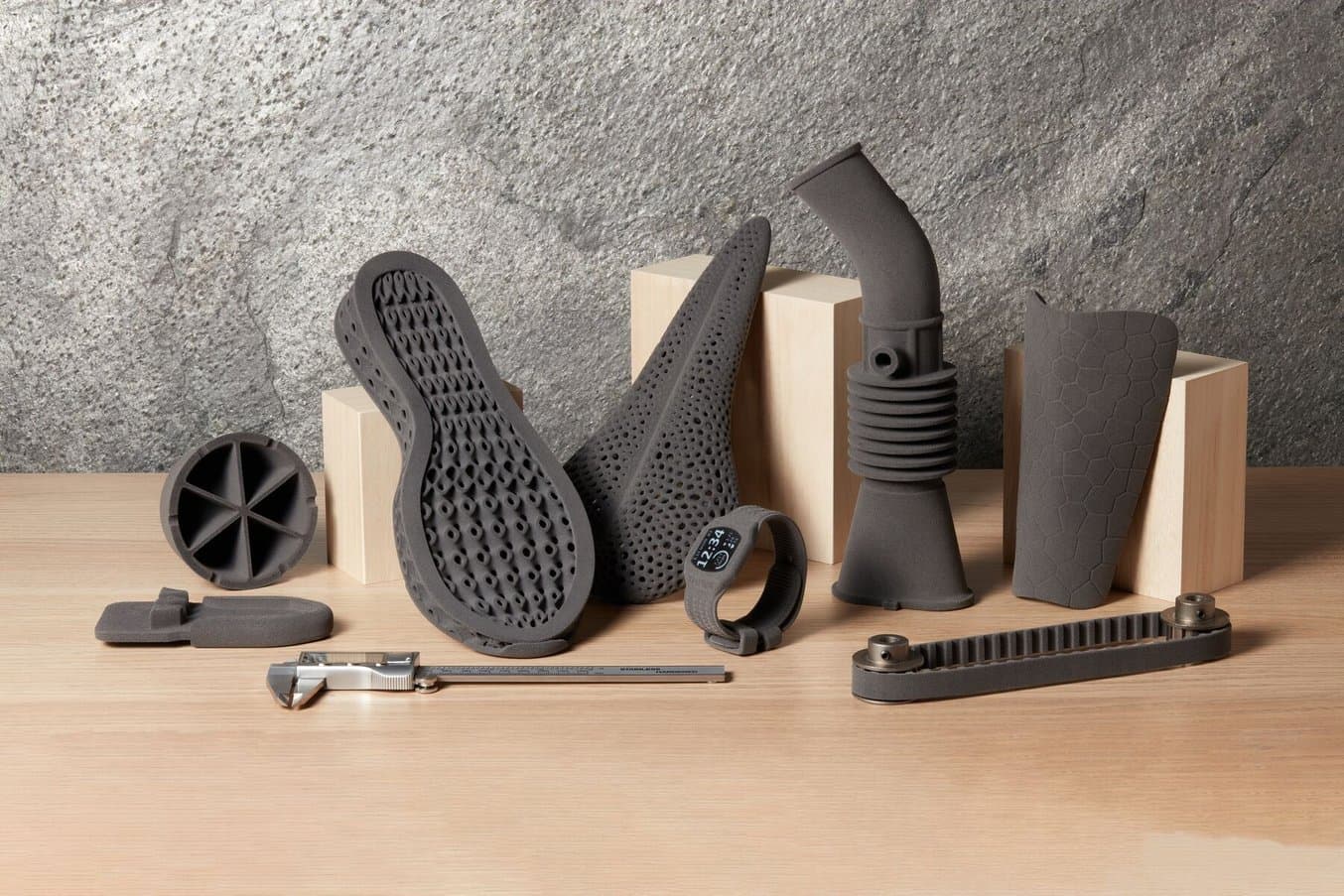 Experimenting with new designs and geometries, however, makes traditional tooling methods prohibitively expensive, and outsourcing to design bureaus can take weeks. Being able to use one workflow and one type of technology for the hard outer shell as well as the soft inner cushion means these innovators can iterate at a much higher rate. These helmets will have to undergo extensive physical testing, so ten cushioning pads will be needed for a single round of testing. These volumes are too high for meticulously hand-crafting a cushioning surface, but too low for traditional TPU molding to be cost-effective. The answer is in-house 3D printing. Fuse Series 3D printers can easily print multiple rubber lattice structures in TPU 90A Powder, with slight variations to test different designs. By altering the design of the part itself, like changing wall thickness, you can produce parts with varying levels of hardness for different applications or as iterations after testing. 
The Fuse Series workflow gives you access to multiple materials covering a wide range of mechanical properties, allows you to keep it all in-house, and manage the design of many different components with one technology. TPU 90A Powder unlocks a whole new type of component for 3D printing, with the same trusted platform.
Prototyping at an American Toy & eBike Company: Radio Flyer and TPU
Trusted and loved by families for over 100 years, Radio Flyer is the maker of the iconic Original Little Red Wagon®, which was inducted into the National Toy Hall of Fame. They have stayed at the forefront of popular culture and the top of every child's Christmas list as the world's leading producer of ride-on toys including wagons, scooters, tricycles, go-karts, electric bikes and other innovative products that help families imagine all the places they'll go. 
 
3D printing is a big part of Radio Flyer's development process, and design engineer Agostino Lobello has found that TPU 90A Powder helps enable truly functional prototyping. "The high-grip surface finish is unique compared to other 3D printed TPE/TPUs I've interacted with. From that standpoint, it does feel more similar to our injection molded TPE/TPU which is exciting from a prototype application. Currently, the next best alternative to this process would be a prototype tool and injecting actual TPE or other urethanes so this is both more cost and time effective," says Lobello.
Radio Flyer's products go through extensive testing to ensure they're safe, practical, and enjoyable for their young end-users. Being able to test prototypes in a real-world environment is critical, so the design team needs to be able to quickly iterate parts that are rugged and can withstand wear and tear. "The parts themselves appear to be quite durable. We would have no issues installing them on works-like prototypes and sending them home for testing for ergonomic and usability feedback. We are excited about the prospect of using this material for tire treads, hand grips, bumpers, seat cushions, and as a way to prototype TPE springs with a specific spring-rate," says Lobello.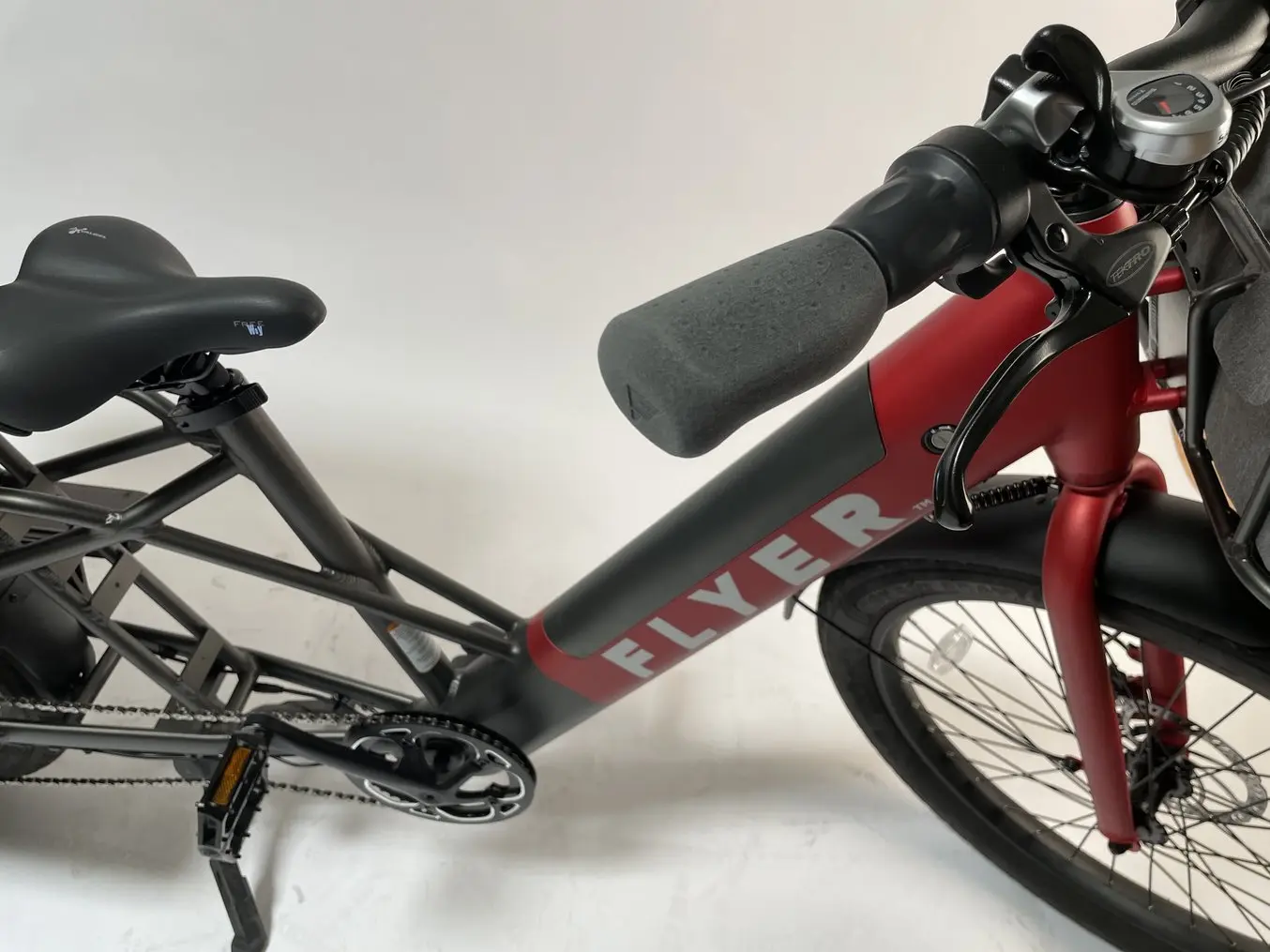 Manufacturing Aids
If you're not in the business of making things, the differences in types of manufacturing aids might be hard to parse. The bottom line, however, remains the same whether you're talking about a jig, a bracket, an enclosure, or one of the many other ways machines are held together — when you need it, you really need it. TPU 90A Powder is the answer to a problem many manufacturers face: how to prevent their million-dollar manufacturing technology from experiencing too much wear and tear. 
Soft-touch manufacturing aids can help extend the lifetime of heavy machinery by cushioning certain impacts, or providing the perfect shaped gripper. When seals or gaskets tear after years of repeated use, the operator can print a replacement instantly, and have the manufacturing line back up and running in hours, rather than wait days or weeks for a new part.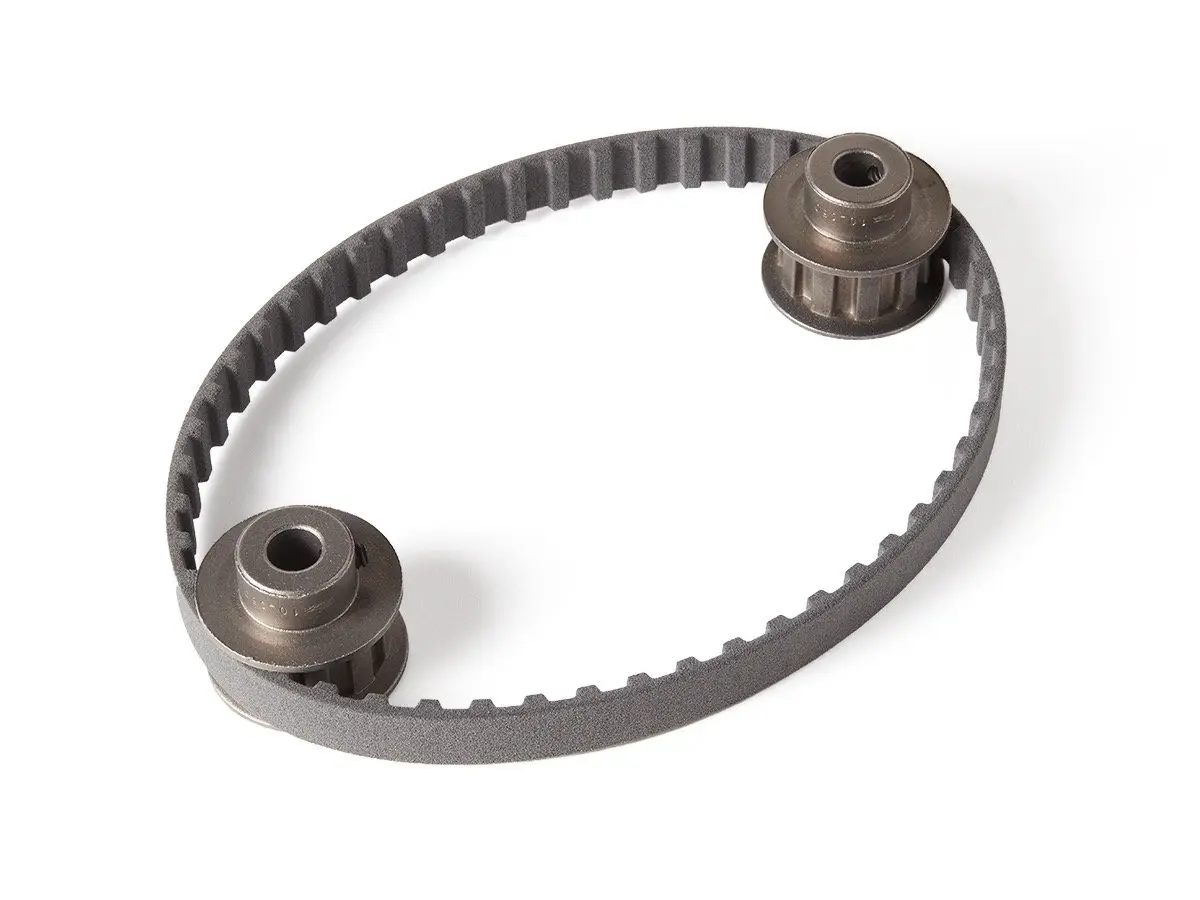 Adding material capability is more insurance for manufacturers — it protects them from the broken part or faulty machine they didn't see coming. The more mechanical properties they can rely upon in-house, the more they insulate themselves from supply chain delays and high costs of repairs from OEMs. With rubber 3D printed parts, a whole new subset of equipment components can now be repaired or replaced on demand. Avoiding a factory line or process shut-down can save thousands of dollars a day. 
TPU 90A can be used for vibration dampers in automotive and aerospace testing, as well as jigs for industrial processes like thermoforming uniquely shaped parts. In automotive factories, large robotic systems operate on gantries that have to bend and swivel. Customized cushions and soft enclosures can help these machines avoid friction and lengthen their lifetimes. 
Low Volume and Custom Ready-To-Wear Products
In the sports, fashion, and wearable technologies industries, offering personalization options is imperative for brands looking to capture more market share. The costs associated with tooling made low-volume or one-off production almost impossible, until accessible 3D printing opened up the door. Still, most 3D printed materials have been too rigid for the sporting goods or wearable market, until TPU 90A Powder. From shoe soles that can be customized to a person's exact footprint and weight distribution, to football helmets engineered for impact negation, to a watch band molded to your wrist, the possibilities are limitless. 
The skin-safe qualities of TPU 90A Powder and the Fuse workflow mean customization of direct-printed wearables is finally within reach. Though some luxury brands for watches, accessories, and footwear offer personalized touches like monogramming or graphics, customization of the actual form and shape of an item has been prohibitively expensive for manufacturers. With the accessibility of the Fuse Series workflow and the skin-safe qualities of TPU 90A Powder, customization in the wearable industry is possible.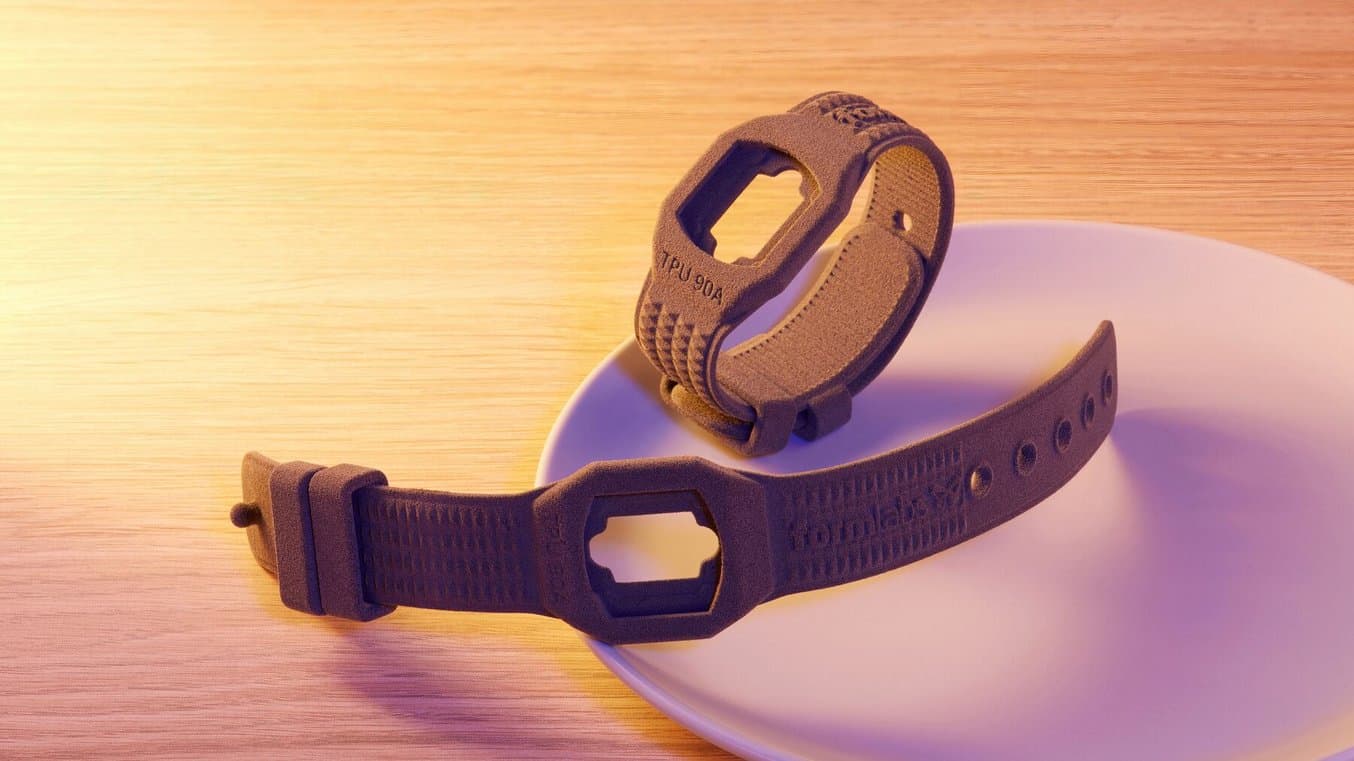 Medical Devices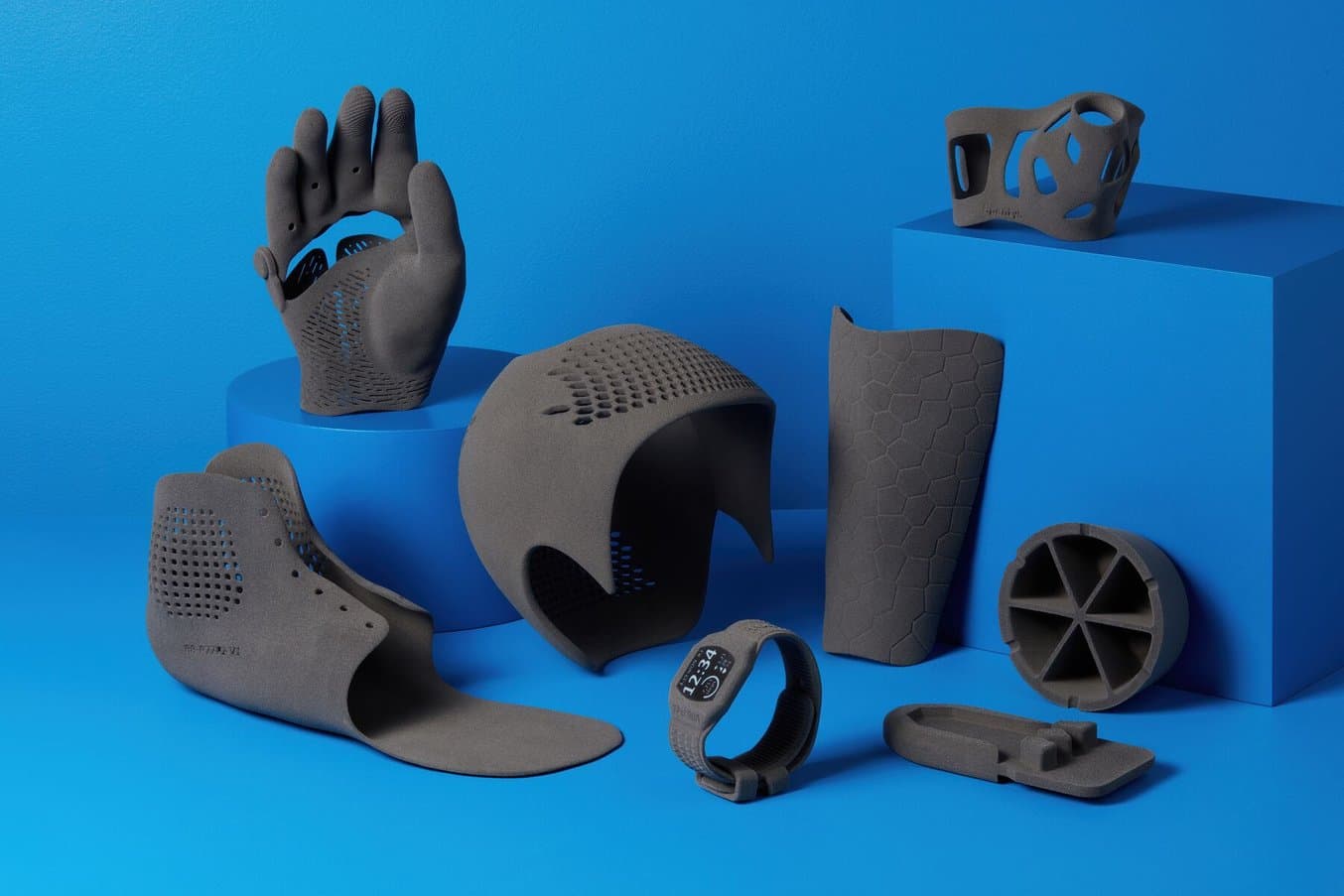 At Formlabs Medical, we believe that every medical facility should have access to the latest tools to improve care and provide the best patient experience. TPU 90A Powder is the next step in our vision, adding to our industry-leading line of SLS powders and delivering additional value to our Fuse Series 3D printers.
Offering exceptional durability and toughness, TPU 90A Powder is ideal for prosthetics, orthotics, patient-specific appliances, and medical devices. This material creates new opportunities for medical professionals by combining the high tear strength and elongation at break of rubber materials with the design freedom and durability of SLS 3D printing. 
TPU 90A Powder is a flexible elastomer, making it ideal for 3D printing medical parts such as:
Medical device prototypes and end-use medical devices and components 

Orthotic pads and prosthetic liners

Wearables, seals, bumpers, and tubes

Splints, cranial remolding helmet 

Athletic and corrective insoles
Like other SLS materials, TPU 90A Powder offers medical professionals the most cost-effective method for in-house production. From shoe soles that can be customized to a person's exact footprint and weight distribution, to football helmets engineered for impact negation, to a watch band fitted to your wrist, the possibilities are limitless.
TPU 90A Powder has been certified for short-term skin contact and can be considered safe for wear against the skin. However, it has not undergone further testing for other biocompatible applications, it is the manufacturer's responsibility to validate the suitability of the printed parts for the intended use.
How To Integrate In-House TPU 90A Powder
TPU 90A Powder can be easily integrated into a Fuse Series and Fuse Sift workflow. The material prints in an air environment and does not require an inert atmosphere. Additionally TPU parts don't use Surface Armor (the semi-sintered shell around parts in stiffer powders), so the depowdering process is quite simple. While TPU 90A doesn't have Surface Armor, media blasting is still recommended to remove all excess powder from the parts, providing a cleaner and easier material to work with.
Switching your current Fuse printer to TPU 90A is absolutely possible, though we recommend a dedicated Fuse, Sift, and build chamber.
Brand New Possibilities With TPU 90A Powder
Whether you're a small business looking to bring your first product to market, or a large business looking to insulate yourself from the supply chain turmoil of the last few years, bringing high-performance 3D printing in-house reduces costs and improves stability. A material like TPU 90A Powder amplifies these benefits by opening up new applications and even entirely new business models. Soft-touch parts that had to be mass-produced for reliability can now be 3D printed consistently on an accessible machine.
Materials are the key to unlocking and reimagining new ways of designing and manufacturing. TPU parts are all around us, and coupling that proven performance with the powerful Fuse SLS workflow will unlock innovation in every industry.