A 3D Printed Mask 8X Better Than An N95
Rihal Digital Designs founder Dr. Amarjit Rihal was quarantined at home during the early months of the COVID-19 outbreak in Canada. Under new guidance from Health Canada, his dental lab would soon have to close as PPE shortages left his team with less than 10 remaining N95 masks.
Read on to learn how Rihal turned his anxiety into action and created a custom-made medical mask that is eight times as effective as an N95 mask using free software and a Formlabs 3D printer. 
Creating a Customized Medical Solution
With masks running out in the office, Rihal wanted to create a customized medical solution that addressed both the safety of his employees and the PPE shortage inflicting dental labs across the country. Just as important was creating a mask that was attainable and accessible so that it could be procured by other offices and medical professionals. If Rihal could pull it off, he could share his designs with Health Canada, and get his dental lab back open by the time his quarantine ended. 
What Rihal was attempting to do is on the cutting edge of custom medical devices. Equipped with only a free 3D scanning app (Bellus 3D, an app used for other COVID-19 projects), a free subscription to Fusion 360, and a Form 2 SLA 3D printer, he started creating a customized medical device.
In just one day, Rihal printed his first prototype on the Form 2 in Flexible Resin. Printing in-house allowed Rihal to test his design quickly, and he switched to Tough Resin, creating a better seal around the user's mouth. This type of affordable entry point for medical devices or PPE creation has never been attainable in the medical field, and innovators like Rihal are showing how a combination of low-cost technologies can drive down costs and development times to improve outcomes for frontline workers. 
The accuracy of the engineering materials was key for delivering his mask. He said, "the overall quality of the resins is great. Prototyping with Tough Resin allowed me to plug and play with the P100 filter because the parts were so accurate. Plus, I could easily sterilize the components, which was big." Using a standard P100 filter means this mask design could easily be shared with others as a standalone mask design, without the need to ship or order specialized filters.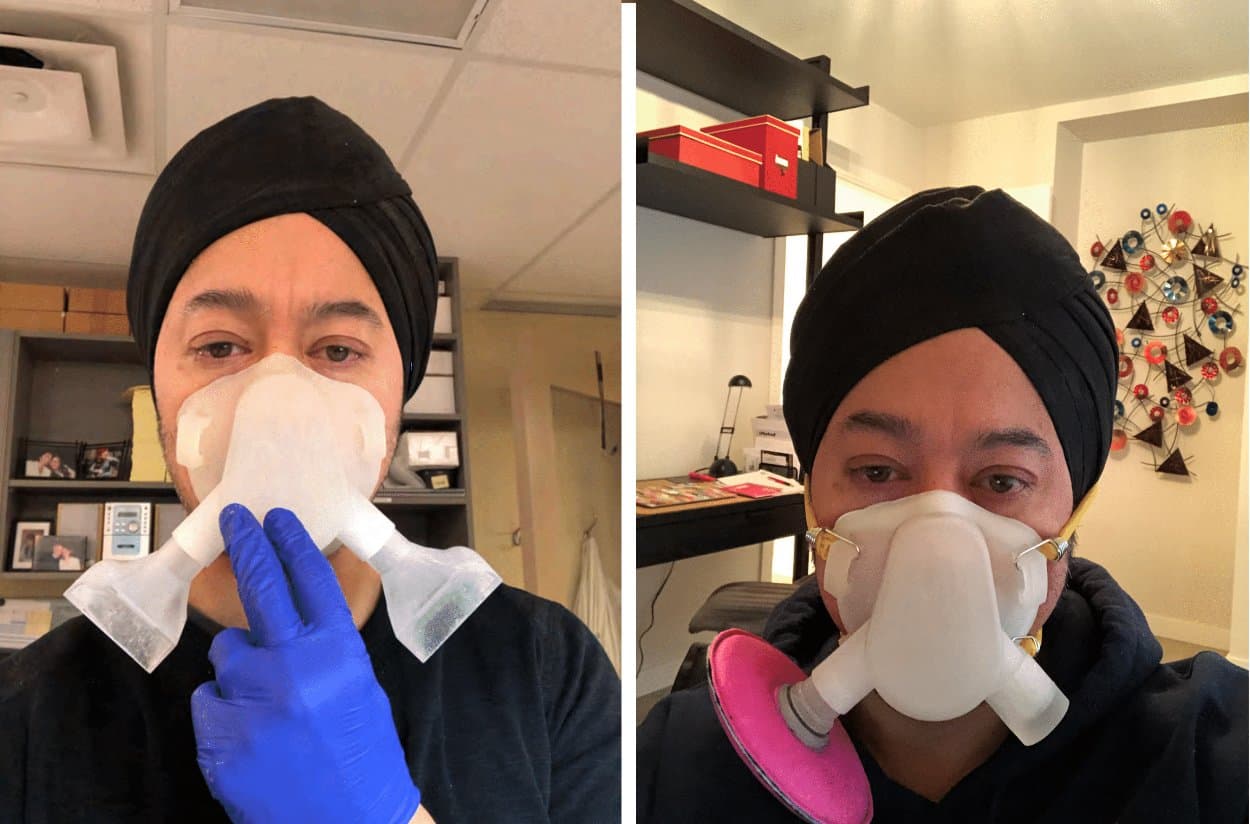 Once the P100 filter was attached, there was only one problem remaining: the mask was hot. Very hot.
Back in Fusion 360, Rihal tweaked his design to add better ventilation. Within a few hours, the part was printed and ready for testing. The improved and final design could be comfortably worn all day, while still providing high levels of protection.
Even Rihal was slightly surprised at how well the new mask performed under rigorous testing. According to Rihal, "face masks can be tested in a sealed room where particles are released into the air to visualize airflow. Users are required to breath in and out, talk, and move their head around. Under these conditions, a standard N95 mask scores a fit factor of 200. My custom mask generated a score of 1,600, eight times better than the N95."
Rihal is now going through the process to make his mask widely available and approved with Health Canada. He believes BioMed Clear Resin might be the best resin to use for his application, as it has all of the properties he needs to get the mask approved but regulators. 
 
An Early Investment in 3D Printing
He created Rihal Digital Designs, a completely digital full service dental CAD/CAM lab and design center to manufacture dental prosthetic solutions for patients while maintaining digital workflows. He has created an effective digital workflow, orally scanning patients and 3D printing orthodontic models for clear aligner/split therapy. 
Rihal's first in-house SLA printer was the Form 1+, which is still printing custom trays five years after he bought it. Using Formlabs SLA printers for many years, Rihal felt comfortable editing, creating, and printing digital files for this custom mask. "I felt super comfortable knowing my own limits, and the limits of the printers. In digital dentistry I deal with STL files all the time so that was not new, and I have been using PreForm for many years to send to prints to the Formlabs printer" Rihal said.
Learn More About 3D Printing For Supply Chain and PPE
Formlabs launched our COVID-19 response efforts in March of 2020, determined to help the medical community use 3D printing to address the pandemic and associated supply chain shortages. In the following months, we worked with dozens of healthcare providers and government agencies around the world on various projects spanning COVID-19 testing, PPE, and medical equipment. 
On this page you can find information on applications currently available for medical professionals and non-clinical use. You will also find stories highlighting how Formlabs users overcame local challenges and shortages to help fight the pandemic.