Five Biggest Takeaways From The Digital Factory 2023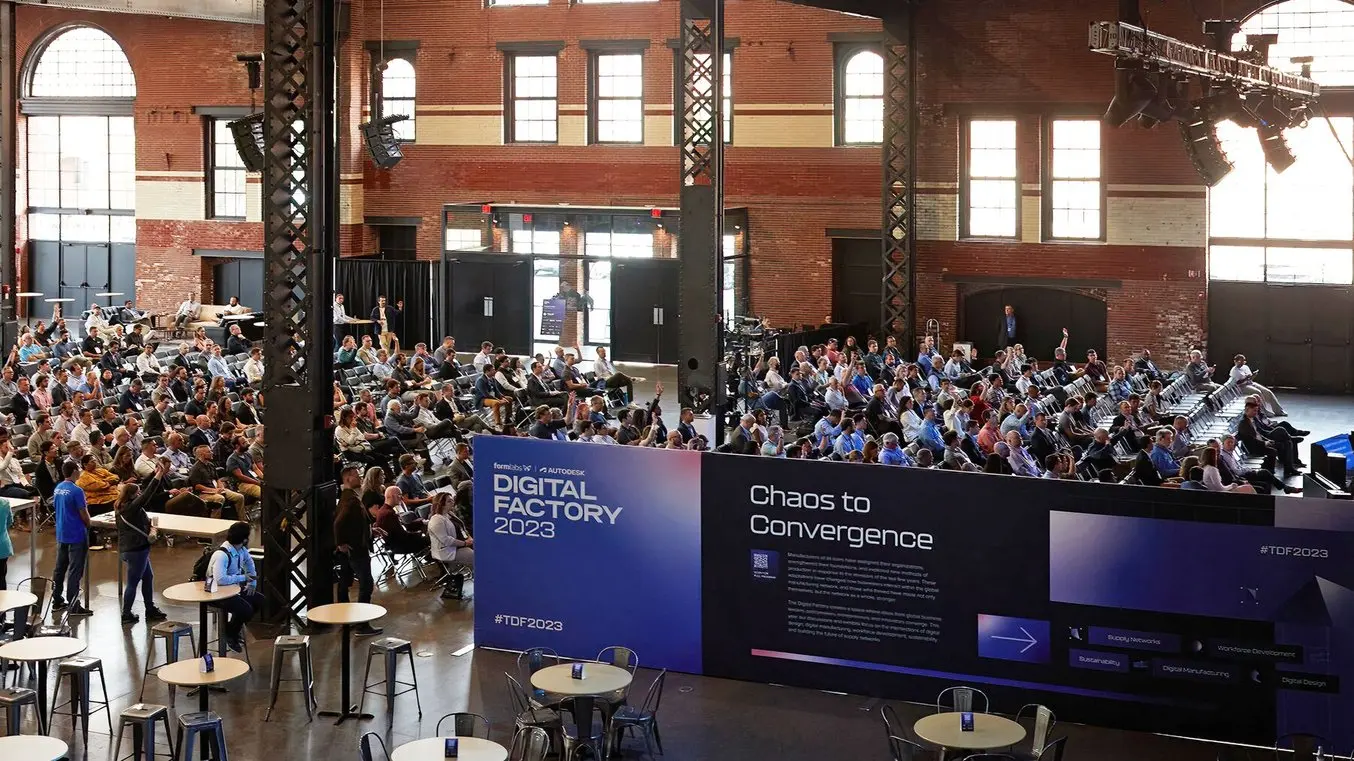 At The Digital Factory 2023, the bias was towards action. Leaders from companies like GE Digital, Amazon, and Autodesk provided concrete examples of ways organizations are integrating digital transformation tools right now. Every attendee had the chance to try their hand at digital manufacturing through the Pop-Up Factory, creating connections between the main stage and what they see and experience every day. 
The day was full of incredible insights and conversations, but a few common threads ran through every keynote, panel, and roundtable. Digital transformation is for everyone, but to get there, we have to:
Design from the beginning with the end in mind.

Build resiliency by leaning into complexity and connection.

Focus on steady, incremental change.

Define and develop the right mindset, toolset, and skillset.

Take advantage of this special moment in history.
To dive deeper and watch the full day of keynotes, panels, and rountable talks, visit our video archive page. 
Design From The Beginning With The End In Mind
Often, we take the manufacturing tools and systems that exist today as ingrained and inevitable, but that's not the case. We designed this infrastructure, and we can redesign it. 
Discussing the process of rebuilding the English Parliament's House of Commons following World War II, Churchill said, "We have now to consider whether we should build it up again, and how, and when. We shape our buildings, and afterwards our buildings shape us." 
This year, every panel, keynote, and conversation reinforced that idea — how can we design digital factories so that they shape our businesses and results in a productive, adaptable, and resilient way? Autodesk CEO Andrew Anagnost started the day by stating, "The Digital Factory represents more than the physical process of making things. It's a concept in which the factory itself figures into the equation." 
Echoed by speakers throughout the day, the solution to this equation is to design digital factories with the end in mind. The goal — productivity, resilience, and progression — will only be possible if the actors involved, from the shop-floor to the top floor, can understand what's going on and work to improve it continuously. Clear communication of goals is integral to getting everyone working towards the solution together, right from the beginning.
In his opening keynote, Anagnost provided an example of a factory floor plan designed without input from the people who will eventually operate within it — a concrete pillar might end up in the middle of an assembly line. Amazon Web Services leader Michael Mackenzie built upon that, saying in his keynote that aligning the goals of the top floor with the lingo and process knowledge of the shop floor is better for digital transformation and helps set in motion the machinery for a lean operating model. 
It may seem like the smaller the company, the easier that alignment may be, but as Formlabs co-founder and CEO Max Lobovsky explained in his keynote address, making physical products is always a steep uphill battle. When the idea of a physical product has finally become a fully realized design, manufacturers are about 10% of the way to successful manufacturing. Just as factories shape us, the products coming out of those factories can reshape the entire manufacturing system. Every innovation is a combination of form and material, from massive glass panels to pure ceramic parts unlimited by the traditional geometric constraints of casting. By expanding our mastery of new materials, new technologies like 3D printing can help make that jump from design to reality. 
Though manufacturing will always be difficult, a common thread across different panels and keynotes was the empowerment of the hands-on worker. Mackenzie's framework for empowering workers by giving them access to information about processes continued through Natan Linder's discussion with James Womack, a pioneer of lean manufacturing philosophy in the US. Womack dug into the idea of current teams focusing on 'operational excellence,' saying that the lean manufacturing philosophy has evolved into a system where manufacturers focus on undoing inefficiencies. When radical new ideas as simply overlaid onto existing structures and systems, much of the work becomes reworking rather than improving processes. 
Scott Reese, President and CEO of GE Digital, provided examples of building goals into a framework from the beginning as the only way to affect systemic change – especially in the case of sustainability. Reese started by challenging the way many manufacturers in the audience thought about power today — that energy is a given, not something to be considered an operating expense. Many manufacturers aren't able to trace their energy consumption throughout the manufacturing process — it's one bulk, unchangeable input. But as regulators, investors, and new talent voice their concern and attention on ESG metrics, manufacturers need ways to measure the ongoing usage of that energy so that improvements can be made.  
Designing cells, factories, and systems from the beginning with a human-centered approach, enabling those workers to access data and make improvements, and building in sustainability and cybersecurity goals from the beginning is the only way a digital factory can remain relevant even as the software and hardware systems within it become updated.
Build Resiliency By Leaning Into Complexity and Connection
Though it came as no surprise that resiliency was a big theme at this year's Digital Factory, the pragmatic lens speakers used to discuss it was refreshing — it wasn't just a buzzword or something obvious and simple, there was nuance and an acknowledgment of its difficulties. 
Blake Moret, CEO of Rockwell Automation defined resiliency as the ability to become more agile and change SKUs quickly with no downtime, as became necessary during the COVID-19 pandemic. Though automation may be seen as a tool to make that agility easier, Moret pointed out how difficult automation is to implement. The tools that might make us more resilient could require weeks or months of shut-down time to install and optimize — time that manufacturers can't afford to lose.
Advisor to the White House Liz Reynolds spoke candidly on the Building Resiliency panel, saying, "We've invested a ton in efficiency at the cost of resilience. Now we need to see a step up that way. Yes, resiliency means more complexity and more cost." That common thread, acknowledging the hardship and frustration that comes with a push towards this idea of resiliency, ran through each keynote, panel, and roundtable. 
The advantage of bringing together so many representatives from policy, entrepreneurship, investment, strategy, hardware, and software sectors was that the discussion didn't stop with this acknowledgment — there were actionable insights for attendees to walk away with. 
Moret spoke about choosing partners that can specialize, small and medium-sized businesses that excel at what they do, and developing a regional network of experts. In other words, bring along your supply chain with you. Lobovsky announced Formlabs' intention to open up our materials platform and allow further external development, collaboration, and research into new materials and methods for 3D printing. Tools as specialized and effective as Formlabs 3D printers can do more when they're shared, and through the announcement, Lobovsky made it clear that collaboration doesn't have to be initiated by a mandate or regulatory hammer — it can be profitable and advantageous for the manufacturer at the same as being helpful and for the greater good. 
That message was repeated again and again across every speaker's panel. Cynthia Hutchinson, CEO of the US Center for Advanced Manufacturing, gave an electrifying keynote address about concrete ways manufacturers can leverage federal funding through the CHIPS Act to rebuild American manufacturing from the small businesses upwards. 
Miles Arnone, CEO of Re:Build Manufacturing, picked up that thread when he spoke about digital threads that can be carried from SMBs to the larger OEMs that are receiving billions in federal funding. The larger OEMs need to spread that funding down the chain to their suppliers, helping improve processes like automated quoting. Xometry's CEO Randy Altschuler spoke to the same effect. Though "the long tail of the internet had never touched these small manufacturers," automated programs can match manufacturers with small suppliers in the Xometry network, building a more resilient supply chain domestically. Though automated quoting and working with Xometry may add complexity for that small supplier, and perhaps a slight cost for the large manufacturer, the connected network is stronger and less vulnerable to transportation disruptions and supply shocks. 
Throughout the day, different panelists, speakers, and small groups were discussing ways in which digital tools could make localization the best option for manufacturers. Reynolds was adamant that regional ecosystems will need to build up each member of their network, so that the rising tide lifts all boats.
Digital marketplaces like Xometry, automation tools, and incentives from policymakers that say, in Hutchinson's words, "you get this money, but I want to meet all ten companies who are coming along with you so that your supply chain has the resilience we need," can make things more complex — but the message was clear at the Digital Factory — it's worth it.
Incremental Change: Rejecting Private Equity and Political Timelines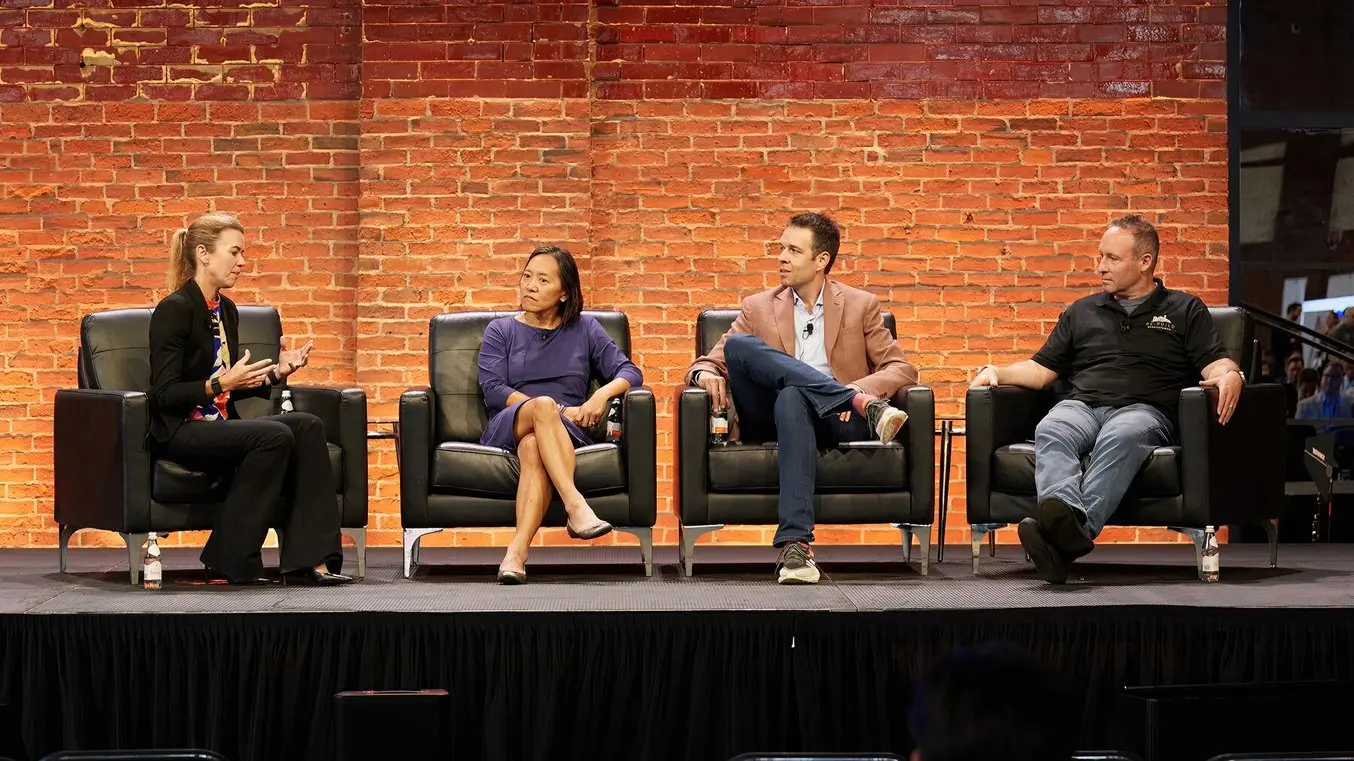 Perhaps because digital transformation is such a sweeping, system-wide process, a common thread through the Digital Factory conference this year was how to achieve it through small, incremental changes. Arnone spoke about tools that let people within a process make continuous improvements, something that Womack and Linder also discussed in their fireside chat as an evolution of the lean manufacturing philosophy. 
Arnone's point, that we have to change the way we think about when and how value gets delivered, resonated with many of the start-ups and investors in the audience. The prevalence of private equity in the startup world has warped the time scale, and incentivized businesses to make any change that can deliver profit increases of 10% or 20% year over year. When a return on outside investment is prioritized, long-term resilience through incremental changes that deliver a half-point of profit increase yearly, is nearly impossible. 
While discussing investment strategy and how to incentivize these types of small changes, Arnone went against a lot of what many people expect of a conference dubbed The Digital Factory, saying, "People are very flexible. They're the best kind of automation in the world." Empowering workers throughout a business to not only understand what the goals are but also how they can use the information at hand to change direction and orient to those business goals will require a priority shift away from private equity and political cycle timelines. 
Mindset, Toolset, Skillset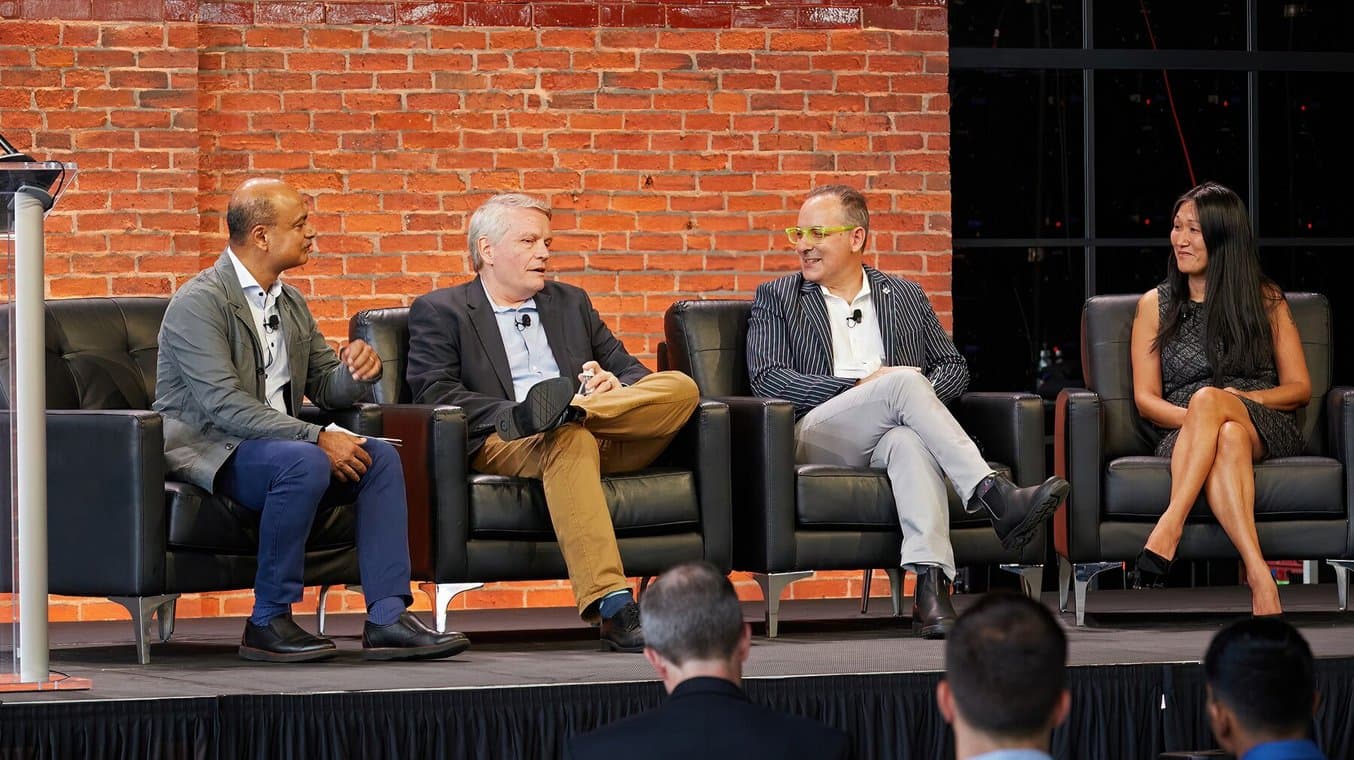 Manufacturers are often process-oriented people — they like systems, steps, and structure. At The Digital Factory, where many of our speakers were chosen because of how they have excelled in manufacturing, there were certain messages that may have used different wording, but echoed each other in their meaning. The need to move forward by concentrating on, and differentiating between mindset, toolset, and skillset, was one of the messages. From GE's Scott Reese to Re:Build Manufacturing's Arnone, to Sath Rao Head of Global Manufacturing Strategy at Zebra Technologies, to Michael Mackenzie of AWS, this categorization was presented as a plan of attack, a way forward for the audience members to address systemic change in a manageable way. 
In his keynote speech, Reese put it plainly, saying, "Anything we do, in the office or outside of it, if we don't have these three things, we're going to be mediocre." That approach provided some insight into how a massive corporation like GE Digital drives innovation while tackling the monumental task of decarbonization. He broke it down further, saying that manufacturers' mindset needs to shift to seeing energy consumption as an operating expense, their toolset needs to upgrade so that they measure inputs at each stage in production, and their skillset needs to shift to empower the workers to change the way they're using that energy. 
Finding and investing in the right tools was another common thread throughout the keynotes and panels — and many of the tools were on display at the conference in the Pop-Up Factory and in the booths by Formlabs, Autodesk, Hasbro, and Tulip. MIT Professor and Mechanical Engineering Department Chair John Hart spoke about tools like 3D printing, scanning, and cloud-computing that have only recently become so specifically valuable that they generate traction. From "trying to be an everything solution to focusing down on specific examples," and upgrading toolsets with the right tool for the right job, new manufacturing techniques and tools are just part of the overall need for organization and structure. 
The skillset to implement those tools, however, was spoken of throughout the conference as something that we're still working towards. Workforce development seemed to be a top priority for everyone on the mainstage, whether they were in policy or production.  With high-tech tools like 3D printers and digital twin simulations, the skillset to effectively utilize those tools is only within our grasp if we make manufacturing something to aspire to. Altschuler made a decisive call to action, saying, "We need a rebranding of manufacturing right now for these younger generations…if you're in manufacturing, you're gonna be involved with creating the devices that are gonna save our future, whether it's combating climate change, going into space, leading medical devices, and manufacturing is at the heart of that."
Another panelist provided the example that tied it altogether. For industrial valves, the lead time years ago was about 36 months — valves were fabricated, programmed, quality-checked, and finished in different parts of the world. No single location had the mindset, toolset, and skillset to bring it all together. One company in the American midwest was able to take the competitive edge, and can now deliver industrial valves in four weeks. They outlined the mindset — that this was possible, then leveraged new technology and highly trained engineers. Using 3D printing and new digital design tools, the valve company brought the lead time down from three years to one month, insulated themselves from shipping delays, and changed the industry paradigm. As Reynolds declared, resiliency is more complex — but necessary. 
Convergence: Now Is The Moment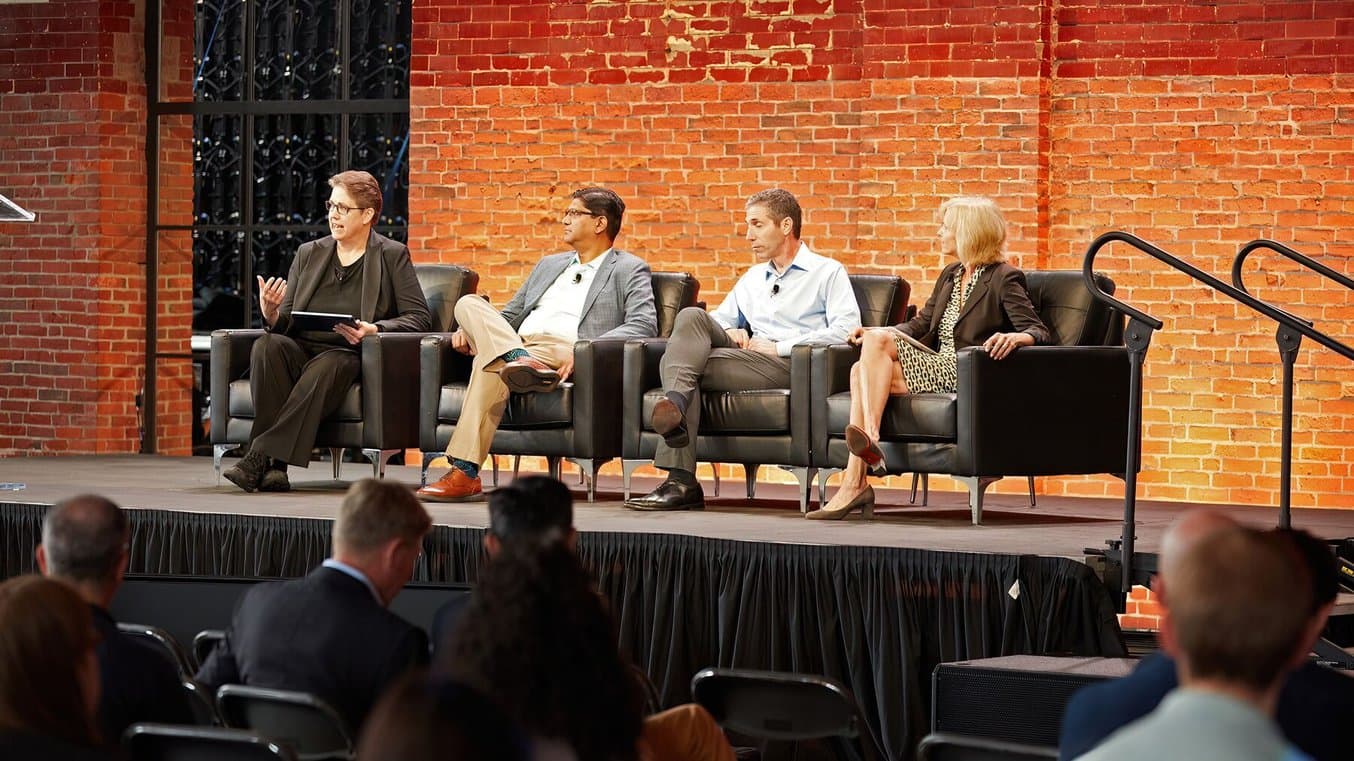 For many audience members, the biggest message heard throughout the day was actually a challenge — what are we going to do with this moment in history? Anagnost's opening keynote set the stage; he noted the 80% increase in manufacturing construction spending in the last twelve months, which translates to a 200% increase in new-build factories. 
Each of those new factories is an opportunity to implement the tactics provided by current manufacturing juggernauts from the conference. GE's mindset-toolset-skillset approach, Re:Build's focus on incremental change, or Amazon's people-centric approach to process change are all paths to success, with clear and actionable implementation plans. 
Hutchison called out our past cooperation during COVID-19, where industry and government opened their doors and shared information and resources, then compared it to protectionist tendencies that have reemerged. "We have this incredible opportunity to start to rebuild manufacturing on our shores, to build it smart, to do it right, to make it cleaner, to make it faster, and we need to work with our government to get it done." 
The funding is available — policymakers like Yvonne Hao and Liz Reynolds made it clear throughout the day that regional and federal governments know that the moment is here. Through the CHIPS Act, investment in our semiconductor base, and an almost three trillion dollar investment into clean energy infrastructure over the next ten years, public policy is ready to support private businesses. 
To make the funding and political support count, manufacturers have to integrate the tactics spoken about throughout the conference. But the timing couldn't be better — as Altschuler and Reynolds pointed out in their panel, manufacturers today are digital natives. As our daily life outside of our work becomes increasingly digitized, those tools are easier to integrate into manufacturing systems. 
Dan Middleton, Head of Innovation at Edwards (Atlas Copco), spoke with fellow panelists Dr. Tilman Buchner, Dipankar Choudhury, and Tom Raun about digitization at factories, saying that our network is at a specific moment in time, a convergence of toolsets and drive to build new factories purpose-built from the beginning. Scott Reese ended his keynote with an invitation, asking the audience to reflect on the multi-generational impact our decisions today will have. 
Collaboration, Connection, and Conversations
Though these five common threads came up in each keynote, panel, roundtable discussion, and interview — they were also apparent in the one-on-one conversations happening all around the SoWa Power Station at The Digital Factory this year. 
As attendees went through the Pop-Up Factory and combined digital manufacturing tools from Tulip with 3D printed parts from Formlabs and regionally sourced electronic components, the message from the speakers was made clear — collaboration is not only positive and profitable, it is imperative for success. Digital manufacturing can happen in small steps. By designing for agility and resiliency from the beginning, by embracing complexity and empowering workers to utilize the tools at their disposal, we can take advantage of this moment in time. 
To watch the full series of speeches, panels, and roundtable discussions from the 2023 Digital Factory, visit our video archive.